Comedian to Perform at Men's Health Night at Simmons Cancer Institute
Comedian Mack Dryden, a two-time cancer survivor who has appeared on The Tonight Show with Johnny Carson and Jay Leno, will perform at a free Men's Health Night at Simmons Cancer Institute (SCI) at Southern Illinois University Schoo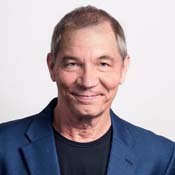 l of Medicine. The event is set from 5-8 p.m., Wednesday, December 7 at SCI, 315 W. Carpenter St., Springfield. The program is open to the public.
Kevin McVary, MD, professor and chief of urology at SIU School of Medicine, will provide the latest information on men's health, and screenings will be available. Registration for the event, which includes a prostate-specific antigen test (PSA), blood test and digital rectal (DRE) exam by a physician, can be made by calling 217-545-7493.
According to the Illinois Department of Public Health, approximately 7,700 Illinois men will be diagnosed with prostate cancer this year. It is the second overall leading cause of cancer death in Illinois men, exceeded only by lung cancer.
The screening is open to men between the ages of 40 and 70 who are not under the routine care of a urologist, who have no history of prostate cancer, and no history of a radical prostatectomy.
Funding for the event is provided in part by the Illinois Department of Public Health.
The mission of Simmons Cancer Institute at SIU is to serve the people of central and southern Illinois by addressing their present and future cancer needs through education, research, patient care and community service.