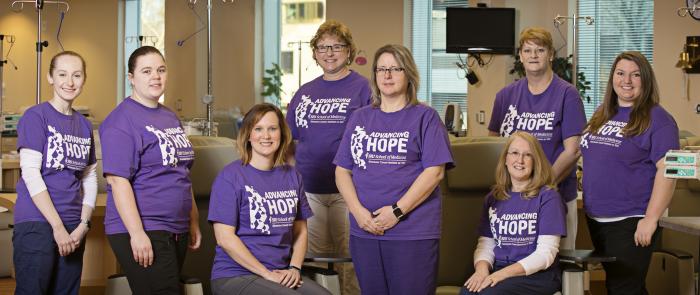 Simmons Cancer Institute is staffed by oncology certified nurses specializing in chemotherapy preparation and the administration. They are here to assist you and provide support through your treatment.  Compassionate care, state-of-the-art training and incredible support are the standard at Simmons Cancer Institute.
The nurses in our infusion area provide the full range of cancer care including chemotherapy administration IVG, bladder instillations, and other various intravenous infusions including iron and electrolytes. Treatment is individualized to each patient's condition.  Our on-site pharmacist and pharmacy technician prepare medication and chemotherapy at our facility.
Prior to your first chemotherapy treatment, a member of our infusion staff will enroll you in "Chemo College." This isn't a real class, but will help you and your family understand the treatment, its possible side effects and how to help ease those issues.
We are located in the same building as your oncologist, and Memorial Medical Center also has a lab in the building.  Physicians are on site and available in case of an emergency.  We work closely with all of your cancer care team members to provide on-going patient care, education and support for you and your family members.
A family member or friend is welcome to come with you during your treatment.  The open environment of the spacious infusion suite allows you to interact with other patients as you receive treatment in a recliner or relax quietly in a semi-private bay.  Pillows and warm blankets are available to make you as comfortable as possible during your treatment.  Television, snacks and beverages are also provided.