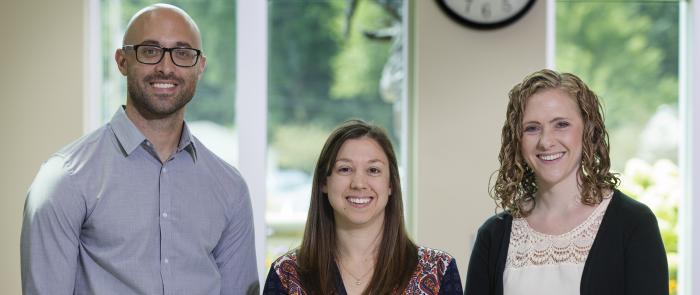 Counseling & Support
Here at Simmons Cancer Institute, we are committed to cancer care for the whole patient. As part of your care, we offer counseling and support services with specially trained experts in the field of psychology who work closely with patients and their families, oncologists, and other members of the health care team to provide integrated care and support each patient's unique needs – from diagnosis through treatment and into survivorship.
Our team understands that nearly half of cancer patients experience emotional concerns such as anxiety, depression, and other types of distress, and the same is true for caregivers. Fortunately, we are finding that psychology can help to address these concerns resulting in fewer symptoms and side effects, less frequent hospital stays, and improved communication with caregivers and the medical team.
Patients and their families can react differently to the diagnosis and treatment of cancer and emotions can vary from person to person. It is normal to feel scared, worried, sad, anxious, angry, or isolated when affected by a serious illness. In addition, you may be experiencing feelings of loss related to your health or ability to control your life, or possibly experiencing feelings of grief related to the loss of a loved one. We recognize there is no one-size-fits-all approach when dealing with cancer, and as such our compassionate experts work with patients and their healthcare team to define patients' concerns and develop individual plans to cope with the emotional stress cancer may bring. They aim to provide personalized support services designed to help patients and their families maintain the best quality of life during and after treatment.
Our personalized services may include:
Individual, couples, and family therapy
Crisis intervention
Cognitive assessments
Diagnosing and treating the psychiatric complications of cancer and treatments
Providing education, counseling and referrals to specific resources
Teaching coping skills, helping with problem solving, and providing an outlet for talking about difficulties
Easing distress and providing tools for coping with side effects, such as insomnia, fatigue, and pain
Addressing grief and loss or concerns for couples or families
Helping connect patients with support groups, peer support, and community resources
Our psychologists and counselors welcome all cancer patients, regardless of whether you are receiving care at Simmons Cancer Institute or at another institution. Our staff is available for both inpatient consultations and regularly scheduled outpatient appointments. To speak with one of our staff, talk to a member of your care team or call 217-545-8000.
Meet our team: