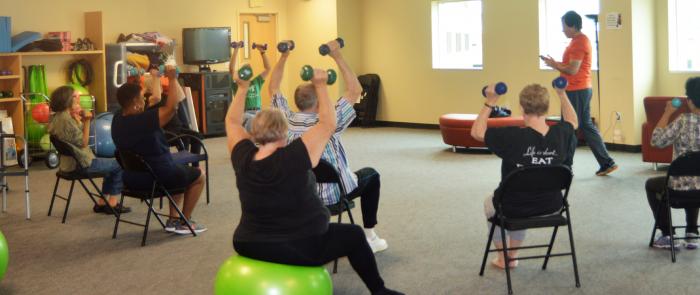 Side-by-Side Wellness Program
The Side by Side Wellness Program provides support in conjunction with other health care providers in the treatment of people living with cancer and their families. Its primary focus is twofold:
Addressing the emotional, social and physical responses of patients to cancer as they undergo treatment of the disease as well as those of their families and caregivers;
Addressing those same concerns as they may influence the long-term survival following their treatment.
Many patients respond differently to the diagnosis of cancer depending on the individual's situation and support network. A therapist is available to provide counseling services, to act as a patient advocate, and help patients use their own resources to be a partner alongside their health care team during the treatment of the cancer. Social work helps the individual navigate the health care system and identifies resources to help the patient get optimal care. Nutritional counseling is available to offset treatment-related nutritional deficits and to train patients to use diet as a way to decrease risk of cancer recurrence or development of new cancers. For those who wish to include spiritual healing in their cancer treatment, pastoral care counselors are also available through the Side-by-Side program.
This program works side by side with patients, families, caregivers and health care providers to address all aspects of cancer that influence outcome with an understanding that people experience illness through their physical, emotional and spiritual reactions and that each one influences the other.
Classes and programs are FREE to cancer patients, survivors and/or caregivers, regardless of where they are receiving treatment.  Classes meet in room 3015 on the third floor of Simmons Cancer Institute.
Adapted Yoga - Wednesdays 10:30 a.m. - 11:30 a.m.
This yoga class is ideal for the less mobile individual. It adapts many classic yoga postures to the seated position.
Advanced Tai Chi - Wednesdays 11:45 a.m. - 12:45 p.m.
Intended for those who are ready for more difficult postures.
Tai Chi - Mondays and Thursdays 11:45 a.m. - 12:30 p.m.
Gentle flowing movements are used to perform a series of postures coordinated with breathing to achieve an inner sense of calm.
Drumming - 2nd Tuesday of each month from 10-11 a.m
Drumming has a therapeutic effect by reducing tension, anxiety and stress; controlling chronic pain; and boosting the immune system.
Fitness for You - Mondays and Thursdays from 10:45 a.m. - 11:45 a.m..
Fitness for You is an exercise class to help maximize health for the long term. Exercise has been shown to improve mood, boost self-confidence and reduce fatigue.
Pilates - Wednesdays 2:00 p.m. - 2:45 p.m.
Pilates emphasizes maintaining the natural spinal curves while strengthening the core muscles and teaching students proper stabilization and alignment of all joints. Students must be comfortable getting up and down from the floor.
Qi Gong - Mondays and Thursdays 9:45 a.m - 10:30 a.m.
Physical postures, breathing techniques, and mental focus are used to improve physical and emotional health. The positions can be done while seated and are good for individuals who are less mobile.
Reiki - 1st & 3rd Tuesdays 9:30 a.m. - 12:00 p.m.  By Appointment
The practice of Reiki involves placing hands on the body to enhance well-being and promote relaxation. Reiki works with conventional medicine to improve healing and balance throughout your body.
Call 217.545.7493 for appointment.
Yoga - Tuesdays 7:45 a.m. - 9:00 am  and Fridays 10:15 a.m. - 11:30 a.m.
Learn postures, breathing exercises, and meditation.

Call 217.545.7493 for more information.