Dr. Kruse reflects on first year of challenges and growth
What a year! In my 32 years with SIU School of Medicine, I haven't experienced a year with such a combination of challenges, anxiety, growth and optimism.
It's not just that I now have a front-row seat as the new dean and provost - all of us at SIU SOM and SIU HealthCare have endured one of the most frustrating, and yet one of the most productive, years in our history.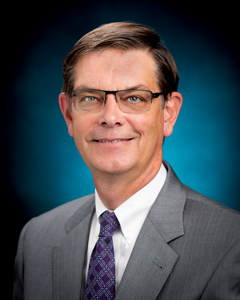 For those living outside Illinois, you may not realize that Illinois has suffered an unprecedented budget impasse, and the state bore an entire fiscal year without a state budget. Stopgap funding measures in April and late June provided some relief to higher education and allowed us to continue operations as before.
With no budget for FY16, the stopgap measures rationed out only about 30 percent of our usual state funding to the SOM. In essence, that means we effectively withstood the year with a 70 percent budget cut.
I'll be honest; it's been tough to await a state budget and see our reserves dwindle as we keep our mission afloat. The Alzheimer's Memory and Aging Network was scaled back significantly and continues to operate on a month-by-month basis as funds permit. We've consolidated offices, restricted hiring, scaled back travel and tightened our belts more than ever before.
"We haven't let these challenges stop us. As a matter of fact, we are growing. Big."
But we haven't let these challenges stop us. As a matter of fact, we're growing in a big way.
2016 has seen the emergence of many new programs and many new ideas. Many of these examples of our growth have appeared in aspects. These include:
Earning federal grants for a population health focus – for the region, for children and for our learners
Joining the White House-led Precision Medicine Initiative
Earning new NIH grants for aging, hearing and breast cancer research
Expanding Family and Community Medicine
Welcoming a new chair of psychiatry
Cultivating partnerships with regional hospitals including Decatur Memorial and Passavant
Building a new cardiology division
Welcoming a new assistant provost for clinical and external affiliations to focus on our expanding partnerships throughout central and southern Illinois
Welcoming a new assistant dean for stude student affairs in Carbondale
That all happened in 2016. Newer initiatives also got off the ground. Telehealth brought SIU providers to 19 sites; the hotspotters program helps hospital super-utilizers; simulations improved our methods of training the health care workforce for the future; our new curriculum of critical clinical competencies and more training in exemplary practices for Year 3 students is well underway. Our commitment to interprofessional training and patient care is growing stronger every day.
Our educational programs remain our core focus and are stronger than ever.
We graduated 68 new physicians and welcomed 71 new students.
A total of 105 residents and fellows completed training at the end of the 2015-16 academic year, and 104 more residents and fellows began internships in July.
35 physician assistant students graduated, and 40 more started the program.
32 MEDPREP students began studies and 27 students completed the program
13 new grad students began studies.
So while our state funding remains unclear, we will never waver in our dedication to our mission, to our learners and to the communities we serve. We've met these challenges as opportunities and consider them our chance to create the future for better health care education, better healthcare and better health for those we serve. My sincere thanks goes to all our employees who have weathered this year as a team, and my thanks to our donors and friends who believe in our mission and help us move it forward.
I've enjoyed my year as dean and look forward to continued progress in 2017. A state budget, along with the support of our faculty, staff, learners, alumni, donors and friends, will ensure that our impressive growth continues.