Specialized clinic, focused on evaluation and treatment of environmental and food allergies
Comprehensive testing for allergies to dust, pollens, molds and animal dander
Evaluation and testing for food allergies
Comprehensive management of allergic disorders affecting the nose, sinuses, ears and voice including medical, surgical treatment and immunotherapy (allergy shots)
Comprehensive evaluation of allergy related chronic sinus disorders
Allergy treatment options: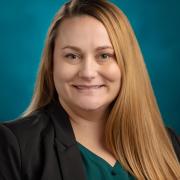 Amanda McDannald, DNP, FNP-BC
Patients who have allergies that are not controlled with medical management have two treatment options for desensitization at SIU. The first step is to call our office at 217.545.8000 to schedule an allergy consult with one of our physicians. This consultation can be scheduled by the patient and does not require a doctor's referral (unless your insurance plan requires an insurance referral). A 20-minute screening test can be done to determine if you may have allergies. Based on your exam and history, our doctor will order the full 1-hour allergy test. This is called an MQT.
Results of this test will be available the same day. The doctor will review the test and recommend a treatment plan. Traditional allergy injections are given over a 3-5 year period. Injections are given weekly and then spaced out to every 2 or 3 weeks as directed by the physician. These are typically covered by most insurances.
Sublingual drop therapy (SLIT) is administered at home by the patient, 7 days per week, for 3-5 years. Allergy drops can safely and effectively treat a broad range of allergies, including animal dander, pollens and molds. This therapy is not covered by most insurances. The cost is $22-$44 per week, depending on the number of vials needed.
Any specific questions can be answered by the team at SIU Medicine allergy clinic 217.545.8000.