Minimally Invasive Spine Surgeon Now Seeing Patients in Bloomington
Patients living with severe back pain, progressive spine conditions or bone or muscle tumors have a new option for care close to home. Southern Illinois University School of Medicine assistant professor of surgery Nitin Kukkar, MD, has partnered with Orthopedic & Sports Care Enhancement Center to bring specialized orthopaedic care to patients of McLean County. The center is located at 2406 E. Empire St. in Bloomington.
The specially-trained surgeon has completed fellowships in joint replacement at Columbia University in New York City, musculoskeletal oncology at Harvard University in Boston and spine surgery at SIU School of Medicine. He earned his medical degree and completed his orthopaedic surgery residency at All India Institute of Medical Sciences in New Delhi, India.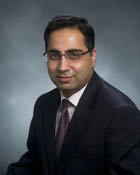 Kukkar treats patients with the following conditions:
   • Neck pain
   • Back pain
   • Failed previous neck and back surgery
   • Bone and muscle tumors
Kukkar specializes in endoscopic spine surgery, laser spine surgery and small cut microscopic spinal fusions.
To learn more or to make an appointment with Kukkar, call SIU HealthCare at Orthopedic & Sports Care Enhancement Center at 309-663-9300.