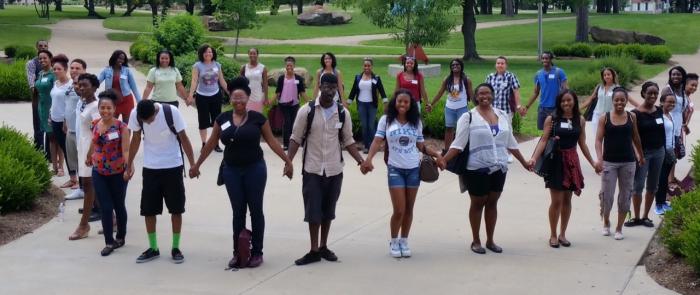 MEDPREP uses an online application portal, which will reopen in July 2017. Our next class will start with orientation on June 22, 2018.
We will have two application cycles:
Early Cycle: Application deadline approximately Oct.1. Application decisions rendered by approximately January 15, 2018.
Main Cycle: Application deadline approximately Feb.1. Application decisions rendered by approximately April 1, 2018.
Our minimum qualifications for application are:
Overall undergraduate GPA of 2.2.
Science course (mathematics, biology, chemistry and physics) GPA of 2.2.
U.S. Citizen or Permanent Resident (Green Card)
Completed all or all but one medical school prerequisite course (one year biology with laboratory, one year general chemistry with laboratory, one year organic chemistry with laboratory, one year physics with laboratory). A semester of biochemstry, and a semester of either introductory psychology or introductory sociology are recommended, but not required.
There is no fee to apply to the program. An SIUC application processing fee is charged only if you are admitted into MEDPREP.
In order to apply you will need to submit:
Completed online MEDPREP application form.
Supplementary Application form showing schools attended and current/future coursework.
TWO letters of recommendation.
Official transcripts from each college or university attended.
As part of the admissions process, competitive students will be invited to attend an admissions day, where students visit the program and interview with MEDPREP faculty. Applicants must attend an admissions day in order to be considered for MEDPREP admission. Exact admission day dates will be posted when the application portal opens in July, but are expected to be in Oct/Nov for the Early Cycle, and Feb/Mar for the Main Cycle. Admission day attendance is by invitation only.
While our recruitment strategy focuses on the State of Illinois and contiguous states, we welcome inquiries and applications from students nationwide.
For questions about the admissions process, please contact our Admissions Coordinator, Trent Stevens, in the MEDPREP Office of Admissions.