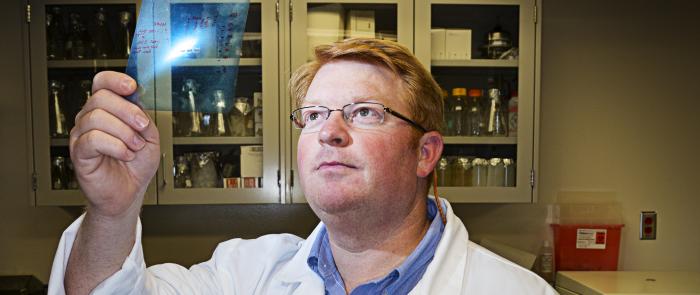 Andrew Wilber received his B.S. in Biology and Chemistry from Millikin University in Decatur, Illinois and his Ph.D. in Molecular, Cellular, Developmental Biology and Genetics from the University of Minnesota. He performed his postdoctoral research at St. Jude Children's Research Hospital in Memphis, Tennessee.
Prior to joining SIU School of Medicine as an Assistant Professor in the Medical Microbiology, Immunology and Cell Biology department, Dr. Wilber was a Research Assistant at Megan Health Incorporated in St. Louis, Missouri where he participated in the research for the development of novel mechanisms for biological containment and attenuation of live Salmonella vaccine strains and a Microbiologist at Taylor Pharmaceuticals in Decatur, Illinois. Dr. Wilber was also a Researcher at SIU School of Medicine before acquiring his Ph.D. degree.
His current research focuses on the mechanisms of fetal to adult hemoglobin switching, gene therapy for severe hemoglobin disorders by elevated production of fetal hemoglobin and the role of soluble tumor-derived factors in cancer immune evasion.
Courses are also taught by MMICB Department staff.
For more information about the PHLS Program
Please contact us with any questions you may have or to request additional information.
Andrew Wilber, Ph.D.
Email: awilber@siumed.edu
Assistant Professor
Department of Medical Microbiology, Immunology & Cell Biology
Southern Illinois University
School of Medicine
P.O. Box 19626
Springfield, IL 62794-9626
Phone: 217.545.8098
Monday through Friday, 8:00 a.m. - 4:30 p.m.
Admissions to the PHLS program is handled through SIU Carbondale