A little About Our Residents
Name:  Sarah Kendroud, DO, PGY-1
Hometown:  San Ramon, California
Medical School Touro University California College of Osteopathic Medicine
Why SIU:  I rotated as a visiting 4th year medical student in the neurology department and had a really meaningful and enriching learning experience during my one-month rotation at SIU.
Area of Interest:  General Neurology, Neuro-electrophysiology.
Hobbies:  Hiking, camping, running, traveling, reading, learning new languages.
Name:  Paul Guerin, DO, PGY-1
Hometown:  Winchester, TN
Medical School: Lincoln Memorial University- Debusk College of Osteopathic Medicine, Harrogate, TN
Why SIU:  I wanted a program with good clinical exposure, but I didn't want a huge place that was impersonal. SIU is a great mixture of opportunity and good people. There is plenty of academic exposure, and the resident community is very collegial.
Area of Interest:  Cognitive Disorders/ Neuropsychiatry.
Hobbies:  Golf, fishing, playing guitar.
Name:  Sindhu Pisati, MD, PGY-1
Hometown:  Hyderabad, India
Medical School:  Gandhi Medical College, Secunderabad, India
Why SIU:  SIU has a friendly and supportive atmosphere and provides great diversity in clinical exposure.  Also, the city is calm and beautiful!  Here, we can have a good work life balance.
Area of Interest:  General Neurology and Stroke.
Hobbies:  Baking and watching movies.
Name:  Andrew Thaliath, MD, PGY-2
Hometown:  Cochin, India
Medical School:  Father Muller Medical College
Why SIU:  A smaller sized program with plenty of opportunities with good amount of subspecialty representation. A group of residents who are close to each other and always willing to help each other out. Experienced faculty who have a deep interest in the education of the residents. Springfield has a small town feel although it is easily accessible to Chicago and St Louis.  Close to my family in the Midwest.
Area of Interest:  Cognitive and Behavioral Neurology.
Hobbies:  Trying difference cuisines, traveling, and movies.
Name:  Ammar Tarabichi, MD, PGY-2
Hometown:  Damascus, Syria
Medical School:  Jordan University of Science and Technology
Why SIU:  Springfield was a great choice for me for several reasons. The fact that it is on the smaller side means everywhere you want to go is within 25 minutes at most. Not getting stuck in traffic everyday is a major relief!  I also have a lot of family and friends in the area, which made this quite an easy decision.
Everything I need is available here, too. Another major advantage is affordability of housing. I am more able to focus on my work for all these reasons. 
Area of Interest: Stroke, Neurocritical Care, Interventional Neuroradiology.
Hobbies:  Travel, Soccer, Hiking.
Name:  Alireza Showraki, MD, PGY-2
Hometown:  Shiraz, Iran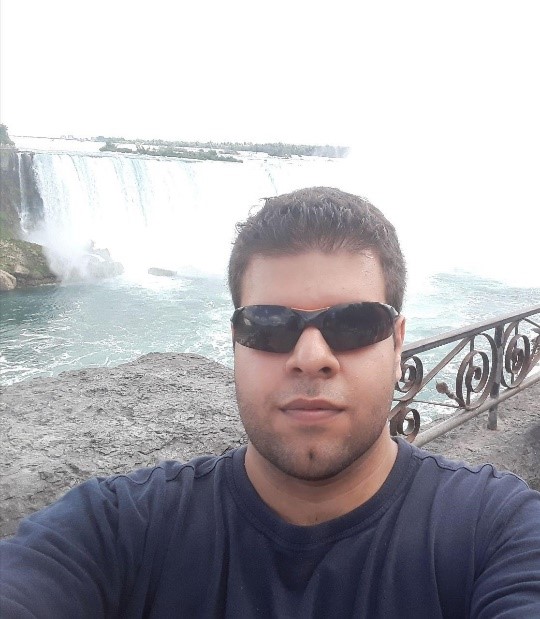 Medical School:  Shiraz University of Medical Sciences
Why SIU:  By the time you are reading my masterpiece you probably know a lot about SIU and the unique opportunities it offers. In one word it is a "gem" in the Midwest providing a unique experience for your training. I think I should start by talking about some other important facts that might easily go missing. I came to Springfield, IL from Toronto, Canada where the winters are so frigid that you can basically get heat from your fridge. But here in Springfield, you will enjoy a much milder winter. No worries about a too hot or too cold environment. Moreover, you do not need to worry about traffic at all over here. No headaches for your daily commute from work to home and vice versa. And finally, affordable housing is a big plus at Springfield. What gets you a room in Toronto or New York will get you a mansion here. If you are looking for a financially wise option Springfield will be your friend. All these advantages along with a unique clinical experience create a luxurious situation not easily found anywhere else. The Neurology program at SIU offers great exposure to various neurological conditions through its outpatient and inpatient services. Given its academic setting, lots of research opportunities are at your fingertips. All in all, there is something to suit every taste. See you soon!
Area of Interest:  Epilepsy, Neuro-immunology, Neuro-oncology, General Neurology.
Hobbies:  Chess, Poker, Tennis, Table Tennis, YouTube, Forex.
Name:  Mehwish Farooqi, MD, PGY-3
Hometown:  Lahore, Pakistan
Medical School:  Nishtar Medical University
Why SIU:  My husband and I came to Springfield, IL in 2015, when my husband matched with residency program at SIU.  We had our first child in 2015 and our second in 2017.  Now it was my turn to apply for residency.  I started my residency in June, 2018.  I choose SIU because of the fantastic holistic training in Neurology with the best faculty who are dedicated to resident education.  There are many good research opportunities in the neuroscience department and I was able to present at the American Academy of Neurology conference in 2019.  What really drew me to SIU was the sense of belonging!  I feel like I belong to this excellent program!
Area of Interest:  Neurophysiology
Hobbies:  Gardening, cooking, baking.
Name:  Ahmed Abbas, MD, PGY-3
Hometown:  Baghdad, Iraq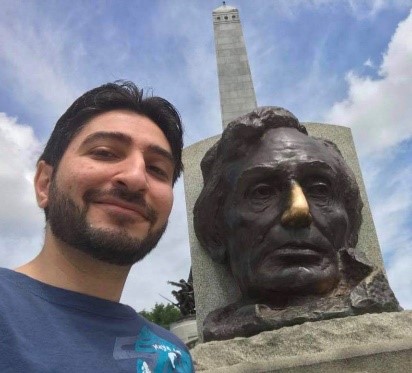 Medical School:  University of Baghdad College of Medicine
Why SIU:  I joined SIU because I believed this program will prepare me for any kind of practice (general neurology vs subspecialty, private practice vs academia). Half-way through my training, I already can say I was not mistaken. As a community-based medical school partnering with two tertiary referral hospitals to serve small urban and rural communities, SIU provide the unique opportunity to care for a diverse patient population with exposure to a wide range of common and rare neurologic pathologies in addition to the opportunities to conduct research and participate in medical students teaching. Another big advantage to doing residency here is the city, Springfield. What makes it a great place to live is the affordability, safety, the nice people and the light traffic (having lived in large metro areas all my live and spent countless hours stuck in my car during rush hour, this is absolutely my favorite thing about this place).
Area of Interest:  Neuroimmunology, Neuroinfectious Diseases, General Neurology
Hobbies:  My wife and I like to hit the road and explore new places. I also like hiking and playing/watching soccer, reading and watching documentaries.
Name:  Arooj Kohli, MD, PGY-4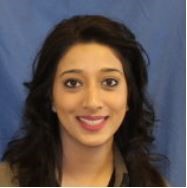 Hometown:  Effingham, IL
Medical School:  King Edward Medical University
Why SIU:  When choosing a residency program, it was important for me to find a program with academic excellence, a friendly work environment, and a wonderful balance of autonomy and supervision. I found all this and more within SIU. I am proud to say that we have a wonderful faculty that is invested in their residents' training. Their guidance and teaching has helped mold residents into becoming well-rounded competent neurologists ready to take on any endeavor after residency. SIU provides a supportive and nonmalignant environment to train in. In the four years of training here, each day you encounter friendly faces that quickly become your SIU family. The comradery with your colleagues here and the friendliness of the staff will be sorely missed on completion of your residency here.
Area of Interest:  Neurophysiology, Electromyography, Neuromuscular disorders, Neuro-immunology, and Neuro-ophthalmology.
Hobbies:  Traveling, Biking, Hiking.
Name:  Faisal Ibrahim, MD, PGY-4
Hometown:  Khartoum 
Medical School: Omdurman Islamic University Faculty of Medicine and Health Sciences, Sudan
Why SIU: In addition to outstanding clinical neurology training, SIU provides the opportunity for residents to tailor their careers in research and education.
Springfield is a major cultural hub with a lot of history and family friendly. 
Area of Interest:  Epilepsy 
Hobbies: Travel, Reading, music, cinema.