TeleCardiology: Lipid Management for ASCVD Risk Reduction
Friday, August 24, 2018 -
Location
409 Calhoun Avenue Room 109, Springfield, Illinois
Description
Southern Illinois University School of Medicine Cardiology Continung Education featuring: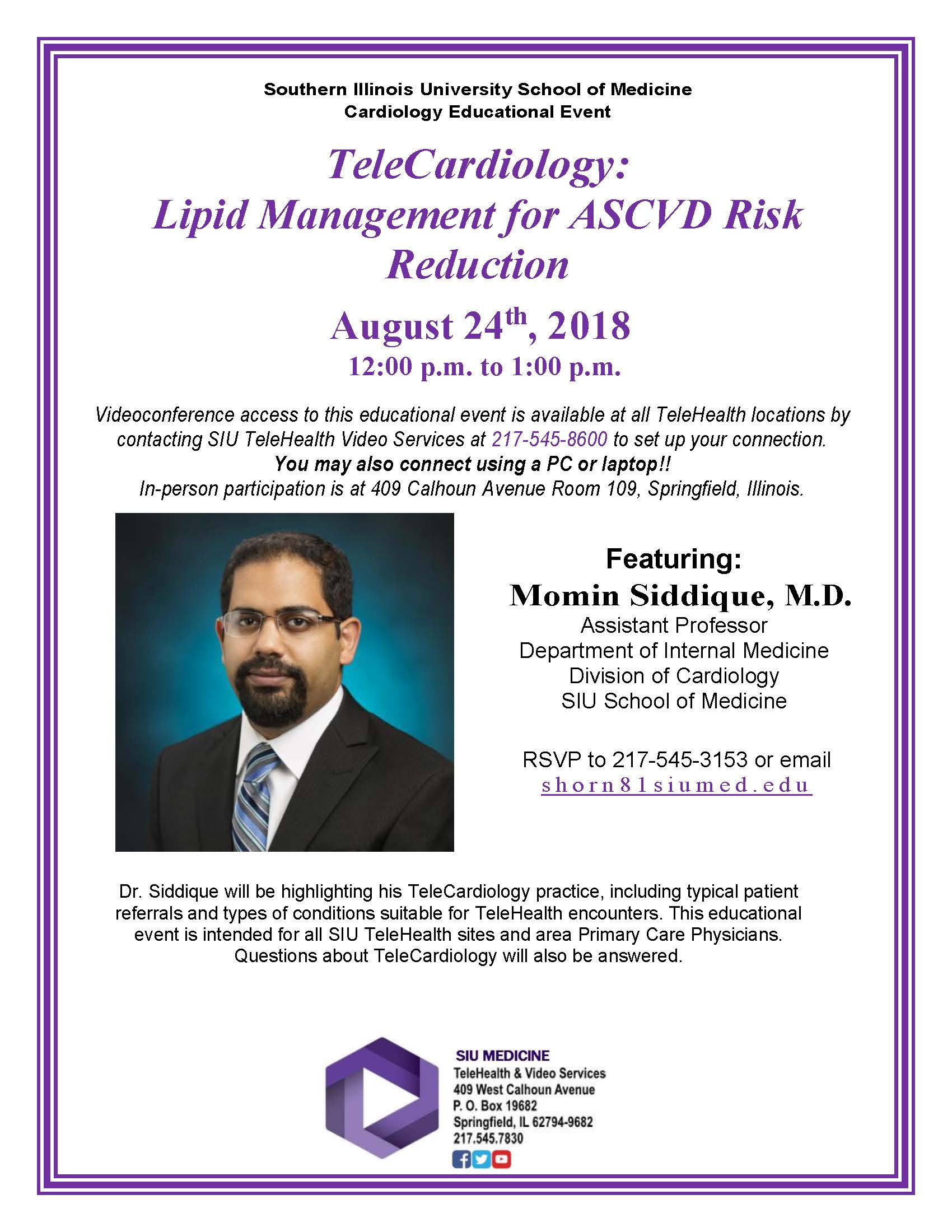 Momin Siddique, MD
Assistant Professor
Department of Internal Medicine
Division of Cardiology
SIU School of Medicine
Dr. Siddique will be highlighting his TeleCardiology practice, including typical patient referrals and types of conditions suitable for TeleHealth encounters.
Questions about TeleCardiology will also be answered.
RSVP to 217-545-3153 or email shorn81siumed.edu.
Videoconference access to this educational event is available at all TeleHealth locations by contacting SIU TeleHealth Video Services at 217-545-8600 to set up your connection.
You may also connect using a PC or laptop.
Objectives:
Brief overview of contemporary lipid management guidelines
Review of selected new clinical trials
Provide a framework to address the following questions regarding lipid management:

Who should we treat?
How should we treat them?
To what goals?
To Connect using your PC or laptop
At least one day prior to the event:
Please use the instructions below to test your laptop/PC for camera and audio function.
Open a web browser (Chrome or Firefox are best) and navigate to https://videoconf.siumed.edu
A form with two input fields will appear. In the first field (labeled "Person or Conference to call") enter "test" without the quotations. In the second field (Labeled "Name") enter personal display name, for example "Charlie".
Press the "Connect" button at the bottom of the form.
Another box will appear and allow camera/microphone/speaker selection. Most often these should be left to the default settings.
Select "Start" on the bottom of the form.
One final box will appear. Select the "Guest".
Select "Connect" on the bottom of the form to connect to the conference testing area.
On the day of the event:
Follow the instructions above with the exception of entering "test" in the first field. Replace "test" with "TVS" to be connected to the event.
You will not be directed to the correct meeting room if "TVS" is not entered.
Please do not connect before 11:50 am.
A visual guide for connection has been attached for your convenience.
To Connect by phone (audio only)
Dial 217-545-6640 and enter conference ID: 8078#
If you have questions or trouble connecting, please contact SIU TVS Helpdesk at 217-545-8600 and one of our specialists will assist you.
Other
SIU Events for Faculty and Staff, Resident and Fellow, Student