Lt. Governor Tours 'Amazing' Telehealth Services at Franklin County Hospital
By Karen Carlson and Christi Mathis
Photos by Rusty Bailey
Franklin Hospital is a modest hospital, serving the 7,000 citizens of Benton and surrounding areas with its hospital services and three outpatient clinics. But today it is better connected to care hundreds of miles away, thanks in part to the establishment of SIU Telehealth services last spring.
"It's not uncommon for patients to wait six months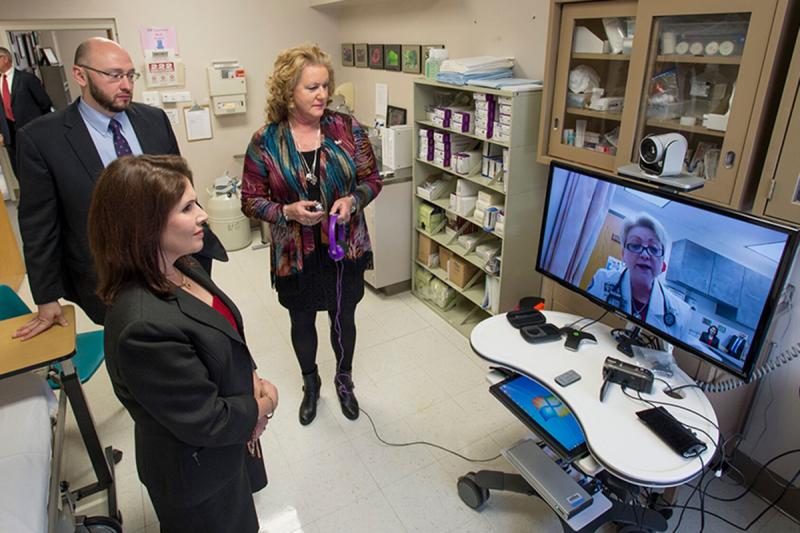 to get a referral and get in to see a specialist miles and miles away," said Dr. Richard Rethorst, a family medicine physician at Franklin    
Hospital. "But with telehealth, treatment is quick, easy and convenient."
Lt. Gov. Evelyn Sanguinetti got a glimpse of the power of telehealth as she toured Franklin Hospital's telehealth capabilities on Friday, Jan. 6.
"It's pretty amazing stuff," said Sanguinetti, who serves as chairman of the Governor's Rural Affairs Council. "Time and again I have heard about the lack of specialty and primary care availability in rural communities.
Residents can face 60- to 90-minute drive times to major medical facilities — and this is only if they have access to reliable transportation. Improving our telehealth infrastructure will address these rural health disparities and offer innovative ways to provide the quality
                                                                                                                                                                       health care access that all Illinoisans deserve."
SIU Telehealth has established 23 sites around central and southern Illinois, with Benton and Pinckneyville having the southernmost locations, according to SIU Telehealth Executive Director Nina Antoniotti, PhD. She hopes to have 40 sites delivering telehealth by the end of 2017.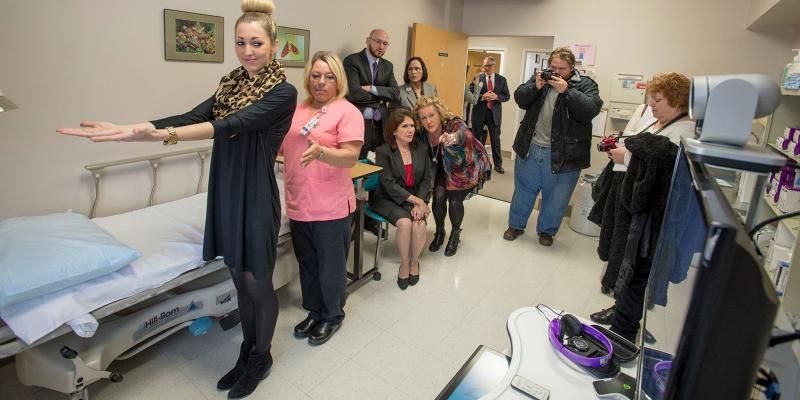 Antoniotti showed Sanguinetti the numerous benefits of telehealth. "Remote monitoring results in a 60 percent reduction in hospitalization rates, an 80 percent decrease in re-hospitalization rates and an average of 2.2 less days spent in the hospital when hospitalization is necessary," she said. Fewer NICU babies require transfer when telehealth is used. Homeless shelters also can benefit from telehealth, she said. The group, which also included SIU President Randy Dunn and Franklin Hospital CEO James Johnson, and the Lt. Governor's staff, discussed regulatory changes that could help expand telehealth's reach to places such as nursing homes, prisons and other special populations.
"Franklin Hospital is fortunate to partner with SIU," said Derek Johnson, COO of Franklin Hospital. He noted that about 25 percent of their patients use Medicaid and about 50 percent use Medicare. "It gives our patients connections to some 150 specialty
physicians without having to make expensive and/or time-consuming drives."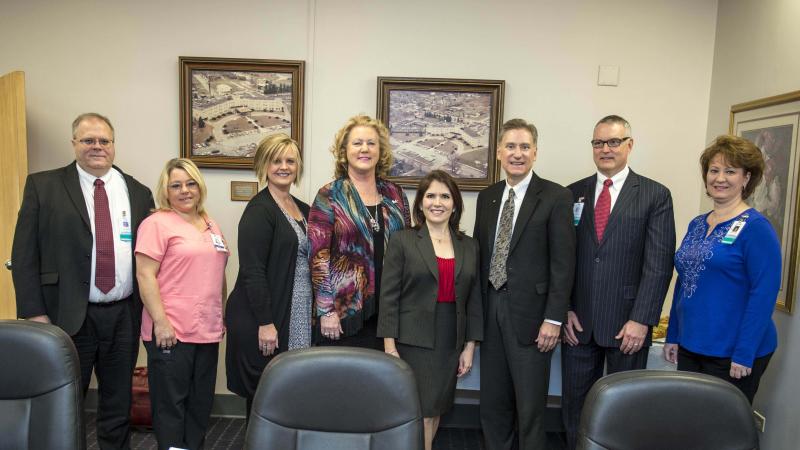 Image Caption (Pictured Left):
James (Jim) Johnson, CEO/CFO of Franklin Hospital; Lori Davis, RN/TeleHealth nurse; Amanda Rone, RN/Clinic Manager; Nina Antoniotti, RN/executive director of TeleHealth and Clinic Outreach; Lt. Gov. Evelyn Sanguinetti; SIU President Randy Dunn; Derek Johnson, COO; and Rikki Bonthron, controller.