Crash Reenactment to Show Dangers of Texting, Driving Under the Influence
A dramatic crash reenactment will show Illini Central High School students what can happen when young people drive or ride with distracted or impaired drivers. SIU School of Medicine's injury prevention program, ThinkFirst, is assisting the Mason County Coroner and Mason County Sheriff's Office in the reenactment at 1 pm, Wednesday, October 9, at Illini Central High School, 208 North West Avenue in Mason City.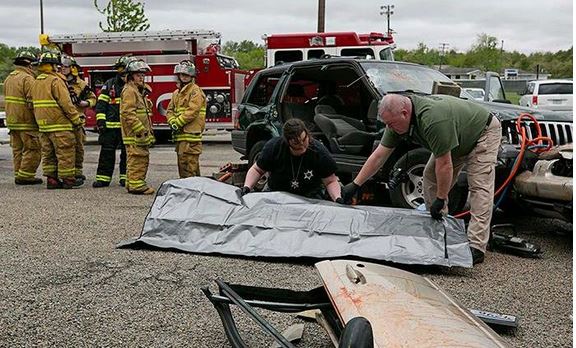 At the event, emergency personnel summoned after a car crash will simulate their tasks, and guest speakers will provide insights to the afternoon event.
"This shows the real-life consequences of risk-taking behaviors and what can happen when a bad decision is made," said Nancy Kyrouac, director of ThinkFirst. "We want students to be informed and make intelligent decisions, particularly behind the wheel of a car."
"Each year 1.7 million traumatic brain injuries and 12,000 to 20,000 new spinal cord injuries occur in the United States; one-third happen to people between the ages of 15 and 24. The tragedy is most of these are preventable," said Kyrouac.
Those involved in planning and implementing the event include Illini Central High School faculty, administration and students, the Mason County Coroner, Hurley Funeral Home, Mason County Sheriff's Office, Mason City and County Police and Fire Departments, Mason City Ambulance, Mason District Hospital, Thurber Towing, Audio Techni Services in Springfield, Saints Flight in Springfield and SIU School of Medicine ThinkFirst program. Guest speakers will include Justin Donovan, assistant chief of the Mason City Police Department (narrator), Mason County Coroner Mike Hurley, Steven Burgett from the Mason County Sheriff's Office, and Jim Allmon, Sangamon County Chief Deputy Coroner.              
The SIU School of Medicine ThinkFirst program is a chapter of the ThinkFirst National Injury Prevention Foundation and presents events as a public service at no cost to the school. It is funded by a grant provided by the Illinois Department of Transportation. For more information about the program, contact Kyrouac at SIU School of Medicine, P.O. Box 19679, Springfield, IL, 62794-9604, 217.545.9112.
Note to media: Jennifer Durbin, Illini Central High School Principal, is the local contact for the event: 217.482.5180. A rain date is scheduled for Wed., October 16.