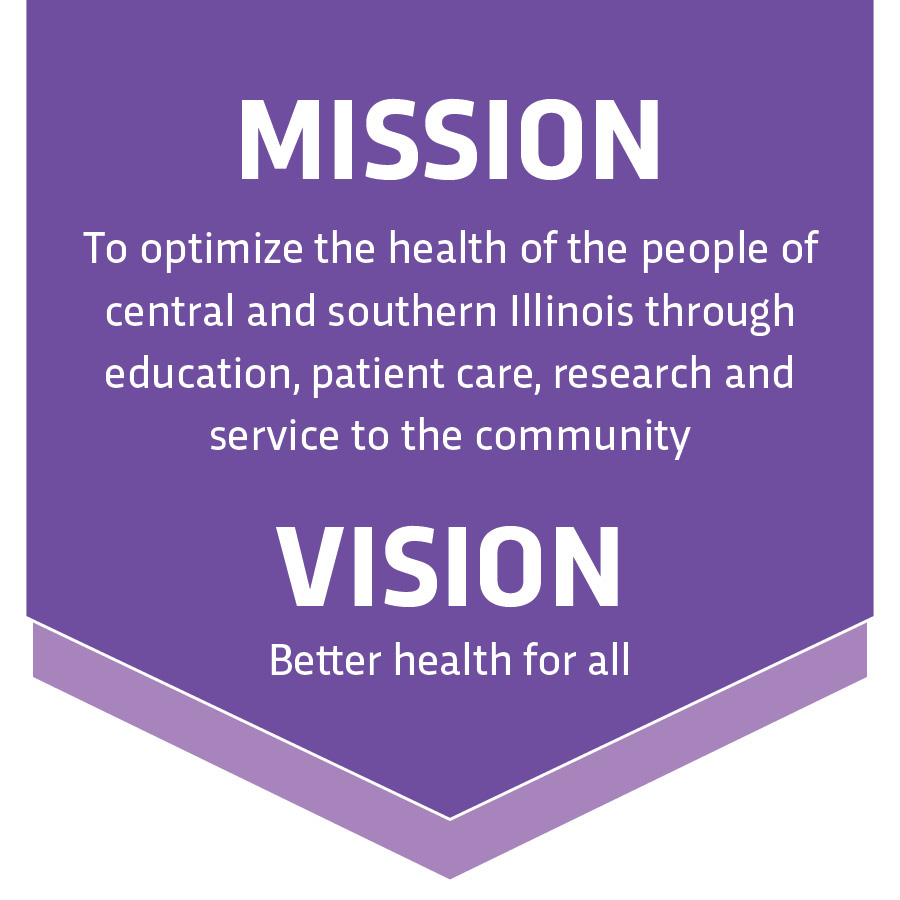 SIU Medicine is the clinical practice of SIU School of Medicine. Located in Springfield, Ill., our team has more than 250 health care professionals including university physicians and faculty members who are collectively dedicated to providing excellent medical care, advancement of care through research, and training the next generation of physicians.
As the premier provider of health care services, SIU Medicine offers both primary care and specialized treatment services including preventive and diagnostic. SIU works in partnership with hospitals and clinics throughout central and southern Illinois to meet the health care needs of our communities.
Values
Discover - We are committed to an environment of discovery in which innovation, scientific inquiry, application of knowledge and creative professional achievement flouris. Our innovation, research and science aim to improve health and well-being.
Excellence - We are committed to excellence and continuous improvement in all we do. We value rigorous assessment of outcomes and performance. We seek positions of leadership and influence to fulfill our mission and achieve our strategic goals. 
Collaboration - We collaborate and partner with the community. We partner with health systems, teaching hospitals, healthcare professionals, educational institutions, public health agencies, governmental agencies, private industry and others who seek to improve the health, healthcare and healthcare education.
Equity - We strive to be a just, fair, unbiased, and anti-racist organization. We are committed to diversity in all elements of our workforce, and to an environment of inclusion for all. We will continuously evaluate our policies, procedures and practices to minimize all forms of overt, implicit and historically porpagated systemicbias. We strive for equity in our relationships, hiring practices, teaching, research, access to care, delivery of care and partnerships.
Compassion - We create compassionate and healing environments for all. Love for our communities and respect for the individual are reflected in our programs and patient care. Our compassion will be driven by honesty, integrity and equity in our actions.

SIU Medicine leadership team includes the clinical department chairs of SIU School of Medicine as well as an administrative leadership team that spans the academic practice plan and is guided by the board of directors made up of physicians and local business owners.