COVID-19 Public Vaccine Clinic Information
SIU Medicine is working with state public health agencies to provide COVID-19 vaccine to those who are eligible, according to federal and state guidelines. Any SIU Medicine patient and Illinois resident who is eligible in the state's current tier may request a vaccine from SIU Medicine – regardless of where you live or insurance provider.
Please complete the registration form below if you are interested in receiving the COVID-19 vaccine.
REQUEST A COVID VACCINE APPOINTMENT     CANCEL/RESCHEDULE A COVID VACCINE APPOINTMENT
Do you have access to a printer? If yes, download, print and fill out the consent form but do not sign it until you arrive. Bring it to your appointment to make your appointment faster. If you do not have a printer, we will have copies available for you to fill out.
Vaccine FAQs:
Do we have the Johnson & Johnson vaccine?
Not at this time. We are following CDC and IDPH recommendations by pausing all Johnson & Johnson vaccination clinics. We will continue to offer Moderna or Pfizer vaccines. Among 6,800,000 people who have received the Johnson & Johnson vaccine in the U.S., six women between the ages of 18-48 developed blood clots 6-13 days after receiving the vaccine. Currently J&J states that there is no clear causal relationship; however the FDA has opted to pause vaccine efforts to analyze if there is a causal relationship and to allow patients and health care providers time to understand the signs and treatment of this clotting disorder. All patients who develop severe headache, severe abdominal pain, leg pain or rapid onset of shortness of breath within 3 weeks of the vaccine, should contact their health care provider immediately.
Can anyone who is eligible come to SIU Medicine for a vaccine?
Currently, you need to be an SIU Medicine patient and resident of Illinois. You do not need to be a Sangamon County resident. Currently, the COVID-19 vaccine is offered to individuals in Illinois' Phase 1A or 1B:
I'm older than 65
I work in education, food and agriculture, manufacturing, corrections, postal services, public transit, grocery stores, shelters/adult day care or I'm a first responder.
I have one of these chronic conditions: obesity, diabetes, pulmonary disease, COPD (chronic obstructive pulmonary disease), heart condition, kidney disease, cancer, immunocompromised state from a solid organ transplant, sickle cell disease pregnancy
Are you pregnant, breastfeeding, or do you have a blood-related or immunocompromised condition? 
We recommend you discuss the COVID vaccine with your primary care provider prior to scheduling.
Before you schedule an appointment, make sure you:
Wait more than 14 days to schedule your COVID vaccine after receiving any other vaccinations.
Wait more than 28 days after testing positive for COVID-19.
Wait 90 days after receiving monoclonal antibodies or convalescent plasma for the treatment of COVID-19.
How much is the vaccine from SIU Medicine?
There are no out-of-pocket costs to you. Your insurance company may be charged.
Do I need an appointment for the vaccine?
Yes. We are only vaccinating those who meet the criteria for Phase 1B, as we want to make sure those who are at the highest risk have an opportunity to receive the vaccine. Only those with a pre-scheduled appointment at SIU Medicine will be given the vaccine. Fill out this form online to request an appointment. We will schedule your first and second doses at the same time. We can only book up to 30 days out.
Click here to request an appointment.
I have an appointment. Where do I go to receive the vaccine?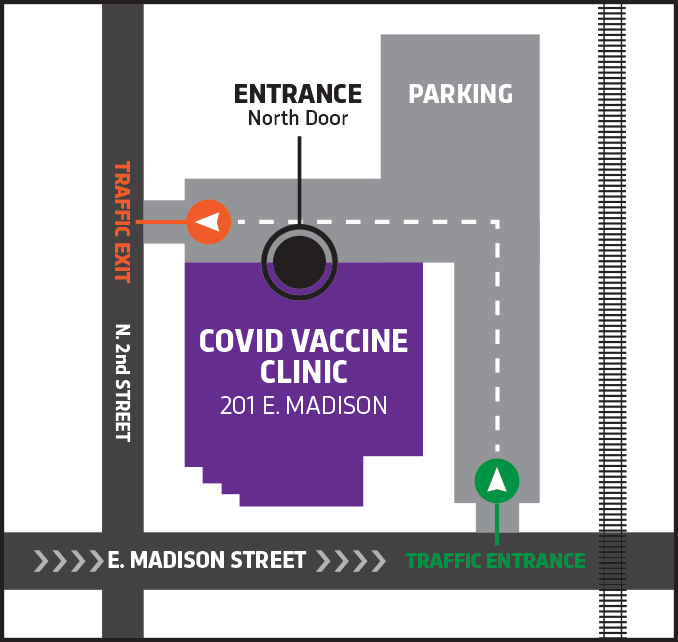 You will go to SIU Medicine's administrative building (enter from Madison St.) and park on the side of the building along the train tracks, or in the excess parking at the back of the building, and enter through the East door (facing the Centrum Building and tracks). You may park in any spot, including the spots marked for employees only.
SIU Medicine
201 E. Madison Street
Springfield, IL 62702
We may need to cancel your scheduled appointment if we are unable to secure enough doses of the vaccine. If we need to reschedule your appointment, we will call you. 
How can I prepare for my appointment?
After scheduling your appointment, this information will help make your on-site registration quick and easy.
Bring a photo ID that has your name and date of birth as well as your insurance card.
Bring your work ID to prove your employment.
You must wear a mask at all times.
Wear clothing that will easily give access to your upper shoulder, like a short-sleeved t-shirt.
Please arrive 5 minutes before your scheduled appointment time, no earlier.
Only the person scheduled for an appointment will receive the vaccination. Please do not bring family members or friends to your appointment unless you require assistance into the building. You may bring one person.
Bring guardianship paperwork or POA if you will be signing consent for a patient.
Appointments may last up to 45 minutes for vaccination and observation.
Additional Details
If you currently are ill or have signs and symptoms of COVID-19 (fever, cough, sore throat, shortness of breath, chills, headache, muscle aches, abdominal pain, loss of taste or smell), you will not be permitted to receive the vaccination.
Looking for COVID-19 testing information? Visit this page.
If you have had a severe allergic reaction to any vaccine, we recommend attending a vaccine clinic in a higher level of care setting like an urgent care facility or a hospital.
If you received your first dose of the COVID-19 vaccine at another location, you need to schedule your second dose with that location.