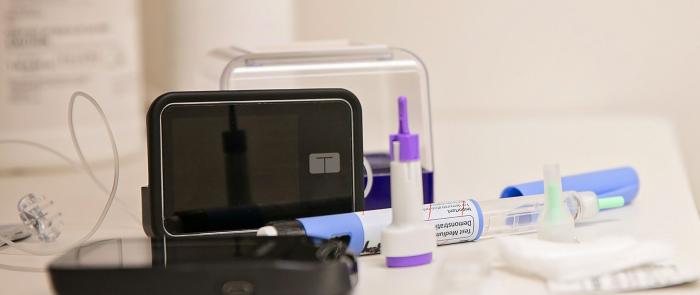 Outpatient Endocrinology Clinic
Southern Illinois University School of Medicine is dedicated to meeting the health care needs of the residents of central and southern Illinois. Ongoing research and teaching activities interface with clinical services, allowing us to provide the latest, most sophisticated medical care in the region.
We're pleased you've chosen us as your health care provider. We encourage you to read this information. It explains how you can receive high-quality, comprehensive medical care 24 hours a day, seven days a week-whenever the need arises. Most of your questions should be answered here, but if you are still uncertain about any of our office procedures, we hope you will call our appointment line: 217-545-8000.
New Patient Procedures
Please plan to arrive at least fifteen minutes early for your first appointment. As a new patient in Internal Medicine, you will be greeted at the reception desk and asked a few questions so that we can establish your record. These questions will include your legal name, address and telephone number, date of birth, Social Security number,and employment and insurance information.
In order to complete the registration, you will need to bring:
Your insurance card;
Any Worker's Compensation information, if it applies.
In addition, we ask that you bring medical records, x-rays, laboratory reports, and any prescriptions or over the counter medications you are taking. These will help your physician fully evaluate your medical history and condition.
Appointments/Cancellations
Please call the number listed above to schedule appointments. Cancellations should be made as early as possible so we can schedule another patient who needs to see us.
Prescription Refills
Please call the number listed above to obtain refills of the medicines that we prescribe. It is a good idea to have your medication bottle with you when you call. Please provide us with the name of the medication, the dose, how often you take it, and the name and number of the pharmacy you use. It is important to call for your refill a day before you need additional medication.
Phone Calls and Messages
Please call the number listed above and ask to speak with a nurse. If we are away from the phone, please leave a message along with your name, phone number, and birthday. We attempt to answer every message within the same day. Please help us by calling in the morning whenever possible.
Fellows, Residents and Students
All of our attending physicians are members of the faculty of the SIU School of Medicine. We are proud of this fact and believe this results in better healthcare service for our patients. Our physicians are committed to the educational mission of the SIU School of Medicine as well as to providing outstanding patient care. Fellows, residents and students frequently participate in the care of our patients. We appreciate your understanding and willingness to cooperate with them. They may see you in the clinic and perform the history and physical examination; they may contact you by telephone to follow your progress and report the results of your laboratory tests. If you require hospitalization, fellows, residents and students, along with the attending physician, participate in your care.
Payment, Bill, and Insurance
Due to the increasing number of plan restrictions from managed care companies, it is your responsibility to know:
Your selected primary care doctor
The hospital approved by your plan
The laboratory and x-ray facility approved by your plan
Your co-payment amount
We ask for payment and/or co-payments at the time of service for office visits and procedures, unless you are covered by Medicare, an HMO, IDPA, Worker's Compensation, or a special agency. Laboratory tests will be billed at a later date. We accept cash, check,Visa, Mastercard, or Discover.
A statement will be sent to you each month for any unpaid balance on your account. As a special service to our patients, we will file primary insurance claims for you free of charge. Please bring the address of your primary and secondary insurance carriers with you to your appointment.
Driving Directions
The Endocrinology clinic is located on the first floor of the SIU Clinics Building, in room 1700.
Driving Directions to the SIU Clinics Building.