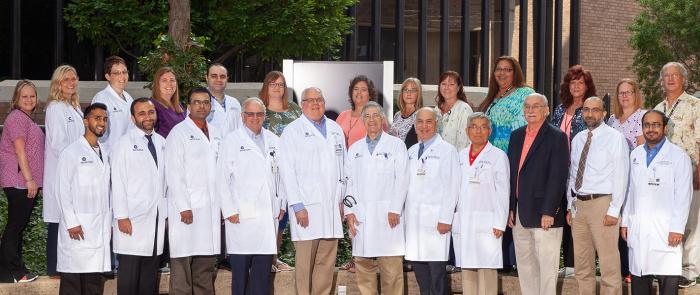 Pulmonary & Critical Care Patient Information
The faculty and staff of the Division of Pulmonary and Critical Care Medicine are dedicated to teaching students, residents and fellows at SIU in the latest trends in medicine. In addition, we provide outstanding, comprehensive care to patients with lung disorders, allergies and sleep disorders.
Outpatient Clinic
Southern Illinois University School of Medicine is dedicated to meeting the health care needs of the residents of central and southern Illinois. Ongoing research and teaching activities interface with clinical services, allowing us to provide the latest, most sophisticated medical care in the region.
We're pleased you've chosen us as your health care provider. We encourage you to read this information. It explains how you can receive high-quality, comprehensive medical care 24 hours a day, seven days a week-whenever the need arises. Most of your questions should be answered here, but if you are still uncertain about any of our office procedures, we hope you will call our appointment line: 217-545-8000.
New Patient Procedures
Please plan to arrive at least fifteen minutes early for your first appointment. As a new patient in Internal Medicine, you will be greeted at the reception desk and asked a few questions so that we can establish your record. These questions will include your legal name, address and telephone number, date of birth, Social Security number,and employment and insurance information.
To complete the registration, bring:
Your insurance card;
Any Worker's Compensation information, if it applies.
In addition, we ask that you bring medical records, x-rays, laboratory reports, and any prescriptions or over the counter medications you are taking. These will help your physician fully evaluate your medical history and condition.
Appointments/Cancellations
Please call 217-545-8000 to schedule appointments. Cancellations should be made as early as possible so we can schedule another patient who needs to see us.
Prescription Refills
Please call your pharmacy to request refills.
Fellows, Residents and Students
All of our attending physicians are members of the faculty of the SIU School of Medicine. We are proud of this fact and believe this results in better health care service for our patients. Our physicians are committed to the educational mission of the SIU School of Medicine as well as to providing outstanding patient care. Fellows, residents and students frequently participate in the care of our patients. We appreciate your understanding and willingness to cooperate with them. They may see you in the clinic and perform the history and physical examination; they may contact you by telephone to follow your progress and report the results of your laboratory tests. If you require hospitalization, fellows, residents and students, along with the attending physician, participate in your care.
Payment, Bill, and Insurance
Due to the increasing number of plan restrictions from managed care companies, it is your responsibility to know:
Your selected primary care doctor
The hospital approved by your plan
The laboratory and x-ray facility approved by your plan
Your co-payment amount
We ask for payment and/or co-payments at the time of service for office visits and procedures, unless you are covered by Medicare, an HMO, IDPA, Worker's Compensation, or a special agency. Laboratory tests will be billed at a later date. We accept cash, check,Visa, Mastercard, or Discover.
A statement will be sent to you each month for any unpaid balance on your account. As a special service to our patients, we will file primary insurance claims for you free of charge. Please bring the address of your primary and secondary insurance carriers with you to your appointment.

Directions
The Pulmonary Medicine clinic is located in room 2100 on the second floor of the SIU Clinics (Moy) Building, 751 N. Rutledge Street, Springfield,
Inpatient Critical Care Service
The medical ICU service offers evaluation, treatment and/or monitoring of patients with critical illness such as acute respiratory failure, shock states, acute renal injury, acute liver failure, life threatening electrolyte abnormalities, infections or endocrine disorders.
The medical ICU teams at St. John's Hospital and Memorial Medical Center are led by a board certified pulmonary/critical care medicine physician. Other members on the team vary by location but can include pulmonary fellows (SJH), residents (Internal Medicine, Emergency Medicine or Family Medicine) and nurse practitioners (MMC).
The ICU team offers advanced ventilator management and the standard invasive procedures (central lines, arterial lines including axillary arterial lines, temporary dialysis catheter, thoracentesis, chest tubes (percutaneous and closed), bronchoscopy, paracentesis, lumbar puncture, and percutaneous dilational tracheostomy) and bedside ultrasound.
Pulmonary Function Testing Laboratory
Pulmonary function tests are an important part of diagnosing and managing respiratory diseases. The SIU Pulmonary Testing Laboratory offers the following tests:
Spirometry:  measurements of the volume and rate of exhalation and inhalation.
Lung volumes:  measurements of the absolute volume of the lungs at maximum inhalation and exhalation
Diffusing capacity:  measurement of the efficiency of gas flow from the lungs into the blood
Respiratory muscle strength
Methacholine challenge:  measurement of the sensitivity of the lungs to inhaled irritants
Exercise capacity and limitation due to respiratory and cardiovascular impairment