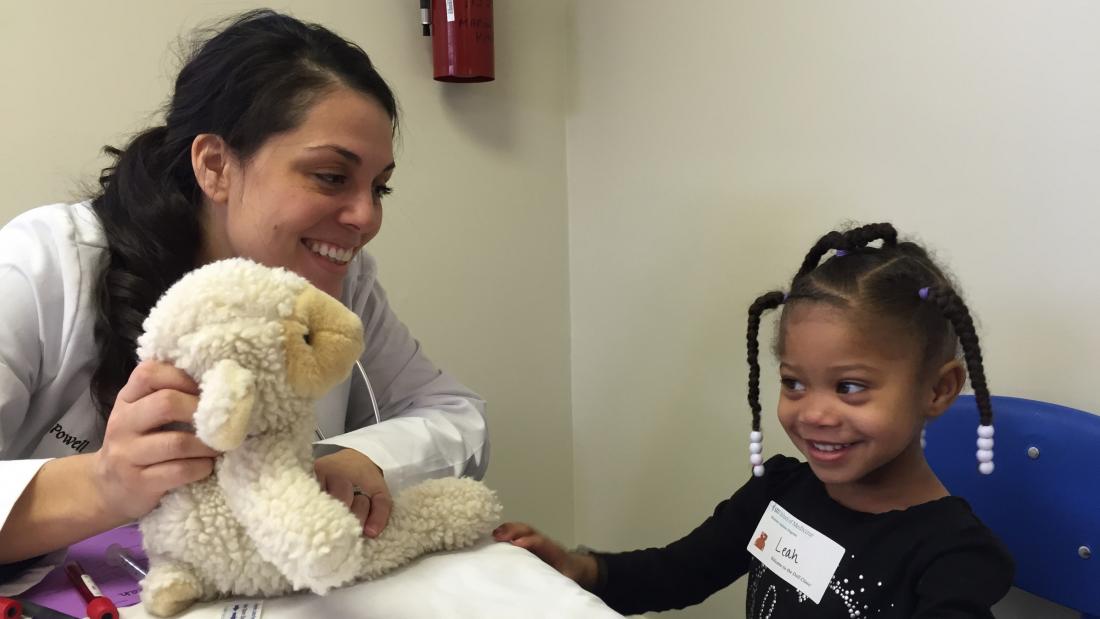 'Doll Clinic' Teaches Children Importance of Doctor-Patient Roles, TLC
Carbondale, Illinois ─ SIU School of Medicine Physician Assistant students will be examining baby dolls and stuffed animals for preschool children during two "Doll Clinics" at 9 - 11 a.m. and 1 - 3 p.m., on Wednesday, March 6. The clinics will be held at SIU Head Start, 907 N. Vicksburg in Marion.
Children aged 3-5 will have the opportunity to "adopt a baby" and then act as the parent of the baby by bringing him/her/it in for a check-up or an evaluation of illness or injury. The babies will receive medical care, including measuring weight, height and blood pressure, and be given a complete physical exam. Tests or x-rays may be performed and babies will get whatever therapeutic measures are needed, including stitches or splinting for broken limbs. All babies will receive an "injection" of some sort. The children will also receive age-appropriate health education in creative group formats before and after the physical exams. SIU School of Medicine faculty and staff donated the dolls and stuffed animals for the community event.
Head Start Program Director Lea Maue said the clinic allows children to receive a gentle introduction to family health care processes. "The child can realize that future visits to the doctor are not so scary," she said. "They can see it from a different perspective in a really positive light."
Molly Johnson is a nurse practitioner and assistant professor in Family and Community Medicine who organized the clinic. She believes that the Physician Assistant students also benefit from their interactions with the children in ways they might not otherwise experience while in the program. "The Doll Clinic is a great educational opportunity for the PA students. It provides them an opportunity to talk with the children and to learn about the value of play in the life of our youngest patients," said Johnson.
"Children process scary or painful experiences through play. Adults can help direct or guide their play in order to to allay their fears or to help them deal with upsetting life events of childhood. Beyond all that, the Doll Clinic is also just a wonderfully entertaining activity for everyone involved."

Contact Molly Johnson at 618-453-2664 for more information.