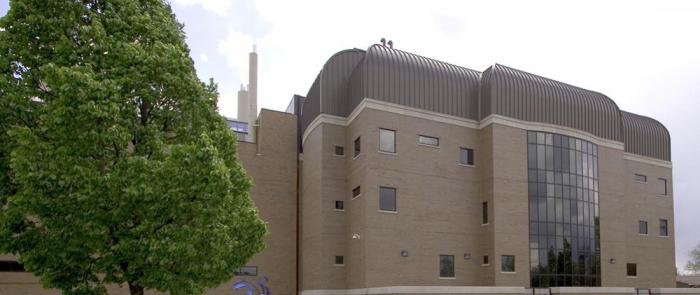 SIU Core Facilities
Flow Cytometry Facility
The Flow Cytometry Facility is a fully equipped high speed cell sorting and cell analyzing research laboratory. The facility is equipped with three flow cytometry instruments.  The Becton-Dickinson FACSAria II high-speed cell sorter, features five air cooled lasers (blue 488nm, yellow-green 561 nm, red 640nm, violet 405nm and UV355nm), multicolor analysis up to 10 parameters and four way sorting. This instrument is housed in a Baker BioProtect-II bio-safety cabinet, which enables sorting of BSL-2 level samples.  The Becton-Dickinson FACSCalibur benchtop flow cytometer features two lasers (blue 488nm and red 635nm) with four color capability.  The Becton-Dickinson Accuri C6 bench top trained user operated flow cytometer features two lasers (blue 488nm and red 640nm) with four color capability. Luminex-BioPlex Array Reader is a flexible analyzer based on the principles of flow cytometry. The system enables you to simultaneously measure up to 100 analytes in a single microplate well, using very small sample volumes. The system delivers fast and cost-effective bioassay results on many assay formats including nucleic acid assays, receptor-ligand assays, immunoassays and enzymatic assays.   For further information please contact Melissa Roberts at mroberts@siumed.edu.
Research Imaging Facility
The Research Imaging Facility offers support for scanning and transmission electron microscopy, confocal microscope and computerized image analysis. The facility, at 801 North Rutledge Street, is equipped with a Hitachi H7000 Transmission Scanning electron microscope, a Hitachi S3000N Variable Pressure scanning electron microscope using PC-controlled electronics and Leica spectral confocal microscope. Additional equipment include:  Life Technologies Step One Plus rtPCR, Laser Captured Microdissection equipment, Syngene G:Box iChemi XT chemiluminescence imaging system, Li-COR Odyssey, near-infrared imaging system, and IVIS Lumina in vivo bioluminescence imaging system. Laboratory staff is available to assist researchers, design protocols and provide technical services on an as-needed basis. For further information please contact Wei Du at wdu@siumed.edu.
Laboratory Animal Facility
The Laboratory Animal Facility and Program at the SIU School of Medicine contains approximately 20,000 gross square feet of modern, well-equipped space which includes a surgery suite, cage wash facility, diagnostic laboratory, necropsy room, quarantine area and infectious disease containment suite. The facility is located at 801 North Rutledge Street. The centralized laboratory animal care program is accredited by the Association for the Assessment and Accreditation of Laboratory Animal Care and it is directed by a veterinarian who is a diplomat in the American College of Laboratory Animal Medicine. The Biomedical Research Administrator of animal care is certified as a Laboratory Animal Technologist by the American Association for Laboratory Animal Science.
SIU School of Medicine houses an x-ray Irradiator in the DLAM facility at 825 North Rutledge Street SCLF Addition. The instrument is available to all faculty researchers having an approved protocol through the SIU-SOM Radiological Control Committee. For further information please contact rdeters@siumed.edu.
Division of Statistics and Research Consulting
Statistics and Research Consulting is located upstairs at 913 North Rutledge Street, Springfield. The division provides research and statistical consulting services to basic science and clinical faculty of the School of Medicine at both the Springfield and Carbondale campuses. Consultation provided covers a wide range of research and statistical issues. For further information please contact Steven Verhulst at sverhulst@siumed.edu.
Molecular Core Facility
The Simmons Cancer Institute at SIU Molecular Core Facility provides various types of services, including tumor tissue microarray and Affymetrix microarray analysis. The facility is also equipped with state-of-the-art instrumentation as listed below. The equipment is accessible to all cancer researchers at SIU.
Affymetrix microarray system
Manual Tissue Arrayer 2 (Chemicon)
GenePix® Personal 4100A Microarray Scanner (Axon)
SpotBot Personal Microarrayer (TeleChem)
Alpha Innotech FlorChem 5500
Olympus BX41 microscope with digital imaging system
Olympus IX71 inverted fluorescence microscope with digital camera
Cryostat (Thermo)
Microtome and floating water bath (Thermo)
Applied Biosystems 7500 Real Time PCR System
Bio-Rad 2-D systems
Savant Integrated SpeedVac
Dry ice maker
Agilent Bioanalyser
LN2 storage (MCR Cryogenics XLC 1200)
Departmental Instruments
Film Developer
Contact: Dr. Andy Wilber
Location: SCLF II, room 3619
Scintillation
Contact: Risa Kirkpatrick
Location: SCLF II, counter room 2626
Ultracentrifuge
Contact: Risa Kirkpatrick
Location: SCLF II, room 2652
Luminometer
Contact: Dr. Donald Torry and Dr. Sophia Ran
Location: SCLF II, room 2621
Fluorescent Microscope
Contact: 
Location: SCLF II, room 2658
Liquid Nitrogen
Contact: Chris Chambers
Location: SCLF II, room 2624
To gain access to locked tank, contact Chris Chambers
room 2633
Fermentas Enzyme Freezer & Bioline Freezer
Contact: Dr. Andy Wilber
Location: 825 bldg SCLF II, Enzyme Freezer room 2633
Fluorescent Plate Reader
Contact:
Location: SCLF II, room 2632
UVP Gel Documentation
Contact:
Location SCLF II, room 2638 and SCLF II, room 2658
96 Well Plate Reader
Contact: Dr. Donald Torry
Location : SCLF II, room 2615