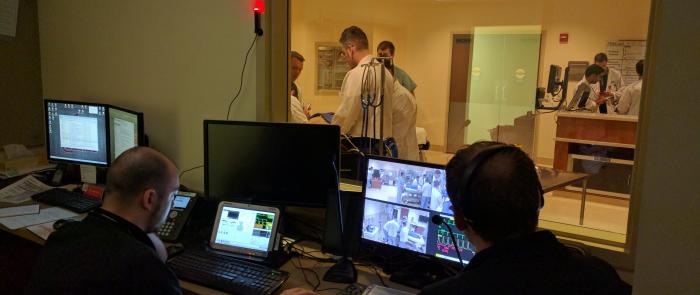 Who can apply?
The 4th year sub-intern rotation is intended for any 4th year medical student planning on applying to emergency medicine residencies.
Where will I be training?
Southern Illinois University School of Medicine is a community based residency training program located in Springfield, IL. We have two primary clinical sites:
Memorial Medical Center is a 500+ bed tertiary care hospital with an annual ED volume of 70,000 patients. It maintains a Level 1 trauma center, a comprehensive stroke center, and a regional burn center.         
St. John's Hospital is a 400+ bed tertiary care hospital with an annual ED volume of 65,000. It maintains a Level 1 Adult Trauma Center, a Level 2 Pediatric Trauma Center, a regional stroke center and the St John's Children's Hospital.
What is the experience like?
Fourth-year medical students will rotate at both sites and function in a sub-internship role independently evaluating patients, documenting and placing orders. Experiences will include time in the high acuity portion of both emergency departments, shifts in the pediatric ER, and hands-on skills with the nursing staff. In addition to clinical duties students participate in weekly residency conference, target medical student weekly simulation sessions and present a teaching case to the faculty.
How Can I Apply?
If interested please email Nichol Timms (ntimms99@siumed.edu) with your:
USMLE/COMLEX scores
Updated CV
A personal statement of why you are interested in Emergency Medicine, and
A letter of intent for why you want to rotate at SIU. 
In addition, applicants must apply through VSAS - Course number 80473: Emergency Medicine for the EM Bound Student/Springfield 4 weeks 2018 - 2019
     AAMC Visiting Student Application Service (VSAS).  
SIU School of Medicine Visiting Student Policy - http://www.siumed.edu/studentaffairs/visiting-student-policy.html
We look forward to hearing from you!
Contact Information
Nichol Timms - Clerkship Coordinator
ntimms99@siumed.edu
Chinmay Patel, D.O. – Clerkship Director
cpatel@siumed.edu