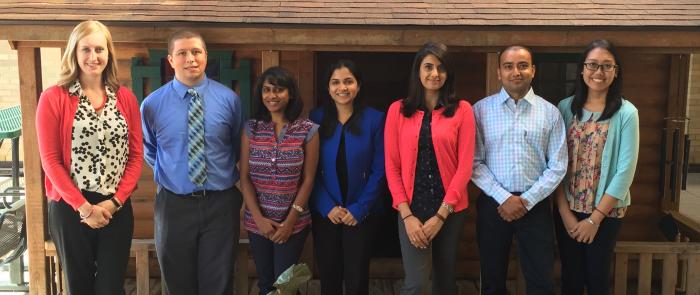 Manasi Hulyalkar, MD
Medical School: RCSM Government Medical College Kolhapur
Bio:  After completing my medical school from India, I pursued my MBA in Health Sector Management from Fox School of Business, Temple University. Following this I got the opportunity to do some project management, quality improvement and global research in Pediatrics at the Mayo Clinic. I moved to Springfield a couple of months ago to join SIU Pediatrics. Currently I am enjoying my first year of residency and the joy of raising our 2 year old. I am delighted to be here and excited for what the future holds. Thank you SIU, Springfield and all the people here for being so wonderful!
Why SIU?:  I wanted to join a program where I could not only meet my educational goals but also have an environment conducive to raising my family. In SIU I got the opportunity to achieve both! From the time I interviewed I loved the program faculty, residents and coordinators, who were very warm, friendly and approachable. Due to the small program size I felt that the residents had a lot of autonomy and say in decision making, which was a great learning opportunity. The town of Springfield is a lovely place to live with great cultural heritage, lots of parks and recreational opportunities. Thus we decided to be part of this wonderful SIU family and have been loving it here ever since!
Aayush Khanal, MD
Medical School: Institute of Medicine, Tribhuvan University
Bio:  I'm a simple man with some simple tastes in life- Live fully, Laugh, Love, Eat, Drink, Play & Be Merry!  I was born and raised in the Himalayas.  I'm passionate about soccer and am already enjoying the adrenaline rush of American Football.  I love playing with my daughter, listening to a wide range of music, hiking, being outdoors, and good food & beer!  To stay healthy I enjoy yoga and meditation.  What I miss above anything else is Yak Cheese from Nepal.  My bucket list includes:
Watch a Champions League Knockout stage game in Europe.

Learn the art of brewing a good beer.

Take my daughter to Disney World (We have still got two more years ahead, so #3 on my list!)
Why SIU?:   I was looking for a program that had an optimum balance of a good clinical learning environment, academics and research opportunities.  I felt I'd resonate well with the values the program had to offer and most importantly, the warmth and happiness that i could feel in the air even on the day of interview itself was promising of a very friendly, resident supportive atmosphere. Looking back, I can say with more confidence and pride that i made the right decision.
Kavipriya Komeswaran, MD
Medical School: Chettinad Hospital and Research Institute
Bio:  I am Kavi, one of the interns. I spent a good part of my childhood in LA and moved back to India with my family which is where I graduated med school from two years ago. I have a large family back in India and 2 younger sisters whom I absolutely adore. I live in Edwardsville with my husband so if you find someone speeding on I-55, it's probably me. So far, residency in Springfield has been wonderful! If I'm not in the hospital, I am probably hanging out with my co-interns, playing tennis with my husband (more like running around picking up balls), or being put to sleep by my books :)
Why SIU?:   I chose SIU as it facilitated living together with my husband and because I personally felt I would gain a lot from a smaller program where we would work closely with attendings and no fellows to compete with. Three months into residency and I am truly amazed at how much the attendings are invested in our academic and professional success. However, one of the main reasons I chose SIU is because on interview day, Dr. Miner- the PD told us to "follow our gut" and I am super glad that I did.
Jocelyn Lorenzo, MD
Medical School: University of Santo Tomas
Bio:  I am a graduate from University of Santo Tomas in the Philippines with a degree of Biology and Medicine. Aside from this career, I have also been passionate about dancing. I was a member of a dance company and has performed ballet, jazz, hip hop and tap before. Currently an intern in SIU, I hope to become a good general pediatrician or neurologist one day.
Why SIU?:  I chose SIU Pediatrics because it offers a good residency program and I really wanted to be in a small program. What I love about SIU Pediatrics is how they are dedicated to resident education and welfare. I appreciate the camaraderie the residents have with each other as well as with the Attendings. When I came here for the interview, everyone was warm and I immediately felt I could be a part of this family, and I was not wrong.
Megha Malhotra, MD
Medical School: Kasturba Medical College, Manipal
Bio:  I grew up in a glorified fishing village on the east coast of Canada. In a valiant effort to combine the pursuit of medicine with a bit of adventure, I moved to southwest India for 7 years. The majority of that time was spent on an in-depth analysis of monsoon season versus blizzard season, and deciding if that mosquito on my leg was, in fact, graciously sharing her malaria/dengue/chikungunya with me (as any true friend would). After meeting some of the best people I have ever encountered and being inspired by incredibly talented physicians, I found myself in the American Midwest. I am truly fortunate to be part of the pediatrics team here at SIU/St John's. In my short time here, I have grown exponentially personally and professionally.  I am excited to get to know everyone here over the coming years and, in the process, explore this unique part of the world.
Why SIU?:   I chose SIU because the program promotes hands-on clinical experience with an emphasis on resident education.  With a program that isn't too large or too small, residents are afforded enough opportunities to learn and practice without being stretched too thin. An encouraging faculty and supportive administration creates an environment of healthy professional development. And of course, working with a fantastic group of co-residents makes this strenuous time in our careers much more fun. I am fortunate to be part of the pediatrics team here at SIU.  
Gerald Miller, MD
Medical School: Southern Illinois University School of Medicine
Bio:  I was raised in Rantoul a town of 12,000 which is near Champaign-Urbana. I attended Parkland College before graduating from the University of Illinois at Urbana-Champaign with a degree in molecular and cellular biology. I attended SIU School of Medicine for medical school and graduated in 2016. The part that I enjoyed most about SIU during medical school was the people. In my spare time I really enjoy golfing, running, and watching sports. I am a fan of the Chicago Cubs, Chicago Bears, University of Illinois, and North Central College. I also really enjoying learning about new cultures and trying a variety of new foods.
Why SIU?:   I attended SIU for medical school. During medical school I really enjoyed the sense of family I got between the residents. It was this sense of family that really attracted me to this program. I also appreciated the focus on education that the attendings placed on both the medical students and residents.
Meredith Volle, MD
Medical School:  Southern Illinois University School of Medicine
Bio:  I graduated from SIU, and am thrilled to be staying here for residency! Before medical school I worked as a psychiatric case worker at Mental Health, and then earned my Masters in Public Health while interning at IDPH in Newborn Hearing Screening.  I was born and raised in Springfield, and my husband and I are proud graduates of Springfield Public School District 186 and the University of Illinois at Urbana-Champaign. We have a 6 month old baby girl, Evangeline, who is giving us lots of first-hand experience in Pediatrics!
Why SIU?:   I attended SIU for medical school. I thought I might want to stay at SIU for residency, but it wasn't until I saw how well the residents and attendings worked together that I knew I wanted to come here. I liked that the residents had autonomy in their decision making and patient care, but always with plenty of support, and the attendings created an open environment for learning. Plus it didn't hurt that I'm from Springfield and know how wonderful it is!