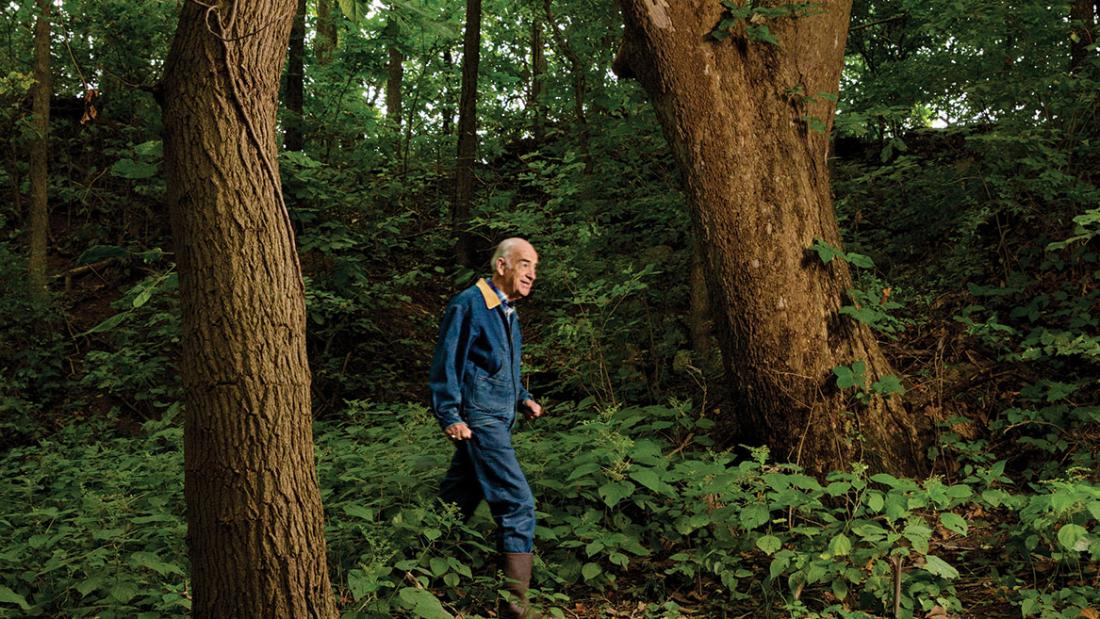 Dr. Andrzej Bartke has become a poster child for his research focus
Written by Steve Sandstrom | Photography by Jason Johnson
Published in Aspects Magazine, Autumn 2014 | Vol. 37-4
Andrzej Bartke, PhD, can appreciate Woody Allen's joke on two levels. It's no small feat to sustain a 50-year career in comedy — or in science and biomedical research. For the past two decades, Bartke has studied the biological mechanisms of aging. He well understands the human desire to postpone the inevitable.  
Within Bartke's field of geriatric research, gains in longevity can occur at the expense of other systems. The mice that Dr. Bartke studies have genetic mutations. They lack growth hormone (GH) or have no GH receptor, making them unable to respond to GH. The result is a lifespan gain from 30 to 70 percent. These dwarf mice are much smaller than their normal brothers and sisters born in the same litters, but when tested, far surpass them in memory and cognitive function late in life. What's more, the mutants look healthier. This characteristic of health and robustness into a ripe old age is the goal of geriatric medicine.
Dr. Bartke, 75, has obviously taken some of his research findings to heart. He eats right, keeps active and hails from hardy genetic stock; his father lived to the age of 96 and his grandmother was "close to 100." He rises most mornings at 4 am at his home in rural Mechanicsburg and is at his desk at Springfield's School of Medicine by 6:30. As professor emeritus of internal medicine and physiology, his typical day is filled with academic matters both large and small. "I may complain about frustration over grant struggles or some other local issues, but I truly enjoy what I do," he says.
And his group has done a lot. Dr. Bartke's research and his collaborative studies with other investigators have defined a series of mechanisms that might, in principle, link growth hormone signaling with longevity. His little mice could ultimately lead to a big improvement for the human race.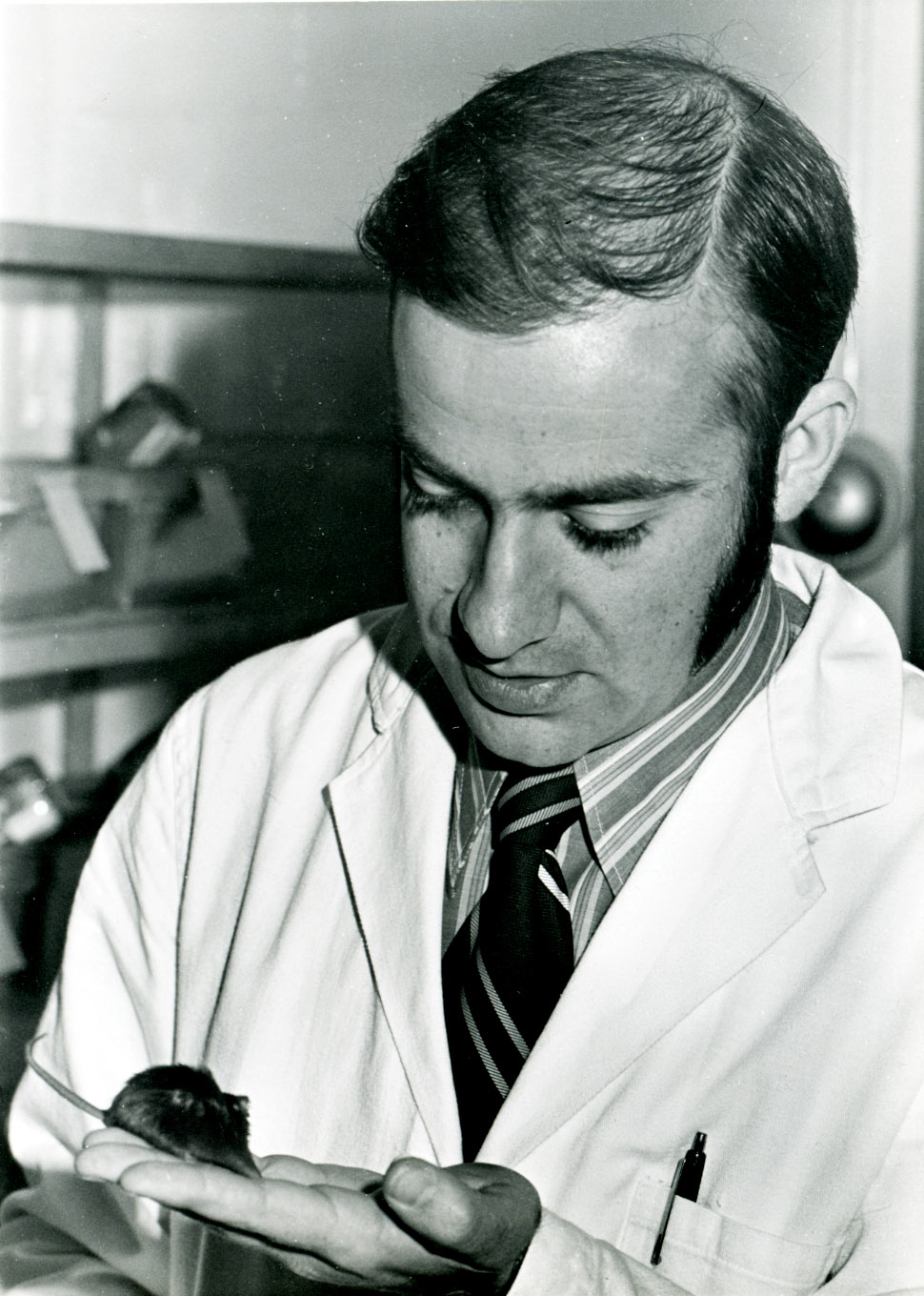 Coming of age
Dr. Bartke was born in Krakow, Poland, in 1939, a few months before the start of World War II. His youth was a time of hardship and war-time rationing with resourceful parents who occasionally concealed provisional black market items in his baby carriage. From 1956-62, Dr. Bartke attended Krakow's Jagiellonian University, the second-oldest university in central Europe — Copernicus was one of its students centuries earlier. He earned a magister (master's) degree in biology and set his sights on coming to America to further his education. 
Why America? 
"My expectations were extremely vague and somewhat unrealistic," Dr. Bartke says. "I thought it was an interesting opportunity to come to the United States and work toward a PhD, so I jumped into it." The environment at the University of Kansas in Lawrence was much different from the urban European environment and from what he expected from books and films set in America. "The town was very quiet and suburban. And very charming," he says. 
Dr. Bartke earned his doctorate and returned to Poland in 1965 but longed for the freedoms he'd experienced stateside. In 1967 he was invited to a training program at the Worcester Foundation for Experimental Biology in Shrewsbury, Massachusetts, and began an intensive study of reproductive physiology. 
At Worcester, his group's research into a hormone, prolactin, garnered widespread interest. Prolactin enables female mammals to produce milk and is influential in more than 300 separate actions in vertebrates. When discoveries and methodological advances involving prolactin were made in humans in the '70s, "people became very interested in our work," Dr. Bartke says, and his speaking invitations blossomed.
"To this day our most cited papers are in prolactin, not in aging," he says. This seems especially surprising considering the attention his later research was going to generate. 
Lifespan link
Dr. Bartke joined Southern Illinois University School of Medicine in Carbondale in 1984, as professor and chair of the Department of Physiology.
His laboratory work focused on reproductive endocrinology until he began a collaboration with Dr. Thomas Wagner at the University of Ohio in the late '80s. Dr. Wagner was one of the pioneers in producing transgenic animals that over-expressed growth hormone. The animals Dr. Wagner produced were remarkably large, with various interesting characteristics and potential translational uses in the animal livestock industry, but they had reproductive complications that would interfere with practical applications.
Dr. Wagner sought Dr. Bartke's help, and the lab group very quickly discovered the animals' fertility problem was due to specific deficits in pituitary hormone secretion. Then curiosity set in. Bartke was intrigued that the animals looked so robust and impressive when they were young, but seemed to "self-destruct" at a relatively early age and went downhill quickly. It got the group interested in the relation of growth hormone and aging. Dr. Bartke had worked with much smaller mice — dwarf mice — throughout his career, dating as far back as his doctoral dissertation, when a new genetic mutation that blocks growth hormone was discovered. 
The group designed a simple experiment to find out how long the dwarf mice live. An equal number of dwarfs and their normal siblings were set aside. About two years later, Dr. Bartke and Holly Brown-Borg, PhD, were looking at the mice, and most of the normal mice were gone, while almost all the dwarfs were still alive. They started checking more often and became gradually more excited by the emerging data. At the three-year mark, it was apparent the dwarfs had gained a strong advantage in longevity. Their research, published in Nature in 1996, was the first to show that a mutation of a single gene had extended lifespan in a vertebrate. 
"It had been known since 1988 that a single mutation in a gene could make an animal live longer. There was a set of observations on the genetics of aging from yeast to microscopic worms and fruit flies, and the obvious question was whether it has anything to do with aging in a more complicated animal," Dr. Bartke says. "So we were lucky to provide that link, to show a mutation in one gene can affect a major life extension in animals that are more like us." 
That finding led to two decades of research. Dr. Bartke's lab has extensively studied the phenotypic characteristics of long-lived hypopituitary and growth hormone-resistant mice. "We believed these animals possess mechanisms that link growth hormone signaling with longevity," Dr. Bartke says. The collective results are striking: the mice not only live longer, but are healthier — less likely to get cancer, with better memories and learning capacities.
The mouse that wouldn't die
Among his numerous honors, Dr. Bartke has the distinction of raising a mouse that holds the current world record for longevity: 1,819 days. This dwarf mouse died a week shy of its fifth birthday, roughly twice its normal lifespan, equivalent to a human reaching the age of around 180. For this feat, Bartke was one of two scientists awarded an "MPrize" by the Methuselah Foundation in 2003. Dr. Bartke returned the monetary prize to the Foundation. His record still stands more than a decade later. 
Dr. Bartke also was awarded the largest National Institutes of Health (NIH) research grant the SIU School of Medicine ever received. In 2009 he was awarded an $8.6 million, five-year grant from NIH's National Institute on Aging. The grant funded a multiple-institution project to study the effects of growth hormone on aging and longevity. Dr. Bartke is the lead investigator for the project, "The Somatotropic Axis and Healthy Aging: A Search for Mechanisms," which includes collaborators at four other institutions.
Results from the study clarify the role of growth hormone in the search for a means to control aging and improve cognitive and physical function as we age.  
Bartke's laboratories have been continuously funded through federal and private grants. Since 1984, he has received 21 grants at SIU for his research, totaling $16.5 million. In 2010 he was in the top 5 percent of NIH-funded research scientists in America. His previous external research has been funded by the NIH, the Ellison Medical Foundation, the US Department of Agriculture, the North Atlantic Treaty Organization and the Rockefeller Foundation. 
Dr. Bartke's contributions to the field of reproductive endocrinology and to the hormonal and genetic control of aging include nearly 600 peer-reviewed publications and more than 150 book chapters and review articles. According to the Web of Science Cite Alert, Dr. Bartke's work has been cited an average of 490 times per year since 1975 and more than 774 times per year since 2004. 
His colleagues also value his leadership. At different times throughout his career, he has been elected president of the American Society of Andrology, the Society for the Study of Reproduction and the American Aging Association.
As a sought-after expert, Dr. Bartke travels constantly to share his research with a worldwide audience, from throughout the US to Austria, Spain and the Netherlands — and that's just in the last six months. 
The secrets to longevity
Dr. Bartke jokes that to make up for the deforestation that his 50-year career of published research has caused, he has adopted and maintains some reforested farmland near his home outside Buckhart.
An avid outdoorsman and hiker, he's very aware of the lifespan studies that extol the virtues of exercise, keeping the mind challenged and of maintaining a support network of family, friends and peers. 
"I consider it a privilege to be involved in this research, to be engaged and interact with other people," he says. "I certainly don't want to give it up if I don't have to." λλλ