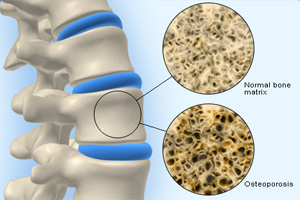 SIU Bone Health Clinic The Bone Health Clinic is a multidisciplinary clinic, involving SIU Orthopaedics, Internal Medicine (Rheumatology), and Obstetrics & Gynecology. The mission and purpose of this clinic is to provide primary and secondary fracture prevention, as well as bone fragility treatment, care, and education to at-risk patients in the central and southern Illinois area. Osteoporosis is the most common bone disease in humans and represents a significant health issue. It is a costly, and sometimes fatal, disease.
Utilizing the resources available, the Bone Health Clinic seeks to identify patients at risk for fragility fractures, and develop a 'one stop shop' system for education and treatment. Once a patient is found or thought to be at risk, the patient's bone density is scanned using SIU's DXA (Dual-energy X-ray absorptiometry) machines, and then the patient is scheduled to see one of the Bone Health Clinic providers. The physicians discuss various treatment options and develop a plan of care specific to each patient, factoring in the patient's lifestyle habits and family history. The long term, overall goal of the Bone Health Clinic is to decrease the occurrence of fragility fractures through treatment and education.
For more information regarding Osteoporosis, visit the National Osteoporosis Foundation's website
To make an appointment with the SIU Bone Health Clinic, please call us at 545-8000.