Ranjiv Mathews, MD
Professor
Department of Surgery
Director of Pediatric Urology
About
Dr. Ranjiv I. Mathews is a Professor of Clinical Surgery in Urology (Pediatric) at SIU Medicine. He is the Director of Pediatric Urology and the Program Director for the Urology Residency Program. He provides comprehensive pediatric urological care treating congenital anomalies affecting the urinary tract and genitalia; undescended testes; UTIs; and acquired problems affecting the urinary tract.
Dr. Mathews completed his Pediatrics residency at UMDNJ School of Medicine in New Jersey and completed his Urology residency at SUNY Upstate Health Science Center in Syracuse, New York. He completed his fellowship in Pediatric Urology at the Brady Urological Institute at Johns Hopkins School of Medicine in Baltimore, Maryland. Dr. Mathews returned to SUNY Health Science Center in 1998 to serve as faculty. In 2000, he joined the faculty at Brady Urological Institute at John Hopkins where he practiced for 11 years. Prior to joining SIU in 2015, he practiced at Children's Urology Associates in Las Vegas, Nevada.
Dr. Mathews has authored over 75 peer-reviewed publications in Pediatric Urology and was a principle investigator on the NIH-funded RIVUR study. He has presented at national and international meetings and has been recognized as an expert on the management of exstrophy-epispadias complex. He is on the Board of the Association of Bladder Exstrophy Community and is leading efforts to bring state-of-the-art surgical management of exstrophy to patients in Uganda.
Dr. Mathews is a diplomate of the American Board of Urology and is board-certified in Pediatric Urology. He is also a member of the Society of Pediatric Urology, the American Academy of Pediatrics Urology Section, and the European Society of Pediatric Urology.
Video: Pediatric Urology with Dr. Ranjiv Mathews - SIU SOM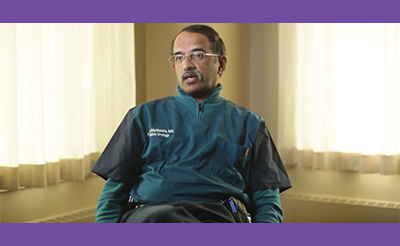 Education
Medical School:
U.T.E.S.A. School of Medicine, Santo Domingo, Dominican Republic
Residency:
SUNY Health Science Center, Syracuse, NY
Fellowship:
Brady Urological Institute of the Johns Hopkins School of Medicine, Baltimore, MD