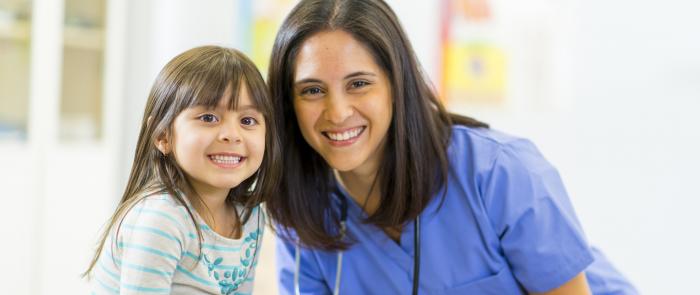 The following services are available to TeleHealth-enabled patient sites. Sites will require a trained telepresenter available for virtual visits and in some instances, will require an advanced level practitioner trained to do certain on-site services, to prevent patients from having to travel for care. In most services, patients' insurance coverage is billed by SIU providers or services are patient self-pay. Telepresenters must be a registered nurse or licensed practical nurse to meet eligibility requirements for Medicaid billing.
Certified deaf educator patient teaching for children with hearing deficits or loss status post hearing aids or cochlear implants. Services delivered to parents and children at home or in a school or clinic setting. Newborn hearing screening with OAE and ABR service pending. Other services include head and neck cancer surgery initial evaluation and post-surgical visits; facial plastic surgery initial evaluations and post-surgical visits; voice and swallowing disorders initial evaluation and follow-up visits.
New referrals and follow-up patient visits are available. Sites will need to have trained advanced practitioners to do biopsies of suspect lesions. Other laboratory testing required includes the ability to do a KOH prep and test, as well as other labs commonly used for dermatologic conditions. Skin scrapings may be done by the telepresenter. Requires ability to upload history form and images to SIU Dermatology.
New referral and follow-up appointments are available for patients with endocrinology disorders. Specific services are provided for patients with complex diabetes and other insulin abnormalities. Diabetes education also included in services if not available on-site.
Adult and pediatric otolaryngology services are available for new patient evaluations, consultations, and follow-up care. On-site services may be available in the future as a hybrid model of care delivery with TeleHealth. Allergy testing will be available via TeleHealth for selected sites based on primary care support.
New, follow-up and continuing care from family medicine providers. Scheduled outpatient visits and online care options (pending) available to new and established patients.
General surgery services are available through TeleHealth for surgical evaluations, second opinions, and follow-up care for patients recovering from elective or urgent surgical interventions.
New referral and follow-up appointments are available for any patient for the diagnosis, treatment, and/or prevention of blood diseases and cancers, such as iron-deficiency anemia, hemophilia, sickle-cell disease, leukemia, lymphoma etc.
Pediatric and adult medical genetics consultations for new and follow-up visits with patients and their families.  Certified medical genetics counselors and our medical geneticists evaluate patients in a collaborative practice model.
New patient referrals, second opinions, and follow-up care are available. The service requires the ability of the site to upload CT and MRI imaging for consultation with the neurosurgeon. Patients may self-refer for a second opinion (pre-payment cash service).
Oncology – Clinical Psychology Supportive Care
Distress screening for patients with the diagnosis of cancer. Supportive services are then considered via TeleHealth for patients who need supportive care throughout the treatment process.
Pediatric neonatology is offered as a hospital-based service. This service is primarily for hospitals with a Level 2 or above nursery wishing to maintain this designation. Neonatology services can also be used for any hospital with a birthing unit that could benefit from specialists in this field. Pediatric neonatology is a contracted service.
New referral and follow-up appointments are available for pediatric patients.  Clinical services for pediatrics are offered for general pediatrics as well as a variety of pediatric sub-specialties including pediatric cardiology, nephrology, neurology, infectious disease, endocrinology, and gastroenterology.
New referral and continuing care is available to patients with private insurance coverage and Medicare. Services include medication management as a consultative service to primary care, counseling and therapy, and other behavioral health services as needed. Contracts are available for hourly rates to support sites with high Medicaid populations.
Initial evaluations and referrals as well a post-surgical followup, patient eduction, etc. for patients who receive solid organ transplants from SIU.
Telestroke is available through Memorial Medical Center, Springfield IL. SIU TeleHealth supports all aspects of the TeleStroke program in cooperation with Memorial Medical Center.
Follow-up care for patients of multi-systems trauma who have been cared for by trauma surgeons at SIU and Memorial Hospital. Consultations with primary care providers for post-injury complications are available for collaborative care and continuity of care.
New referral and follow-up appointments are available for patients with urological complaints. Ultrasound will be done at the patient facility just prior to the Tele-Urology visit and shared with the urologist, who will then connect with the patient.
New, consultative, and follow-up visits for cosmetic vein, peripheral vascular disease, wound care, dialysis access, follow-up for interventional radiography. Required patient site services include Doppler studies, CT scanning, and general foot radiographs.
Contact Information for Clinical Services
Helpline Phone Number:
SIU TVS Clinical TeleHealth and VideoConferencing Helpline ​217-545-8600