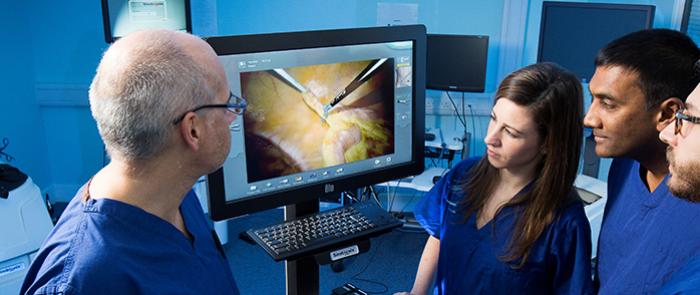 Clinical
SIU TeleHealth and Video Services provides training in many different areas including Clinical Telepresenting.  Telepresenters are with the patient at the patient site when a TeleHealth visit occurs and act as a patient advocate, a provider advocate, a liaison for communication, and are responsible for running all the equipment including patient peripherals such as the digital stethoscope.  The training for Telepresenters is about two hours and is provided by SIU TeleHealth in the regional center.  Training is necessary to ensure that the patient and the provider have an exceptional experience via TeleHealth and that the clinical exam is efficient and detailed in order that the provider can make an accurate diagnosis. 
Each site receives a TeleHealth Resource  Manual that includes all of the necessary policies and procedures that govern the telepresenting practice, as well as procedures for making referrals, day of appointment workflow, and other clinical guidelines that help the telepresenter know what to prepare and what to present during each clinical specialty visit. 
Refresher training is available and many tools can be found on the SIU TeleHealth. These training tools on are the SIU TeleHealth's secure website and can be accessed only with the use of a user name and password. 
Call 217-545-3153 to schedule training or refresher training for your TelePresenters.
Video Services
Training is also available for organizations on how to get the most value and features out of their video conferencing systems.  Especially when connecting for any of the many SIU programs offered through video conferencing, regional sites can be comfortable and efficient in using their video conferencing systems after training from SIU Video Services.
Call 217-545-8600 to get updated or new training on your video systems.