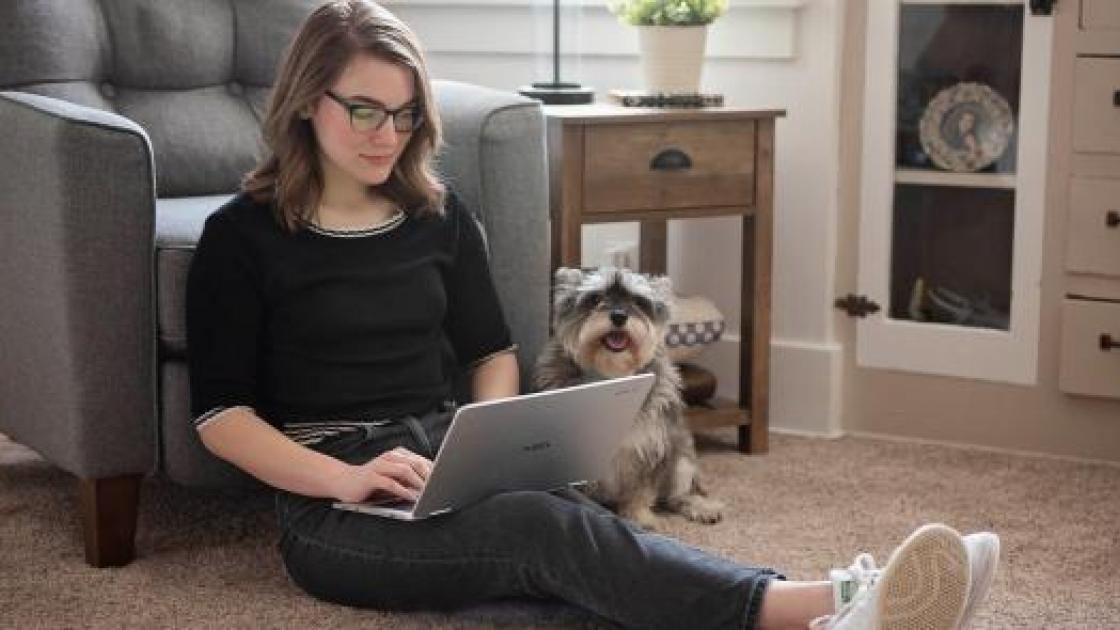 Virtual care through telehealth
Safe, quality care in the privacy of your home.
SIU Medicine has expanded its telehealth program to provide care for patients in the convenience of your own home. SIU Medicine's providers are available to treat patients virtually for a variety of illnesses and issues.
If you are interested in scheduling a virtual visit with an SIU Medicine provider:
Schedule a virtual visit with your existing SIU Medicine provider today, and talk with your provider in the safety of your home. To request a virtual visit, call 217-545-8000 or 800-342-5748, or request one online.
Telehealth FAQs
What is telehealth?
Telehealth is the use of video, or sometimes phone conversations, to extend care when you and the provider aren't in the same place at the same time. If you have a smartphone or a computer and internet access, you already have everything you need (see below for details). Recent federal and state policy changes now allow you to receive care using existing technology. 
Talk to your provider live over the phone or video chat
Send and receive messages from your provider using the patient portal for secure messaging and document sharing
Use technology so your provider can check on you at home. For example, you might use a blood pressure cuff or food-tracking app to help your provider stay informed of your progress
Why should I try telehealth now?
Virtual care is not intended to replace a visit to a provider for all health care needs going forward. This service is intended to support your or your child's care and may be used as supplemental care when we feel it's safe to begin seeing patients regularly.
What types of care can I get using telehealth?
You might be surprised by the variety of care available through telehealth. SIU Medicine providers treat a variety of concerns or complaints through telehealth. Your provider will decide whether telehealth is appropriate for your health needs. If you need care, it's worth checking to see what your telehealth options are. Some common types of appointments we offer include:
General health care, like wellness visits
Follow-up appointments
Prescriptions for medicine
Dermatology (skin care)
Nutrition counseling
Mental health counseling
Urgent care conditions, such as sinusitis, rashes, pink eye, abdominal or back pain, urinary tract infections, common rashes, seasonal allergies, diarrhea, vomiting, etc.
Watch: What is Telehealth?
---
What can't our health care providers treat virtually?
More serious conditions that require an in-person visit to the provider cannot be treated through virtual urgent care, including chest pain or palpitations, stroke-like symptoms, such as sudden-onset weakness, numbness or tingling, or blood in your stool.
How much do virtual visits cost?
Telehealth visits are billed the same as an in-person visit. If you are a Medicare patient, you will be responsible for the same co-insurance and deductible for this telehealth visit that you would have paid if you had been seen for this visit in the office. If you have questions about how much you may owe, please contact your insurance provider.
What should you expect during a telehealth visit?
If you or your child needs care for a non-emergency condition, we'll work with you to schedule a video or phone visit with an SIU provider at a time that works for you. Rest assured, your private health information is safe with us.
We treat adults as well as children from birth to 17. For a child's visit, the parent or legal guardian must schedule the visit on behalf of the child. In most cases, our providers can only treat your child if the parent or legal guardian is present during the visit.
With virtual care, you or your child can do the following:
receive an examination, diagnosis and treatment from an SIU Medicine provider
be treated for a variety of medical concerns such as mental health, cough, sore throat, flu-like symptoms, rash, allergies and pink eye
receive an after-visit summary containing a care plan and any follow-up instructions, including referrals for a specialist visit or diagnostic imaging or bloodwork
have prescriptions recommended by your virtual care provider sent to the pharmacy of your choice
How long do telehealth appointments last?
Visits are usually 30 minutes, and could be longer if needed.
Before your appointment
Scheduled for a virtual visit? Set up your home technology for a successful visit and learn what to expect:
Sound: Check that there are no issues that could affect your sound, like fans, open windows or excess wind, or your ability to hear your provider.
Privacy: Be sure you are in a private quiet space at home, where others can't hear the conversation between you and your provider. This will also allow for your provider to hear you clearly. 
It is very important that you complete these steps before the scheduled date and time of your appointment in case you experience any technical difficulties. SIU Medicine currently uses a platform called WebEx to conduct video chats with your provider. These steps will help you get set up on this system.
If you will be attending your appointment from a cell phone:
(Note: Your cell phone must have a working camera)

Using your cell phone:
     Go to the Google Play Store or Apple Store.

     Search for Cisco WebEx Meetings app.

     Select it and install it.

     After the installation is complete, open the app.

     If asked, accept the Terms of Service, Privacy Statement, and other possible permissions.

     You can close the app at this point.
Separately, you should receive either an email invite in your email inbox (note: if you hit "accept" on the appointment date and time in the email, the email will disappear and the information will show up on your calendar) or a letter from SIU with your meeting number and password. You will need the meeting number and password to enter the meeting with your provider on the day of your appointment.
If you will be attending your appointment from a computer:
(Note: Your computer must have a working camera and microphone)
Visit siumed.webex.com
If a screen that states "Join a Meeting" appears, then your computer does not need anything else before the scheduled day of the appointment.
Download the WebEx software to your computer if you do not already have it.
You can complete a test Webex appointment by visiting webex.com/test-meeting.html. This will help you identify connection issues before your appointment.
If you do not receive an email with detailed WebEx information or a letter within 2 days of your appointment, please call 217-545-8000 and ask for your provider's office.