Welcome from Dean and Provost Dr. Jerry Kruse
The SIU School of Medicine is dedicated to improving the health of the people of central and southern Illinois through its four-fold mission of education, clinical care, research, and community service. For these 67 counties and 2.2 million people, we aim to fulfill the triple aim plus one – medical education and health care that are more effective, more efficient, more equitable, and more enjoyable.
Since 1970, we have educated over 5000 physicians in our medical school and residency training programs. Currently the SIU School of Medicine has 288 medical students, 325 residents and fellows, 80 physician assistant students, and 84 graduate students.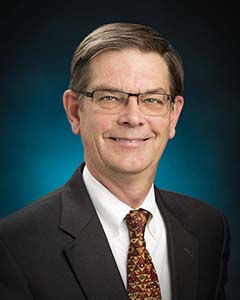 We offer the medical degree (MD), a dual medical and law degree (MD/JD), a dual medical and public health degree (MD, MPH), a degree in physician assistant studies (MSPA), and graduate degrees (PhD) in many sciences basic to medicine.
Through our history, we have been international leaders in medical education innovation and curriculum delivery. In 2013, the School of Medicine was the only medical school in the world to receive three Aspire to Excellence Awards from the Association of Medical Educators of Europe – for social accountability, student engagement and student assessment. In 2015, the School of Medicine became the only medical school to receive consecutive eight year LCME accreditations with no citations.
We are currently in the midst of a major curricular change in our clerkships that will improve expert clinical decision making skills, that will increase time with expert clinicians, and that will enhance the process of socialization into medicine and career choice. Greater emphasis will continually be given to experiential education that occurs in the context of medical simulation, standardized skill development, quality improvement, and population health.
Our 100 basic sciences laboratories have produced significant new knowledge in areas such as hearing impairment, Alzheimer's disease, aging, and cancer. Now, we will expand programs in translational research, population science, outcomes research, and medical education research, and will emphasize the application of scientific research for improvement in clinical practices, community-based programs, and public policy.
For the past three years, I served as the Executive Associate Dean of the School of Medicine and CEO of SIU HealthCare, our 280 physician multi-specialty group practice. Over this time, the School and SIU HealthCare have achieved organizational efficiencies, which have allowed new growth and greater ability to capitalize on opportunities in this era of healthcare reform.
We rely on our relationships and common missions with many community organizations, particularly the five hospitals with which we have formal affiliation: Carbondale Memorial Hospital, Blessing Hospital in Quincy, Decatur Memorial Hospital, Memorial Medical Center in Springfield, and St. John's Hospital in Springfield. With our partners, we have embarked on six building projects which will integrate the educational, clinical, research and administrative activities of the School of Medicine and will communicate the school's vitality and vision.
Our future work in the community will focus on: 1) the identification and provision of care for people at highest risk and most vulnerable, 2) the use of telemedicine and virtual medicine to improve access, and 3) better access to mental health services, particularly within primary care practices. Our maxim for community service is the motto of my home state – Salus Populi Suprema Lex Esto – loosely translated: "May the health of the people be the supreme law."
The SIU School of Medicine and SIU HealthCare are well positioned to work with our partners to create a bright future for health care and medical education.

Jerry Kruse, MD, MSPH
Dean and Provost
SIU School of Medicine