Greetings Alumni,
I hope you are well and enjoying the new year. Much transpired in 2019, and 2020 is shaping up to be another exceptional year. The school was founded in 1970, which makes 2020 our golden anniversary. The SIU SOM focus for our 50th year is 'Forever Forward'. We're continuing to innovate and set goals to improve the region's medical education and health care.
We launched two new departments in 2019: The Department of Emergency Medicine, chaired by Chris McDowell, MD, '05; and the Department of Otolaryngology – Head and Neck Surgery (ENT), chaired by Brendan Stack, MD, most recently a professor and physician at the University of Arkansas for Medical Sciences.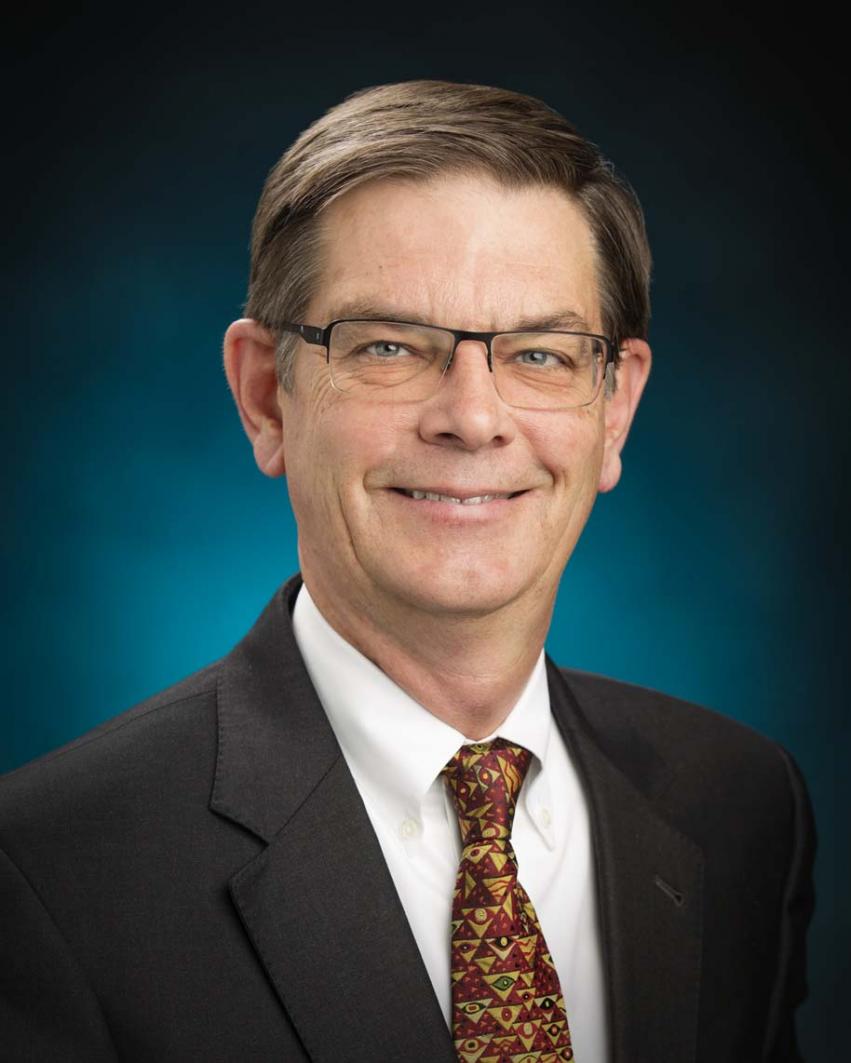 Erin Hascup, PhD, has been named the new director of the SIU Center for Alzheimer's Disease and Related Disorders (CADRD). Dr. Tom Ala was the Center's previous director. Dr. Hascup's lab is doing excellent work on glutamate neurotransmission and dysregulation in Alzheimer's disease. The research is funded by the National Institute on Aging of the NIH.
We continue to expand our network of Federally Qualified Health Centers (FQHCs) to provide care for families in our region. In October, the SIU Center for Family Medicine – Taylorville and Memorial Behavioral Health partnered to open a new interprofessional practice that integrates primary care and mental health services for the residents of Christian County.
Thanks to a generous contribution from alumni Drs. Kathryn Bohn ('83) and Thomas Nielsen ('81), the newly renovated Bohn Nielsen Lobby now serves as an impressive entrance and popular gathering spot at 801 North Rutledge. The lobby was dedicated in September, and on January 6th it served as the site for the 50th anniversary kick-off celebration with our community partners.
We have more festivities planned throughout the year. The next big event is our 50th Anniversary Gala Celebration at Springfield's Crowne Plaza on April 4. Please check the 50th Anniversary website for activities in various locations throughout the year. The website also highlights the careers of 50 alumni. We hope to see many of you for your alumni reunion weekend June 26-27.
In May the School of Medicine will graduate its 3,000th medical student. We've also had about 3,000 physicians graduate from our residency programs and fellowships. Through five decades, we've never lost sight of our primary objective: to produce qualified, caring physicians to improve the health of the people and communities of central and southern Illinois.
This summer, we will launch the Lincoln Scholars program. Each year, this program will admit eight medical students who will spend all four years based in Carbondale. The program will have a rural focus, and our hope is that some of the graduates will form the next generation in the Carbondale area. The Lincoln Scholar students will spend much time paired with rural physicians during the program. The first year will be spent in interprofessional training with physician assistant students at the beautiful new 40,000-sq-ft SIU Medicine building that opened in August 2019. This building was made possible through our great partnership with Southern Illinois Healthcare and is featured in the latest issue of Aspects.  All of our learners and graduates, including physicians, physician assistants, scientists, and MEDPREP students, allow us to fulfill our mission.
A new Office of Correctional Medicine was established in January and will coordinate health care programs for the Illinois Department of Corrections. The two-year pilot project will focus on health care in four correctional facilities in central and southern Illinois.
In August 2019, Dr. Deb Klamen, Senior Associate Dean for Education and Curriculum, traveled to Vienna, Austria, to participate in the meeting of the Association of Medical Education of Europe. She accepted the SIU SOM's fifth career achievement Aspire to Excellence Award, this one for excellence in curriculum innovation and delivery. SIU is one of only two medical schools in the world to hold as many as five Aspire to Excellence Awards. These awards are emblematic of the world-class education at the SIU SOM. 
We will welcome a new president to the SIU System on March 1. Dr. Daniel Mahony is current president of Winthrop University in South Carolina, and previously held faculty and administrative positions at Kent State University and the University of Louisville. He has academic homes in accounting and sport management, and has accomplished skills in strategic planning, student learning assessment, budget management and accreditation.
Alumni receptions were held in Carbondale and Peoria this fall; Carbondale's reception connected first-year students with area alumni. I enjoy meeting our alumni, who serve as important ambassadors for the SIU School of Medicine. The alumni office continues to build relationships with our students and connect them with all of you for mentorship and guidance. Those relationships are truly appreciated. Click here for an overview of what the alumni are doing and where they are practicing.
We especially wish to thank all the HOST alumni who have opened their homes to our Year 4 students this winter as they have traveled across the US for residency interviews. It's a great way to boost our learners' confidence and save them some money while they are on the road.  We also appreciate all the alumni who have hosted or will continue to host the students for dinners in March. It creates a terrific bond and sometimes forms long-term mentorships. 
Wherever this note finds you, I wish you all good health and happiness.
Jerry Kruse, MD, MSPH
Dean and Provost