SIU School of Medicine elects new alumni board members
Two new board members have been named to the Alumni Society Board of Governors at Southern Illinois University School of Medicine.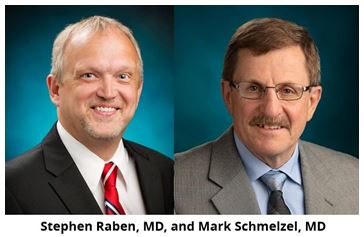 The new board members are Stephen Raben, MD, a family physician and a member of the Class of 1990; and Mark Schmelzel, MD, a retired vascular and general surgeon and a member of the Class of 1979. Their three-year terms began in May.
Raben is board certified in family medicine, geriatrics, hospice and palliative medicine and is medical director of Family Hospice in Belleville. He is president of Rural Family Medicine Associates and practices in Mascoutah and Freeburg. Schmelzel practiced for 33 years in two locations, Belleville and Sterling.
The 20-member board represents the interests of the 2,953 MD graduates and 2,680 resident and fellow alumni of the school and serves as the official vehicle for medical alumni to maintain personal and professional relationships to the school. The board works to support the school's mission and provides governance of the Alumni Society. Activities include alumni advocacy and communication, promoting the professional well-being of alumni, providing guidance to the SIU Foundation's annual alumni fund campaigns, oversight of the Distinguished Alumni Award program and student resource fund, and promotion of alumni and student/alumni activities.