Dr. Tom Murphy presenting a poster at the American Medical Society for Sports Medicine annual conference in Orlando, FL on 4/26/2018.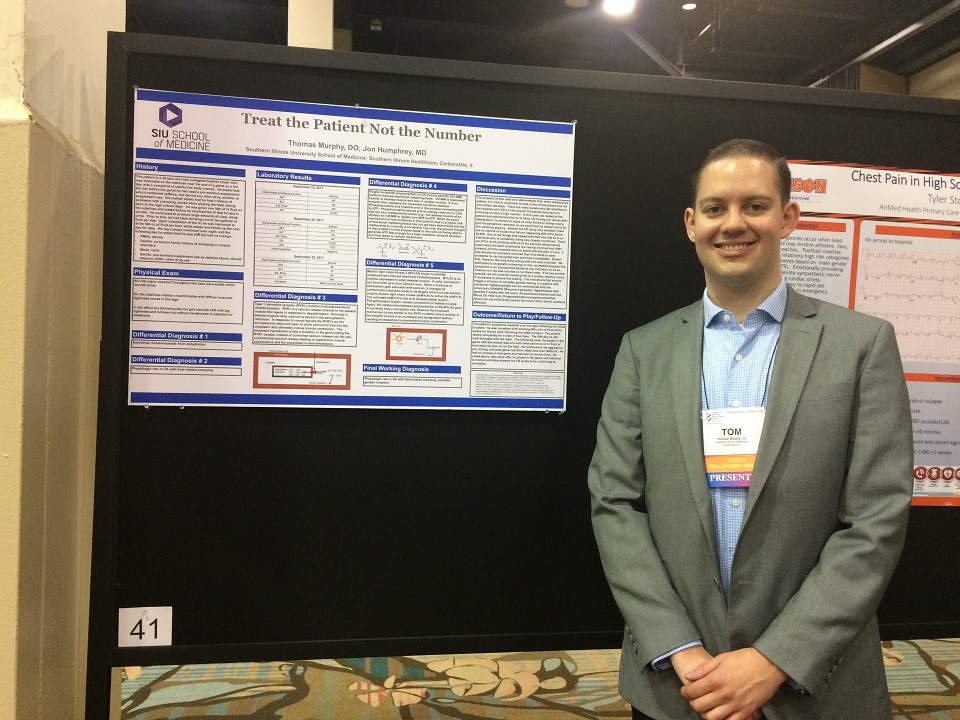 "I don't see how I could have gotten better training anywhere else. The program is small enough to provide individualized training and yet large enough to offer diversity."

- Dr. James Gladish, D.O.


"The year before applying to residency, I participated in an observership at SIU FM and  had an insider's glimpse into the program. I chose SIU FM residency at Carbondale because of the program's strong leadership, the structure of the curriculum, and the approachability of the faculty. The physicians truly take the time to teach you and pass on their clinical wisdom. The learning opportunities at SIU are limitless because of the unopposed program and patient encounters from both the teaching hospital and the community physicians."

-Dr. Abdul Haseeb, M.D.


"This is a great residency program for those who want to have opportunities to learn it all. We are an unopposed program in a hospital with nearly every type of specialty available and only us to teach! Working at this program feels like belonging to a big family. I am very glad I passed by the big cities to come here."

-Dr. Melissa Lueking, M.D.
A well-balanced lifestyle is encouraged at the Southern Illinois University Carbondale Family Medicine residency program. Many social events are organized through the program to facilitate a sense of comradery and community with our residents, faculty and staff. Many residents also set up their own events away from the residency which can be anything from a simple bite to eat to going on a relaxing bike ride. Carbondale is centrally located among some of the other big cities in the Midwest, making a simple weekend getaway possible.