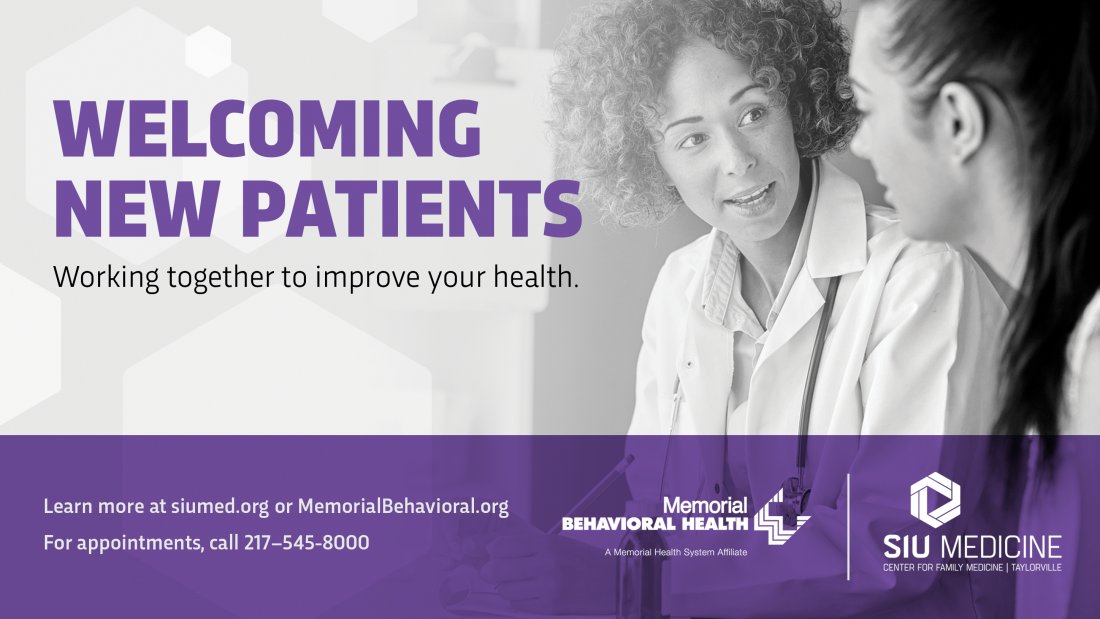 New clinic to offer primary care and mental health services to Christian County residents
TAYLORVILLE – Memorial Behavioral Health and SIU Medicine are partnering together to open a clinic integrating primary care and mental health services for residents of Christian County.
The new integrated clinic, which opened for business today (Oct. 14), is at 303 Bidwell St. in Taylorville. Taylorville Memorial Hospital's finance and billing staff previously occupied the renovated single-story building. The clinic will be open from 8 a.m. to 4:30 p.m. Mondays through Fridays.
The SIU Center for Family Medicine-Taylorville will provide primary care for all ages as well as women's health and behavioral health services. They will have five full-time employees – a physician, a certified medical assistant, a receptionist and two registered nurses – and five part-time employees – three physicians, a psychiatric nurse practitioner and a physician assistant.
"We are excited to continue to serve the residents of Taylorville and the surrounding communities in our new location," said Dr. Janet Albers, chair of the department of family and community medicine at SIU Medicine, who has practiced family medicine for 29 years. SIU originally opened their clinic in January 2019 inside Taylorville Memorial Hospital.
Memorial Behavioral Health-Taylorville will provide crisis intervention, mental health assessments, community-based recovery services, therapy and integrated behavioral health. They will have two full-time staff, one doing embedded behavioral health and traditional therapy, and the other providing assessments and community-based recovery work.
"By integrating medical care with mental health services, we can strengthen access to the community for the care people need for themselves and their loved ones when they need it," Jan Gambach, system administrator for Memorial Behavioral Health, said.
 For more information, call 217-824-1134.