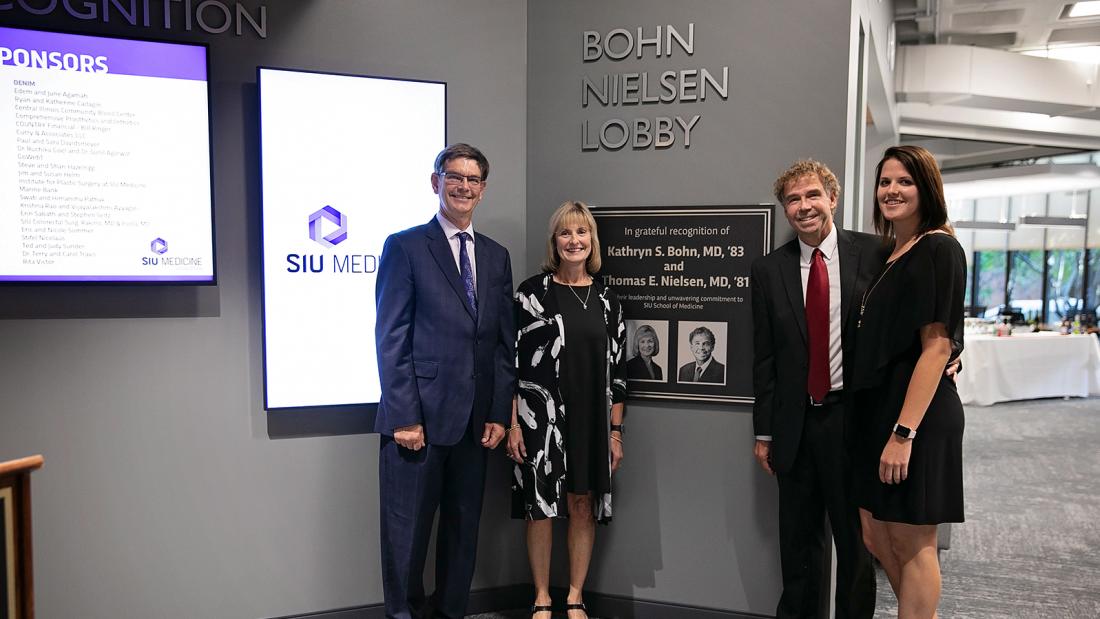 Bohn Nielsen Lobby dedicated
SIU School of Medicine held an official dedication of the newly renovated space at 801 North Rutledge on Friday, Sept. 27. A gathering of faculty, colleagues and friends celebrated the completion of a 6-month construction project in the space commonly referred to as the Dean's Lobby. Thanks to a generous contribution from guests of honor Drs. Kathryn Bohn and Thomas Nielsen, the new Bohn Nielsen Lobby can now serve as an impressive entrance and gathering spot within the oldest building on our campus.
Drs. Bohn and Nielsen are proud alumni of SIU School of Medicine (Classes of '83 and '81, respectively) and its family medicine residency programs. They have a long history of commitment and giving to the school, with investments in the library, the Dean's Initiative and a student scholarship fund to help future physicians from small towns in western or northern Illinois.
After a 25-plus-year career in emergency medicine, the couple opened The VEIN Specialists in Bloomington, which offers state-of-the-art treatment of advanced vein disease.
In addition to the new lobby, their legacy also includes a daughter, Dr. Beth Nielsen, who completed her internal medicine residency at SIU this year and has started a pulmonary medicine critical care fellowship.
"We're very proud of Beth and we're grateful to SIU School of Medicine for the education that she is getting here, for the medical degrees that Tom and I received, and for helping us achieve the life that we have," said Dr. Bohn. "Today we are very honored and pleased to give back to the institution that gave us so much."