SIU Researcher Receives Top Award from Speech and Hearing Association
Dr. Kathleen Campbell's patented drug may prevent or reduce hearing loss
Southern Illinois University School of Medicine Distinguished Scholar Kathleen Campbell, PhD, received the top honor from the American Speech-Language Hearing Association (ASHA) in November. The Honors of the Association Award recognizes distinguished contributions to communication sciences and disorders that have been of such excellence that they have enhanced or altered the course of speech and hearing professions.
"Kathy has fundamentally altered the way our profession understands and approaches toxicity and protection in the inner ear," one nominator wrote.
Campbell, an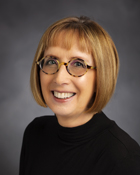 auditory clinician-scientist and a professor in the Department of Medical Microbiology, Immunology and Cell Biology, is the inventor of a protective agent for hearing loss called D-methionine or D-met.
D-met, an amino acid found in cheese and yogurt, shows promise in reducing or preventing noise-induced hearing loss, and hearing loss resulting from some chemotherapy treatments and aminoglycoside antibiotics. Her research has been continuously funded since 1988. Current studies of D-met are in Phase 3 clinical trials.
Jaynee Handelsman PhD, President of ASHA, said, "I have known Kathy for many years and have the highest level of respect for her work. We share an interest in ototoxicity, and I believe this honor is well deserved."
Campbell has five U.S. patents covering four areas of invention and $2.6 million in active research funding. Her research has generated more than $8.2 million in national, international and patent income for the School of Medicine.
Campbell joined the School of Medicine faculty in 1989. She has served as principal investigator for more than 60 state and federal research grants focused primarily on ototoxicity and otoprotective agents. She has published 57 peer-reviewed studies, 46 papers and book chapters, and two books: "Essential Audiology for Physicians" and the author-editor of "Pharmacology and Ototoxicity for Audiologists," a required text in most audiology doctoral programs throughout the U.S. She received SIU's Scholar Excellence Award in 2014. She joined ASHA in 1976.