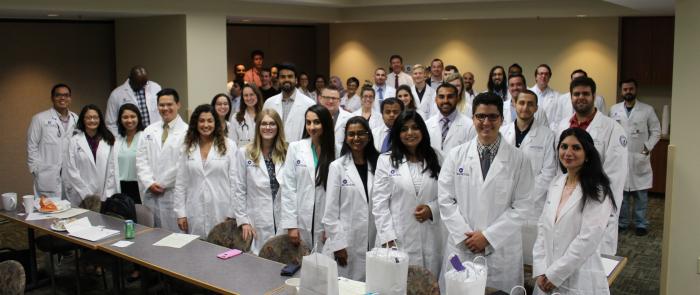 General Program Information
Program Director: Andrew J. Varney, MD.
Program Administrator: Catherine Brower
Program Coordinator: Megan Miner
Length of program: Three years
Total positions: 42 (14 per year)
A career in internal medicine opens up an exciting, intellectual challenge that will stimulate you to both learn the science and master the art of medicine. Some of the most challenging adult patients require the depth and breadth of the internist's care. A career in internal medicine will never bore you!
SIU's internal medicine residency program combines broad exposure to inpatient and outpatient medical practices with a dedicated curriculum and interactive experiences to help you acquire the knowledge, skills and competencies you will need to become an outstanding internist. Our faculty take great pride as educators and are skilled clinicians and patient advocates. Residents are treated as junior partners. Resident feedback, insight and engagement in process improvement sustain our programmatic improvement. Our work environment is not only friendly in terms of people, but also in terms of computerized and ancillary support.
We offer a three-year categorical internal medicine program and a five-year combined medicine-psychiatry program. Two open one-year preliminary slot is available, in addition linked positions coupled to our dermatology, neurology and radiology residency programs. Visit Tracks for more information.
The SIU Advantage
Since 2016-2017, the SIU internal medicine Residency program has redesigned our structure into a 3+1 format. Our redesign process collaboratively involved residents and faculty and focused on eliminating many of the structural challenges associated with traditional residency programs.
The 3+1 design separates in-patient and out-patient responsibilities providing the learner with concentrated dwell time, rotational curricular content and a dedicated conference curriculum. The internal medicine hospitalist service has teams of 2 interns, medical students, a PGY3 supervisor and an attending physician. A "drip" method for new patients and the ability to transfer patients to an uncovered service were adopted for 2018.
Additional attributes of our 3+1 redesign include:
Golden weekends before every clinic week – dedicated days off encourage resident to plan for time away from work with family and friends.
Every other month when in clinic – a "Hair Cut Half day" is scheduled for Friday mornings. Six free work day mornings to see your doctor, dentist, eye professional, change your oil or get a haircut! Better structure provides residents protected time we hope mitigates stress and promotes wellness.
2-3 longitudinal sub-specialty clinics compliment the 5 planned GIM clinics and afford each resident the opportunity to develop closer relationships with our sub-specialty faculty and acquire specific skills (DM, CHF, COPD management) to refine and enhance their delivery of patient care during residency and beyond.
Benefits:
https://www.siumed.edu/gme/springfield-based-resident-benefits.html