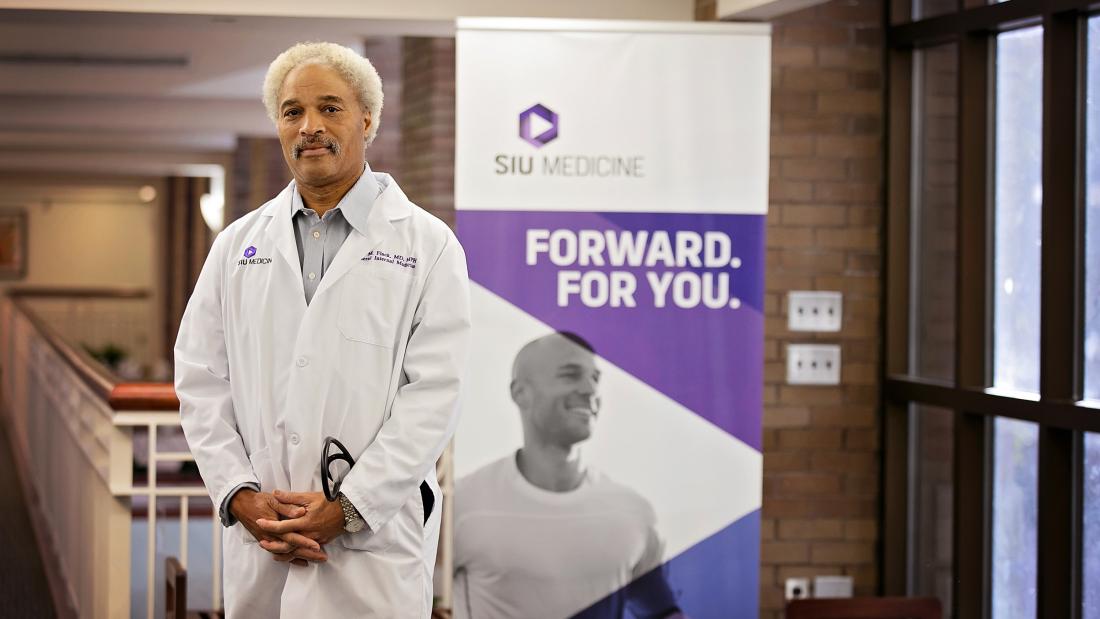 Hypertension expert named endowed chair at SIU Medicine
Internationally renowned hypertension expert John M. Flack, MD, MPH, was named the inaugural holder of the Sergio Rabinovich, MD, Endowed Chair of Internal Medicine at Southern Illinois University School of Medicine in an investiture ceremony on Monday, June 3. An endowed chair represents one of the highest achievements in academic medicine, both for the person for whom the chair is named and also for the person who holds the chair.
Flack, who joined SIU Medicine in 2015, is an internist who specializes in treating resistant hypertension in minority populations. He is an American Society of Hypertension-certified hypertension specialist and also serves as the president of the American Hypertension Specialist Certification Program. Flack has authored more than 200 peer-reviewed publications and serves on several NIH and American Heart Association scientific peer-review panels.
Prior to joining SIU Medicine, Flack served on the faculties of Wayne State University School of Medicine, the University of Oklahoma School of Medicine, and the University of Minnesota Schools of Medicine and Public Health. He completed an NIH post-doctoral fellowship in cardiovascular epidemiology at the University of Minnesota School of Public Health and an internal medicine residency at the University of Oklahoma Health Sciences Center, where he also earned his medical degree.
The ceremony also honored Professor Emeritus Sergio Rabinovich, MD, who served as chair of the Department of Internal Medicine at SIU School of Medicine from 1974-88. He retired as chief of the Division of Infectious Diseases in 1996. Rabinovich has served on numerous committees at the state and national level and is a member of the American Society for Microbiology and the Infectious Diseases Society of America.
Memorial Medical Center is contributing $1 million to launch the Sergio Rabinovich, MD, Endowed Chair of Internal Medicine.
"Memorial Health System is honored to support this endowment, which recognizes the immense contributions Dr. Rabinovich made to SIU School of Medicine and Memorial Medical Center during his tenure," said Ed Curtis, Memorial Health System President and CEO. "We're also pleased that Dr. Flack will be the first to hold this chair, in light of his internationally recognized achievements in research and education. We're confident that the creation of this endowed chair will strengthen and inspire the next generation of internal medicine physicians."
SIU School of Medicine was established in 1970 with a mission to educate physicians for central and southern Illinois. Its team, comprised of more than 270 physicians, is dedicated to providing excellent medical care, advancing medicine through research, and training the next generation of physicians.