MMC Foundation grants support SIU research, health care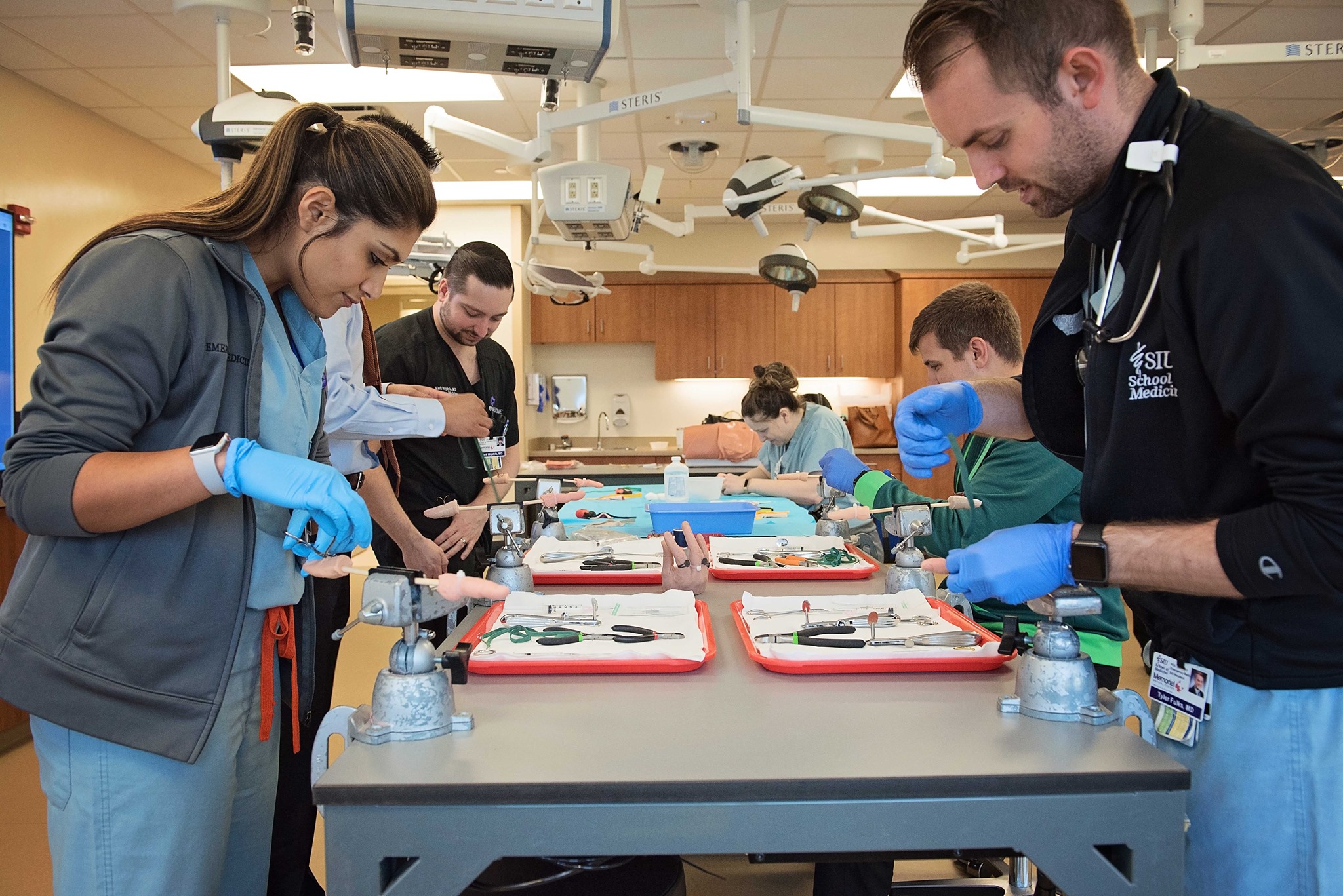 The Memorial Medical Center Foundation awarded nearly $650,000 in health-related grants for community and health-system initiatives this spring – a record-breaking total for the foundation's grant program. More than $169,000 of the grants were awarded to projects at SIU School of Medicine.
The grant recipients included:                                         
Surgery: $59,051 to perform a retrospective comparative study of open, laparoscopic and robotic-assisted surgery for colorectal cancer at Memorial Medical Center.
Surgery: $14,125 to assess the effects of hyperbaric oxygen therapy on the regenerative speed of nerve tissue.
Surgery: $12,890 to compare quality of life and cost data between patients receiving medical therapy and patients undergoing thoracoscopic lung volume reduction surgery for severe emphysema at SIU School of Medicine.
Surgery: $10,790 to upgrade cell culture incubators used to grow cells in petri dishes at SIU's Plastic Surgery Research Lab.
Surgery: $5,625 to study and provide an anatomic nerve map to the hand with treatment guidelines with the goal of preventing neuromas, chronic pain and opioid consumption.
Emergency Medicine: $28,700 to update point-of-care ultrasound training equipment at the Memorial Center for Learning and Innovation.
Emergency Medicine: $10,745 to fund the 2019 Society for Academic Emergency Medicine Great Plains Regional Meeting at the Memorial Center for Learning and Innovation.
Psychiatry: $13,003 to determine the predictors of patients with schizophrenia spectrum disorders who initially visited the ER and were subsequently hospitalized versus those without an initial emergency room visit.
Internal Medicine: $10,131 to identify the best antibiotic combinations for patients infected with difficult to treat multi-drug resistant/extensively drug resistant bacteria and have limited or no options for treatment.
Internal Medicine: $2,497 for portable equipment to assist with surgical procedures used in a collaborative study with the Department of Neurology.
Graduate Medical Education Center: $1,700 to provide a reception that includes presentation opportunities and an award ceremony for residents and fellows who develop a quality improvement project.
Read the full list of grant recipients here.