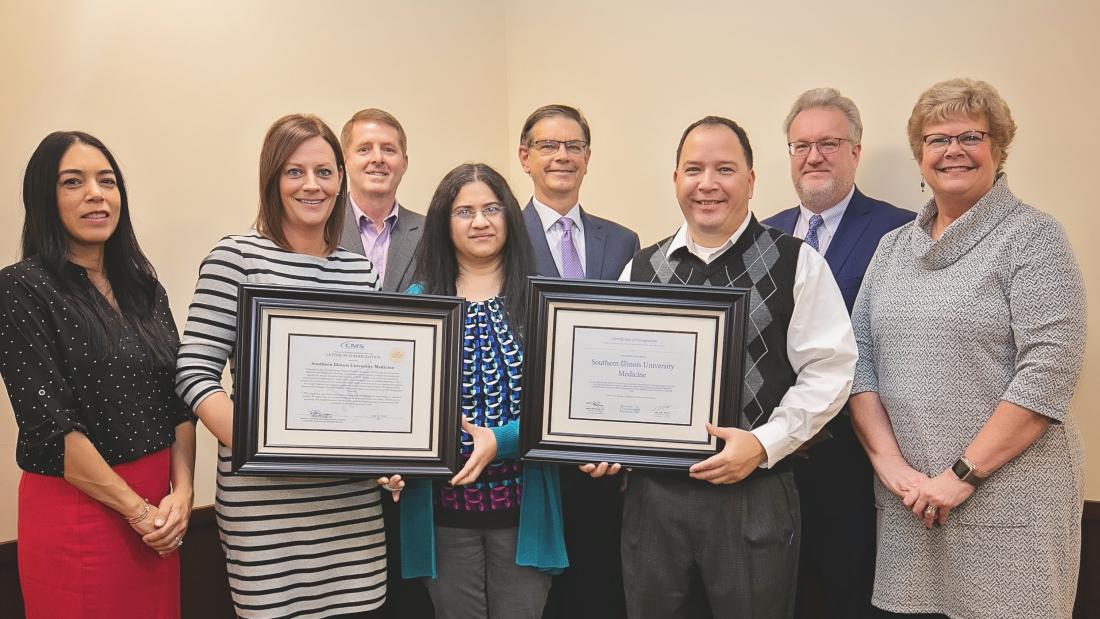 SIU Medicine recognized with 'Exemplary Practice' award
SIU Medicine has been named an Exemplary Practice by Great Lakes Practice Transformation Network and was awarded the network's Exemplary Practice certificate Dec. 11. The certificate recognizes SIU Medicine's "exceptional progress in practice transformation." 
SIU Medicine's general internal medicine clinic was presented the award established by the Centers for Medicare and Medicaid Services (CMS) as part of the Transforming Clinical Practice Initiative in an effort to support thousands of clinician practices in quality improvement strategies for large-scale health transformation, resulting in healthier patients and a more efficient system.
Clinics that receive this award are recognized for a patient-centered culture and for making significant improvements in at least one area of four service-related aims: health outcomes, reduction in unnecessary hospitalizations, costs savings and reduction in unnecessary tests and procedures. 
Shown in the photo left to right are: Marcella Bland, IM Administration; Karla Mangiaracina, GIM Charge Nurse; Darren Barnes, Director of Quality and Performance Improvement; Akshra Verma, MD, GIM Ambulatory Medical Director, Jerry Kruse, MD, Dean and Provost; Eric Linson, Assistant to the Chair of Internal Medicine; Harry Lawsen, DO, CMO; Mary Stewart, COO.