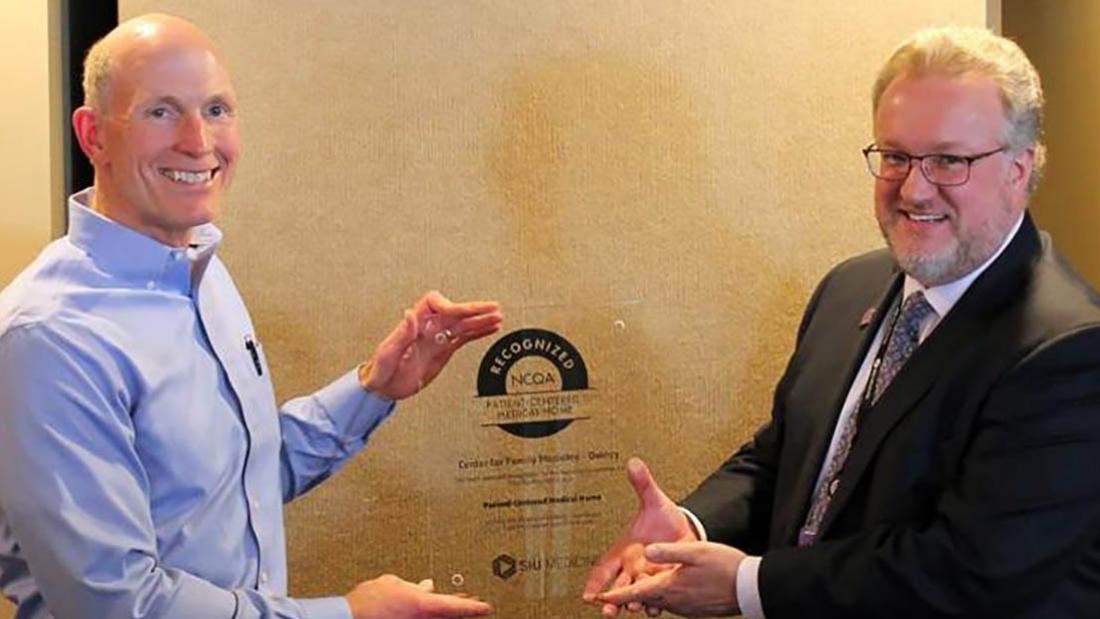 SIU Center for Family Medicine-Quincy Earns National Recognition
The Southern Illinois University Family and Community Medicine program in Quincy has achieved recognition as a Level 3 Patient-Centered Medical Home (PCMH) from the National Committee for Quality Assurance (NCQA), a private, non-profit organization dedicated to improving health care quality.
This represents Quincy's third NCQA recognition as a PCMH. Their ongoing efforts are magnified by the achievement of Level 3 status which is the highest PCMH ranking.
"We appreciate all of the hard work that is being done in Quincy to provide patient-centered care that is efficient, effective, equitable, enjoyable, safe, timely and appropriate," said Harald Lausen, DO, chief medical officer of SIU Medicine. "Thank you to everyone for your commitment and dedication to the patients we serve."
The Patient-Centered Medical Home is a model of care that puts patients at the forefront of care. PCMHs build better relationships between people and their clinical care teams. Participation in a NCQA recognition program demonstrates that the practice or clinician values quality health care delivery and the latest clinical protocols to ensure that patients receive the best care at the right time.
Research shows that patient-centered medical homes: 
Improve quality: Patients get the treatment that they need, when they need it. 
Reduce costs: They prevent expensive and avoidable hospitalizations, emergency room visits and complications. This is especially true for patients with complex chronic conditions. 
Improve the patient experience: They provide the personalized, comprehensive coordinated care that patients want. 
Improve staff satisfaction: PCMHs have systems and structures that help staff work more efficiently. 
SIU Center for Family Medicine in Quincy provides comprehensive family care, including obstetric, gynecology, pediatric and geriatric care, with approximately 25,000 patient visits annually. The center has ten faculty physicians, 18 resident physicians, three physician assistants, two nurse practitioners and 55 support staff who provide care for patients from all social and economic backgrounds in Quincy and surrounding communities. To make an appointment, call (217) 224-9484.
The Quincy program is one of four family medicine programs of SIU School of Medicine. Other programs are located in Carbondale, Decatur, and Springfield. All sites have previously received recognition from the NCQA.
Image caption from left to right: Dr. Tom Miller, M.D., Program Director of Quincy and Associate Chair of Family and Community Medicine and Dr. Harald Lausen, DO, Chief Medical Officer of SIU Medicine