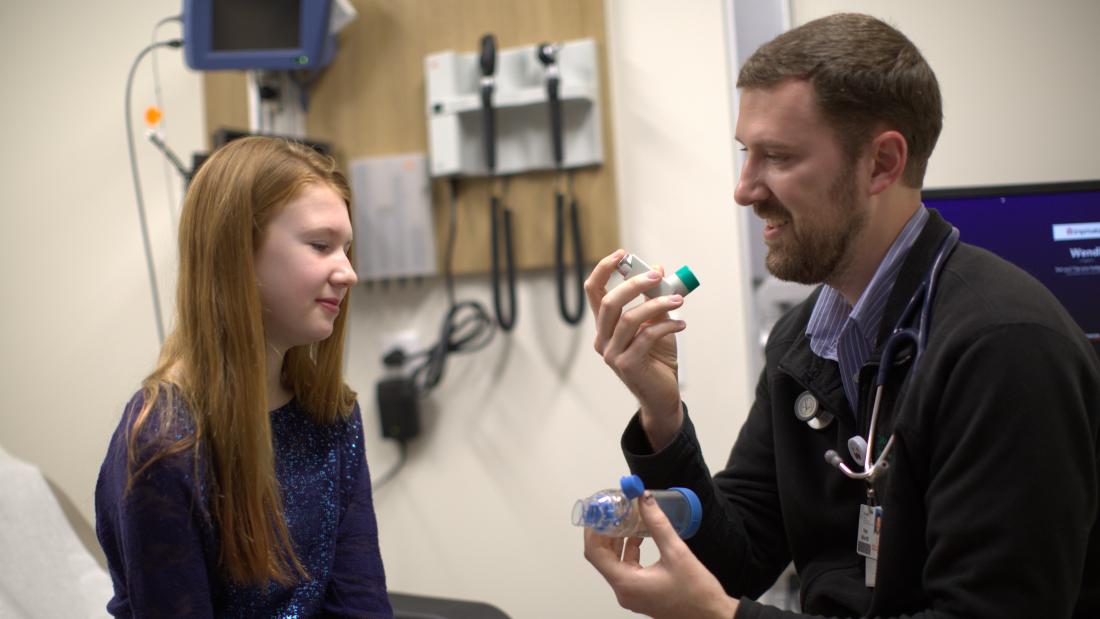 World Asthma Day: Diagnosing & Treating Asthma
Asthma is a condition that makes it difficult to breathe. But asthma doesn't always cause symptoms. SIU Center for Family Medicine resident physician Dr. Alicia Altheimer shares what families should look for, what to expect at the doctor's office, how asthma is treated and ways to prevent flare ups.
Q: What are the symptoms of asthma?
A: Asthma symptoms can include:
Trouble breathing, wheezing, or noisy breathing
Coughing, often at nighttime or early in the morning, or when you exercise
A tight feeling in the chest
These symptoms can occur every day or a few times a month.
Q: Is there a test for asthma? How is asthma diagnosed?
 A: Yes, we often use what's called spirometry, which measures your breathing. Children 6 and older can do the test, and it usually can be done right in the doctor's office. Spirometry is often done before and after inhaling a medicine known as a bronchodilator, which opens your airways. If your lung function greatly improves with use of a bronchodilator, you probably have asthma. Your doctor may also prescribe a trial with asthma medicine to see if it helps.
Your doctor will also ask certain questions to help make the diagnosis such as:
What symptoms do you have?
How often are the symptoms occurring?
Do the symptoms wake you up at night?
Do the symptoms keep you from daily activities? Walking, running or exercising?
Have you missed school or work due to symptoms?
Have you been to the emergency room because of symptoms?
Are there things that make the symptoms worse, like having a cold or exercising?
What makes the symptoms better, like medicine or resting?
Q: How is asthma treated?
A: Asthma is treated with several different types of medicines. These can be inhalers, liquid medications or pills. The type of medicine a doctor prescribes will depend on the patient's age and type of symptoms he or she's having.
Q: What are the types of medicines?
A: There are quick relief medicines and long-term controller medicines (or maintenance medicines).
Quick-relief medicines stop symptoms quickly. These are called rescue inhalers and should only be used once in a while. If you're needing these quick-relief medicines more than twice a week, you need to let your doctor know. You should also let your doctor know if this medicine is used for an asthma attack and symptoms come back quickly or do not get better.
Long-term controller medicines control asthma and prevent future symptoms. If you are having frequent symptoms or several severe episodes in a year, you may need to take these each day in addition to the rescue inhaler.
Ask your doctor, nurse or pharmacist on how to use these medicines correctly. If not used correctly, you may not get the correct amount of the medicine and end up with more symptoms.
Q: What else should you talk with the doctor about?
A: Talk with your doctor about an asthma action plan, which might include:
What medicines you should use at home each day
What warning symptoms to watch for to let you know if your is asthma getting worse
What other medicines to give you if your symptoms are getting worse
When to get help or call for an ambulance
Q: Can asthma symptoms be prevented?
A: Take the daily medicines the doctor prescribes. Avoid triggers, or things that cause or make the symptoms worse. If you know what your or your child's triggers are, try to avoid them. If you don't know what they are, your doctor can help figure it out.
Common triggers include: getting sick with a cold or the flu (that's why it's important to get a flu shot each year); allergens such as dust, molds, furry animals, and pollens from trees, grasses, and weeds; cigarette smoke; exercise; and changes in weather, especially cold air or hot and humid air.
If you can't avoid certain triggers, talk with your doctor about what you can do. For example, exercise can be good for children with asthma. But your child might need to take an extra dose of his or her quick-relief inhaler before exercising.
Q: Final thoughts?
A: It is very important that you take all of the medicines your doctor prescribes. You might worry about it being too much medicine or what the side effects will be. But leaving asthma untreated has much bigger risks than any risks than the medicines might have. Asthma that is not treated with the right medicines can actually damage the lungs.
If you struggle with asthma and would like to make an appointment, contact SIU Family and Community Medicine at 217.545.8000.