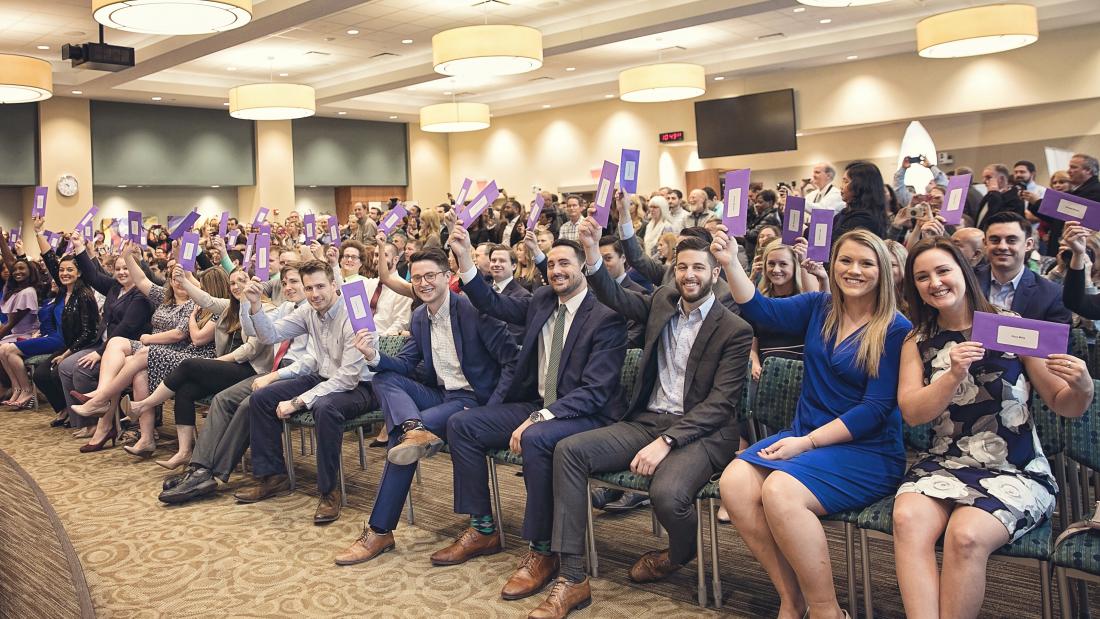 SIU Med Students, Residency Programs Meet Their Match
Senior medical students in the graduating Class of 2019 at Southern Illinois University School of Medicine received results from the National Resident Matching Program (NRMP) on Friday, March 15, at the same time other U.S. medical students learned their matches to postgraduate training programs. Sixty-three SIU seniors have secured residency positions.
View the list of students, hometowns, residency locations and specialties. Pictures of individual students are available upon request.
Ten students (16%) will specialize in family medicine, and nine (14%) will specialize in internal medicine, and six students (10%) will begin residencies in radiology. Five (8%) will go into emergency medicine, five (8%) will specialize in obstetrics-gynecology and five (8%) will specialize it anesthesiology. General surgery attracted four students (6%), and pediatrics, plastic surgery and orthopedic surgery each attracted three students (5%). Surgery-preliminary, radiation oncology, dermatology, psychiatry, neurology, neurodevelopmental disabilities, neurosurgery, medicine-pediatrics, pathology, and physical medicine & rehabilitation each attracted one student (2%).
Fifteen (24%) of the 63 students will begin training at SIU-affiliated programs.
"I'm so proud of every one of our medical students as they enter the next phase of their career, post-graduate training in residency and fellowship programs," said Jerry Kruse, MD, MSPH, SIU Medicine dean and provost. "Today's Match Day ceremony for the Class of 2019, their teachers, colleagues, family and friends, was brimming with vigor and optimism. Our students matched into many excellent training programs across the United States. We're looking forward to following their careers as clinicians, teachers, researchers and leaders."
The Class of 2019 at SIU School of Medicine will graduate on Saturday, May 18. New physicians begin their residency training in July.
Match results also were announced Friday for SIU's residency programs in Springfield, based at the school's two affiliated hospitals – Memorial Medical Center and HSHS St. John's Hospital. Seventy-eight starting positions in Springfield were filled. The first-year residents will join more than 200 senior residents and fellows already in training at SIU programs in Springfield.
Thirty-eight first-year positions were filled in general and preliminary internal medicine (16), family medicine (10), general pediatrics (8) and obstetrics/gynecology (4). Twenty-three positions were filled in the eight surgical programs – emergency medicine (8), general surgery (4), neurological surgery (1), orthopaedic surgery (3), otolaryngology (2), plastic surgery (2), urology (2) and vascular surgery (1). Seventeen total positions were filled in other specialties, psychiatry (6), radiology (3), dermatology (3), medicine-psychiatry combined (2) and neurology (3).
"SIU School of Medicine and our partner hospitals in central and southern Illinois continue to match with a robust, accomplished and eclectic group of residents," said Karen Broquet, MD, associate dean for graduate medical education. "SIU residents are an intrinsic element in the clinical learning environment and interprofessional health care teams that provide quality and patient-centered care to patients."
SIU also has affiliated family medicine residency programs in Carbondale, Decatur and Quincy, each three years in length. Seventeen first-year positions have been filled for next year through the NRMP match and a similar program held last month for osteopathic physicians. These residents will join 36 senior family medicine residents and fellows at SIU's affiliated hospitals – Memorial Hospital in Carbondale, Decatur Memorial Hospital in Decatur and Blessing Hospital in Quincy.
Established in 1970, the mission of SIU School of Medicine is to assist the people of central and southern Illinois in meeting their health needs through education, patient care, research and community service. An international leader in medical education, the school is based in Carbondale and Springfield and is specifically oriented to educating new physicians prepared to practice in Illinois. Since opening, more than 2,800 physicians have graduated from its program. For more information, visit www.siumed.edu.
SOUTHERN ILLINOIS UNIVERSITY SCHOOL OF MEDICINE
Residency Match Results
March 15, 2019
LAST NAME
FIRST NAME
HOMETOWN (Illinois, unless otherwise indicated)
INSITUTION
SPECIALTY
CITY
STATE
AGNEW
TYLER
EDINBURG
NAVAL MEDICAL CENTER-PORTSMOUTH
INTERNAL MEDICINE
PORTSMOUTH
VA
BLESSMAN
JOSEPH
DIXON
MAYO CLINIC SCHOOL OF GRAD MED EDUC-MN
FAMILY MEDICINE
ROCHESTER
MN
BOEDER
DANIEL
MAESTOWN
SIU SOM &AFFIL HOSPS
PSYCHIATRY
SPRINGFIELD
IL
BOUCHER
LUKE
ALEDO
EISENHOWER ARMY MEDICAL CENTER
INTERNAL MEDICINE
AUGUSTA
GA
BRANDT
CATHERINE
BLOOMINGTON
SIU SOM & AFFIL HOSPS
GENERAL SURGERY
SPRINGFIELD
IL
CASTALDO
ANDREA
SPRINGFIELD
U MASSACHUSETTS MEO SCHOOL
PLASTIC SURGERY
WORCESTER
MA
CLEVELAND
MATTHEW
DANVILLE
SIU SOM & AFFIL HOSPS
RADIOLOGY-DIAGNOSTIC
SPRINGFIELD
IL
COLLINS
JAMES
PEORIA
INDIANA UNIV SCH OF MED
INTERNAL MEDICINE
INDIANAPOLIS
IN
CUPPINI
CANDICE
BLOOMINGTON
UNIV OF CHICAGO MED CTR-IL
ANESTHESIOLOGY
CHICAGO
IL
DAVIS
ELLE
CARBONDALE
SIU SOM & AFFIL HOSPS
MEDICINE-PRELIMINARY DERMATOLOGY
SPRINGFIELD
IL
 
 
 
INDIANA UNIVERSITY SCH OF MED
 
INDIANAPOLIS
IN
DUFNER
ANASTASIA
GIRARD
SIU SOM & AFFIL HOSPS
FAMILY MEDICINE
SPRINGFIELD
IL
EASTON
MADELINE
SPRINGFIELD
WAKE FOREST BAPTIST MED CTR-NC
EMERGENCY MEDICINE
WINSTON-SALEM
NC
ENRIGHT
DANIEL
OTTAWA
AKRON GEN MED CTR/NEOMED-OH
ORTHOPAEDIC SURGERY
AKRON
OH
FERRY
NICOLAS
 
SAN ANTONIO MILITARY MEDICAL CENTER
INTERNAL MEDICINE
SANANTONIO
TX
FETTER
MADELYN
SPRINGFIELD
SIU SOM & AFFIL HOSPS
FAMILY MEDICINE
SPRINGFIELD
IL
GAZDA
ALEXIS
CHATHAM
U ILLINOIS COM-PEORIA OSF
EMERGENCY MEDICINE
PEORIA
IL
GRAFF
DYLAN
MT. ZION
SIU SOM &AFFIL HOSPS
EMERGENCY MEDICINE
SPRINGFIELD
IL
GRAVES
JACKSON
SPRINGFIELD
U ILLINOIS COM-PEORIA OSF
MEDICINE-PEDIATRICS
PEORIA
IL
GROSS
JEFFREY
JACKSONVILLE
INDIANA UNIVERSITY SCH OF MED
PLASTIC SURGERY
INDIANAPOLIS
IN
GROTTS
CODY
CARTHAGE
U IOWA HOSPS AND CLINICS
ANESTHESIOLOGY
IOWACITY
IA
HANLEY
THOMAS
PEORIA
RUSH UNIVERSITY MED CTR-IL
RADIOLOGY-DIAGNOSTIC
CHICAGO
IL
 
 
 
UNIV OF CHICAGO MED CTR-IL
MED-PRELIM/NORTH SHORE
CHICAGO
IL
HATLEY
HA
EDWARDSVILLE
MERCY HOSPITAL ST LOUIS-MO
FAMILY MEDICINE
STLOUIS
MO
HOCKER
NATHANIEL
MORTON
U IOWA HOSPS AND CLINICS
INTERNAL MEDICINE
IOWACITY
IA
IDUSUYI
BRITTANY
SPRINGFIELD
RUSH UNIVERSITY MEO CTR-IL
OBSTETRICS-GYNECOLOGY
CHICAGO
IL
JAMES
EMMA
EDWARDSVILLE
SIU SOM & AFFIL HOSPS
OBSTETRICS-GYNECOLOGY
SPRINGFIELD
IL
KAY
KATHLEEN
EFFINGHAM
SIU SOM & AFFIL HOSPS
ORTHOPAEDIC SURGERY
SPRINGFIELD
IL
KIRKOVER
KYLE
GRANITE CITY
U KANSAS SCH OF MED-WICHITA MED COLL
RADIOLOGY-DIAGNOSTIC TRANSITIONAUST JOSEPH
WICHITA
KS
 
 
 
 WISCONSIN AFFIL HOSPS
 
MILWAUKEE
WI
KLEIN
ANDREW
CHICAGO
NORTHWESTERN MCGAW/NMHNA-IL
ANESTHESIOLOGY
CHICAGO
IL
 
 
 
SIU SOM & AFFIL HOSPS
MEDICINE-PRELIMINARY
SPRINGFIELD
IL
KORZEC
MAX
CHICAGO
UNIV OF CHICAGO MED CTR-IL
ANESTHESIOLOGY MEDICINE-PRELIMINARY
CHICAGO 
IL 
 
 
 
U NEVADA LAS VEGAS SCH OF MED
 
LAS VEGAS
NV
KRAMER
MITCHELL
MOLINE
BAYFRONT MRD CTR-FL
FAMILY MEDICINE
ST PETERSBURG
FL
LANTER
JACOB
FREEBURG
ST LOUIS UNIV SOM-MO
FAMILY MEDICINE
ST LOUIS
MO
MAHAN
REIANA
HARRISBURG
UNIV HOSPS-COLUMBIA-MO
FAMILY MEDICINE
COLUMBIA
MO
MAHMOOD
MUSTAFAA
SPRINGFIELD
BARNES-JEWISH HOSP-MO 
RADIATION ONCOLOGY
MEDICINE-PRELIMINARY 
ST LOUIS
MO
 
 
 
OCHSNER CLINIC FOUNDATION-LA
 
NEW ORLEANS 
 LA
MASSUTTI
THOMAS
DECATUR
SIU SOM & AFFIL HOSPS
RADIOLOGY-DIAGNOSTIC
SPRINGFIELD
IL
MATTERN
MACKENZIE
FREEBURG
U ILLINOIS COM-PEORIA UPHM  .
FAMILY MEDICINE
PEORIA
IL
MCKILLIP
KELSEY
GALESBURG
MERCY HOSPITAL ST LOUIS-MO
OBSTETRICS-GYNECOLOGY
ST LOUIS
MO
MILLS
RORY
CHAMPAIGN
JOHNS HOPKINS ALL CHILDRENS HOSP-FL
PEDIATRICS
ST PETERSBURG
FL
MITZELFELT
JORDON
HANNA CITY
MAYO CLINIC SCHOOL OF GRAD MED EDUC-MN
PEDIATRICS
ROCHESTER
MN
ARMSTRONG MORAN
MARGARET
O'FALLON
SAN ANTONIO MILITARY MEDICAL CENTER
EMERGENCY MEDICINE
SANANTONIO
TX
NICHOLSON
KYRA
ROCKVILLE, MARYLAND
UNIV OF CHICAGO MED CTR-IL
SURGERY-PRELIMINARY
CHICAGO
IL
O'MALLEY
SEAN
BLOOMINGTON
SIU SOM & AFFIL HOSPS
GENERAL SURGERY
SPRINGFIELD
IL
OLLESCH
BRIDGET
MAROA
U UTAH AFFIL HOSPITALS
NEUROLOGY
SALT LAKE CITY
UT
PORTER
TYLER
URSA
UNIVERSITY HOSPS-COLUMBIA MO
INTERNAL MEDICINE
COLUMBIA
MO
PORTUGAL
AILEEN
SAN DIEGO, CALIFORNIA
UC SAN FRANCISCO-CA
OBSTETRICS-GYNECOLOGY
SAN FRANCISCO
CA
POWER
MATTHEW
MARION
SIU SOM & AFFIL HOSPS
INTERNAL MEDICINE
SPRINGIELD
IL
REINHOLZ
BRIAN
WATERLOO
ST LOUIS CHILDRENS HOSP-MO
PEDIATRICS
STLOUIS
MO
RODEMICH
EUGENE
MILLSTADT
U IOWA HOSPS AND CLINICS
EMERGENCY MEDICINE
IOWACITY
IA
ROTH
KELLY
MARTINTON
CARLE FOUNDATION HOSP-IL
INTERNAL MEDICINE
URBANA
IL
SAMSON
EMILY
MILLSTADT
U NORTH CAROLINA HOSPITALS
FAMILY MEDICINE
CHAPEL HILL
NC
SAWYER
JUSTIN
CARLINVILLE
SIU SOM & AFFIL HOSPS
PLASTIC SURGERY
SPRINGFIELD
IL
SCHUH
DANIEL
MAHOMET
U ILLINOIS COM-PEORIA UPHM
FAMILY MEDICINE
PEORIA
IL
SEADLER
BENJAMIN
SPRINGFIELD
MED COLL WISCONSIN AFFIL HOSPS
GENERAL SURGERY
MILWAUKEE
WI
SHARPE
JOHN
MARION
PALMETTO HEALTH RICHLAND-SC
ORTHOPAEDIC SURGERY
COLUMBIA
SC
STUMPF
MONICA
ALHAMBRA
MED COLL WISCONSIN AFFIL HOSPS
GENERAL SURGERY
MILWAUKEE
WI
TABIBI
SEENA
SPRINGFIELD
JOHNS HOPKINS HOSP-MD
PATHOLOGY
BALTIMORE
MD
THACH
LONNIE
CARROLLTON, TEXAS
ST LOUIS UNIV SCH OF MED-MO
INTERNAL MEDICINE
ST LOUIS
MO
THOMPSON
TERRENCE
PORT BARRE, LOUISIANA
UNIVERSITY HOSPS-JACKSON-MS
OBSTETRICS/GYNECOLOGY
JACKSON
MS
VARNET
MARIE
MACKINAW
U TEXAS SOUTHWESTERN MED SCH-DALLAS
NEURODEVELOPMENTAL DISABILITIES
DALLAS
TX
WANG
EDWIN
MARSEILLES
COOK COUNTY HEALTH AND HOSPS SYS-IL
RADIOLOGY-DIAGNOSTIC
CHICAGO
IL
 
 
 
UNIV OF CHICAGO MED CTR-IL
MED-PRELIM/NORTHSHORE
CHICAGO
IL
WEBER
MATTHEW
EDWARDS
SIU SOM & AFFIL HOSPS
NEUROLOGICAL SURGERY
SPRINGFIELD
IL
WILLIAMS
STEPHEN
WASHINGTON
MED COLL WISCONSIN AFFIL HOSPS
RADIOLOGY-DIAGNOSTIC
MILWAUKEE·
WI
ZENDELI
LIRIDON
CHARLESTON
MARIANJOY REHAB HOSP-IL
PHYSICAL MEDICINE & REHAB MEDICINE PRELIMINARY
WHEATON
IL
 
 
 
U FLORIDA COM-SHANDS HOSP
 
JACKSONVILLE
FL