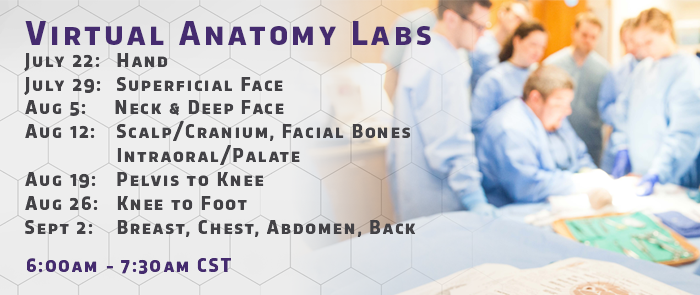 SIU School of Medicine will not be taking any visiting medical students this year due to the novel coronavirus.  We are constantly looking for new ways that we can get to know applicants and for the applicants to get to know us!
Virtual Anatomy Lab
Join us during any of our anatomy labs via Zoom meeting. You can register for individual anatomy sessions he​re. If you already have a Zoom account, you may need to register for the anatomy session using the same email that you used for your Zoom account to avoid technical issues.  Please register at least one day prior to the session(s) you plan to attend
Upon registration, you will find that students will have the option to give a short (<3-5 minute) presentation related to the anatomy topic during each week's Zoom Anatomy Lab. This is an informal presentation that can be given at the end of the session after residents have reviewed the anatomy. Students are not expected to create a PowerPoint Presentation, but they can if they would prefer to do so.  Students who choose to give a presentation will be assigned a topic on the Sunday or Monday prior to the anatomy lab at which they are presenting unless they have a topic idea of their own. 
Please email us at siuprs@gmail.com if you have any questions or concerns.  Please let us know if you've registered for the anatomy session and are unable to make it! 
Recordings of the presentation will not be allowed. Please avoid taking screen shots of the presentation in respect of the cadavers and program policies.
Additionally, applicants should follow our program social media pages for information on daily occurrences here at SIU.
Instagram – SIUplasticsurgeryresidents | this is a resident-run page with the goal of showing prospective applicants what life is like as a resident.
Instagram – SIUPlasticSurgery
Facebook – SIU Plastic Surgery