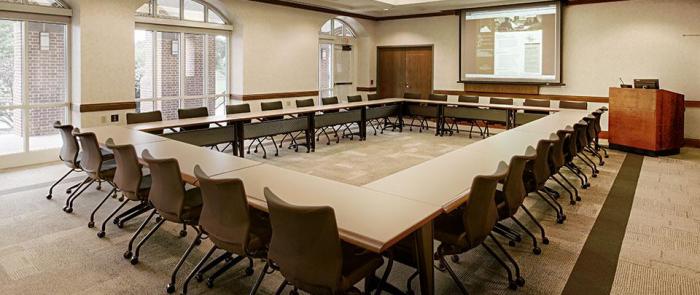 Room Designing and Building
As part of our commitment to facilitating remote communications, distance education and video conferencing, we provide expert room design and equipment installations. Whether you are designing a small collaboration space or a full scale auditorium, the experts at SIU TeleHealth and Video Services can provide you with all of the audio/visual technology needed for your space.
---
Small Collaboration Space:
Connect with your colleagues remotely without utilizing a large space designed for presentations. These small sized rooms often facilitate meetings between one or two people who need to collaborate on projects. Video conferencing and audio/visual systems usually include one camera and one microphone with a single monitor display.
---
Small Conference Room:
Host meetings or participate in group discussions with a conference room designed for small groups. These rooms usually host between 6 and 10 people, and usually attendees are seated around a conference table. These rooms are designed to increase collaboration between participants in the room and any sites connected by video-conference. The video conferencing systems generally use one monitor, but may utilize two monitors if the need demands it.
---
Medium Conference Rooms:
For committees and large groups or presentations for between 10 and 25 people, these conference rooms often include larger sized tables that can be reconfigured to meet the needs of room participants. Video conference systems in these rooms usually use two monitors, but may include projectors depending on the needs of the participants. A ceiling microphone system makes collaboration and participation from attendees easier. These rooms are often reconfigurable for training or classroom settings or arranged for conferences where collaboration among participants is required.
---
Large Conference Centers/Auditoriums:
These are large sized spaces that are designed for presentations to groups that range in size from over 50 to several hundred. They often include podium presentation systems with projectors or monitor walls and may include several other independent monitor displays throughout the space. Overhead audio systems are included as well as ceiling microphones for audience participation. Video conference systems often include multiple cameras.
---
Consultation
For more information on your specific room build or to arrange a time for our expert consultations please contact SIU TVS at 217-545-8600