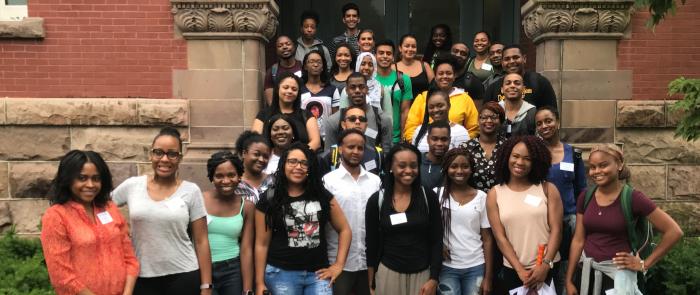 MEDPREP uses an online application portal, which can be accessed using the "Apply Now" button below.

Application Deadlines:
Early Cycle: Application deadline is September 18, 2017 at 4:30 P.M.
Main Cycle: Application deadline January 16, 2018 at 4:30 P.M.

 
Our Minimum Qualifications to Fill out an Application Are:
 - Overall undergraduate GPA of 2.2.
 - Science course (mathematics, biology, chemistry and physics) GPA of 2.2.
 - U.S. Citizen or Permanent Resident (Green Card)
 - Completed all or all but one medical school prerequisite course:
                -1 year Biology with Laboratory
                -1 year General Chemistry with Laboratory
                -1 year Organic Chemistry with Laboratory
                -1 year Physics with Laboratory
                -1 semester of Biochemistry (Recommended but not required)
                -1 semester of either Introductory Psychology or Introductory Sociology (Recommended but not required)
 
Fee to Apply:
 There is no fee to apply to the program. An SIUC application processing fee is charged only if you are admitted into MEDPREP.
 
In Order to Apply You Will Need To Follow These Six Mandatory Steps:
I.  Select the "Apply Now" button
2. Create username and password
3. Complete and submit the online application
    [Click here for a sample MEDPREP application]

Once those steps are completed,

4. Prepare your Consolidated Packet.  The Consolidated Packet must contain all three of the following items in one envelope:
Supplemental Application Form, making sure you list:
-Schools attended
-Current and future coursework
 [Click here for Supplementary Application Form]

2 letters of recommendation: Collect recommendation letters in sealed envelopes signed across the seal by the recommender. Each recommendation must be accompanied by a recommendation form. Click here for a copy of the recommendation form. Ask your recommender to fill out the recomendation form, seal both in an envelope and sign across the seal. Letters must be written on official business or school letterhead and signed and sealed  in this way to be accepted.

Official transcripts from each college or university attended: Procure official transcripts from the registrar of each school you attended. Transcripts must be official, and sealed in a school envelope by the registrar's office. Applicants must provide a transcript from each college or university they have attended (this includes colleges, universities, community colleges or foreign schools unless part of a foreign exchange program through a US institution). A note on electronic transcripts: MEDPREP cannot accept any electronic transcripts. All transcripts must be printed on paper and sent via mail (US post office, UPS, etc.) to the MEPDREP admissions office, as part of your Consolidated Packet.
5. Mail your Consolidated Packet to:
          MEDPREP Admissions office
          975 S. Normal Avenue
          Wheeler Hall, Mail Code 4323
          Carbondale, Illinois 62901
 


After clicking "Apply Now," you will be allowed to save your application even if you cannot complete it all at once. We strongly recommend you check out our sample application first, as it contains the prompts for the short essay questions so you can prepare them ahead of time. We recommend you work on these responses in a Word document first and then copy and paste them into the response fields, rather than trying to type them as you go. In addition, you will want to have access to all your college transcripts, as you will be asked to fill in all the college courses (name, number, units, grade) that you have completed.
 

Admissions Days:
As part of the admissions process, competitive students will be invited to attend an admissions day, where students visit the program and interview with MEDPREP faculty. Applicants must attend an admissions day in order to be considered for MEDPREP admission. Admission day attendance is by invitation only.  Candidates will only attend one admission day.  Days include:
November 17 & 20, 2017
Feburary 23, & 26, 2018
March 9, 2018
Overflow day: March 19, 2018

 
Orientation Days:
The Class of 2018 orientation is June 22, 2018, with summer session dates of June 23, 2018 - August 3, 2018.


For questions about the admissions process, please contact:

Trent Stevens
tstevens@siumed.edu
(618) 453-1554
Admissions Coordinator
MEDPREP Office of Admissions