Developing leaders in health care
We believe our obligation is to provide each resident with the skills needed to be a leader during this time of health care evolution.
Our curriculum is designed to teach physicians how to:
Provide quality care to families
Deal effectively with the business enterprise of health care
Meet individual needs and interests of resident physicians within the framework of an accredited Family Medicine Residency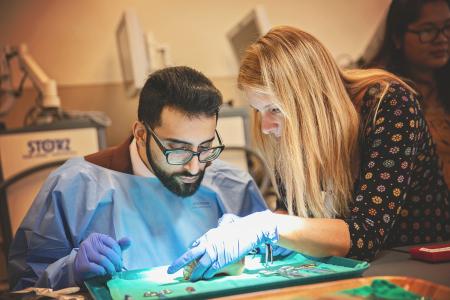 What sets our program apart
At the SIU Center for Family Medicine in Springfield, learners will gain valuable experience in treating a diverse patient population. Our dedicated clinics and holistic patient programming are designed to enrich patients' lives, allowing them to lead healthier, more fulfilling lives.
The Asthma Clinic is designed to provide evaluation and improved treatment plans to better control our patients' asthma and COPD.
We provide:
Consultations
Spirometry testing
Treatment recommendations and education
Asthma actions plans designed especially for school-aged children
Follow-up testing and annual surveillance
The Dermatology Clinic works with diseases and some cosmetic problems of the skin, scalp, hair, and nails.
The Geriatric & Memory clinic
is designed to provide evaluation and care coordination services for individuals with memory problems and their families.
The only way to diagnose the cause of the memory problem is to have a thorough evaluation/assessment. Although Alzheimer's disease is the most common cause of dementia, there are several other causes, a few of which may be reversible.
The Sports Medicine Clinic is designed to provide evaluation, management, treatment and rehabilitation of musculoskeletal related conditions.
A dedicated clinic for children who are displaced from home
 
The goal of SIU Center for Family Medicine's Kids Health Harbor is to provide high-quality health care that is coordinated, continuous, and comprehensively provided by culturally competent health care professionals who are familiar with the mandates, obligations, and intricacies of the foster care system in Illinois.
SIU Center for Family Medicine has a dedicated clinic for children who are displaced from home. Our goal is to provide a medical safety net for children that have experienced adverse childhood events and life disruptions. We aim to be a supportive member of a team that helps build resiliency and protective factors for vulnerable children and families.
We provide patients with:
•    Initial and comprehensive exams in a safe, pediatric friendly environment
•    Holistic pediatric care delivered by trauma-informed staff
•    Medical advocacy
•    Improved communication with all members of the multidisciplinary team
•    Care coordination with close follow up and wellness monitoring
•    Continued care after permanency plan complete
•    Focused transition plan to adult healthcare services
•    Education and events
Integrative medicine uses conventional and unconventional medicine, together to address the patient as a whole person.
At SIU Medicine, integrative medicine includes acupuncture, botanical and herbal medicine, cold laser therapy, cupping, dietary counseling, auricular (ear) acupuncture, electrical stimulation (e-stim, emotional freedom technique (EFT, tapping), exercise consultation, food as medicine counseling, food sensitivity testing, functional medicine, generic testing, gua sha (skin effleurage), infrared therapy, leaky gut analysis, manual manipulation, moxibustion, nutraceuticals, qi gang, stoll analysis, tai chi, tui na and more.
We provide patients with a variety of clinic options:
•    One-on-one in-person or virtual visit appointments
•    Community acupuncture clinic
•    Auricular (ear) acupuncture clinic
•    Group (shared) medical visits are coming soon