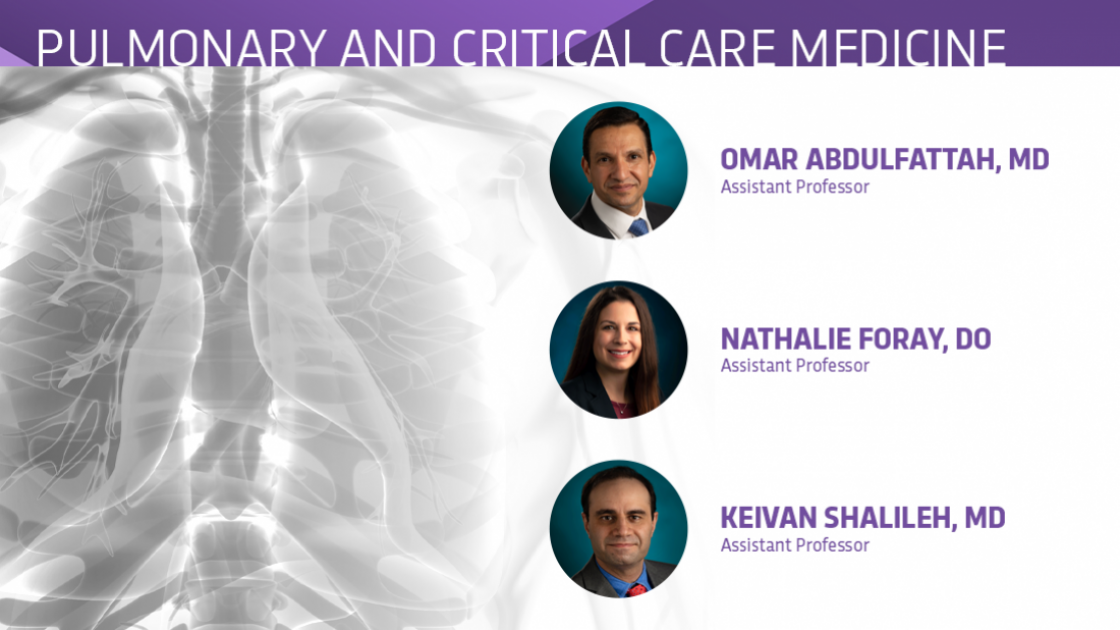 New Faces | Pulmonary and Critical Care Medicine
Nathalie Foray, DO is a pulmonologist in SIU's Division of Pulmonary and Critical Care Medicine. She completed her residency and pulmonary medicine fellowship at Southern Illinois University in Springfield, IL and completed further subspeciality training in Critical Care Medicine at The University of Tennessee Health Sciences Center in Memphis, TN. Upon graduating, she joined on as faculty at SIU.
In addition to providing care in the intensive care setting, Dr. Foray also sees pulmonary patients in the outpatient setting. She treats a myriad of patients in pulmonary medicine, including but not limited to: chronic obstructive pulmonary disease, asthma, interstitial lung disease, pulmonary nodules/lung cancer. She is also the adult specialist for Cystic Fibrosis and holds a dedicated clinic for those patients along with respiratory therapy, dietary, and social services.
Dr. Keivan Shalileh, MD, is a subspecialist in pulmonary and critical care medicine. After finishing a residency in internal medicine in New York, he completed subspecialty training in pulmonary medicine at the SIU School of Medicine and in critical care medicine at Montefiore Medical Center.
In addition to taking care of critically ill patients in the intensive care unit (ICU), Dr. Shalileh evaluates and treats patients with a variety of respiratory conditions, such as asthma, chronic obstructive pulmonary disease (COPD)/emphysema, interstitial lung disease (ILD), shortness of breath, cough, pleural disease, and lung cancer.
Dr. Shalileh performs a variety of procedures, including bronchoscopy, pulmonary function tests, bronchoscopic lung biopsy, endobronchial ultrasound, thoracentesis, and chest tube insertion. Currently he is accepting new patients at the SIU Pulmonary Clinic in Springfield and HSHS St. Francis Hospital in Litchfield.