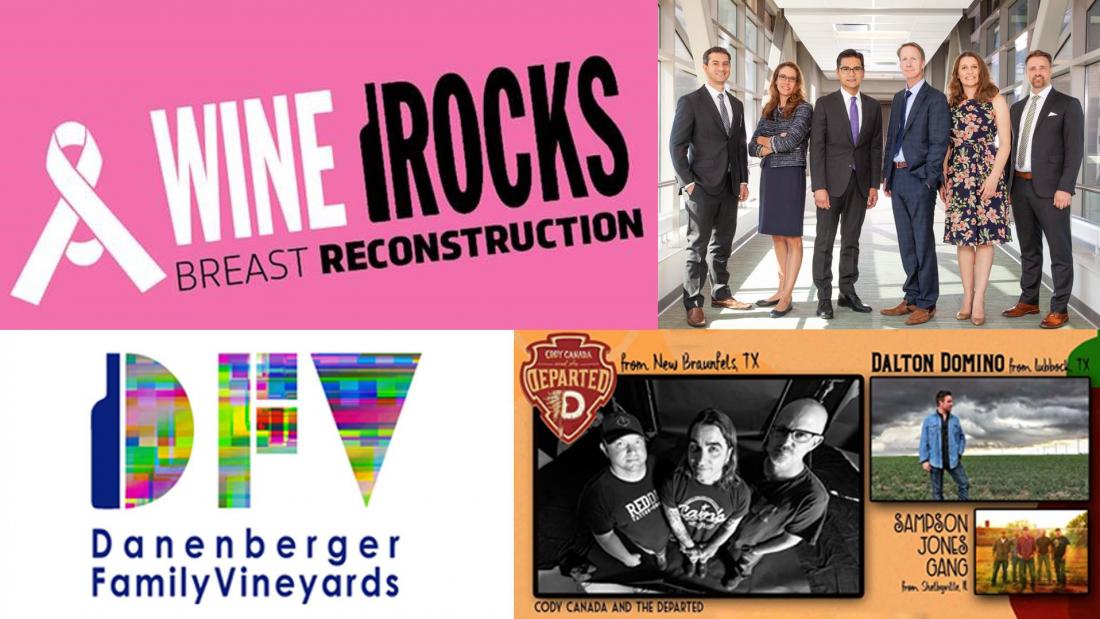 SIU Medicine, Danenberger Family Vineyards Mark Breast Reconstruction Awareness Day with Concert, Q&A with Plastic Surgeons
The Division of Plastic Surgery at Southern Illinois University Medicine has teamed up with Danenberger Family Vineyards to host "Wine Rocks & Breast Reconstruction," 4-9 p.m., Saturday, Oct. 6, in support of The Plastic Surgery Foundation's sixth annual Breast Reconstruction Awareness Day observance.
BRA Day is designed to raise awareness regarding post-mastectomy breast cancer care. The event includes live music, a question and answer session with plastic surgeons from SIU Medicine and door prizes. The vineyard will also unveil a new interactive art exhibit by SIU Medicine chief resident plastic surgeon Amanda Ross, MD, and a raffle featuring a Danenberger Family Vineyard wine gift basket and gift certificates to the SIU Medicine Cosmetic Clinic, BJ Grand Salon and New Age Tattoos by Jason Lee.
Danenberger Family Vineyards, located at 12341 Irish Rd. in New Berlin, will host a trio of bands, including Cody Canada and the Departed, Samson Jones Gang and Dalton Domino, as part of First Fridays Concert Weekend. Wristbands cost $12 and includes access to Friday, Saturday and Sunday concerts. For more information about the featured bands or to purchase a wristband, visit
https://redbeardbrigade.brownpapertickets.com/
. A limited number of wristbands are available.
"Breast Reconstruction Awareness Day inspires women to know that life beyond breast cancer can be very fulfilling," said Nicole Sommer, MD, associate professor of surgery at SIU Medicine. "All women enduring breast cancer are incredibly brave and have their own unique journey, but they are not alone."
Susan Danenberger, owner of Danenberger Family Vineyards and a breast cancer survivor, agreed. "Together, we must spread the word to breast cancer patients about their breast reconstruction options. Informing women of their reconstruction options before or at the time of diagnosis is critically important to improving life after breast cancer."
Breast Reconstruction Awareness Day is a collaboration between the American Society of Plastic Surgeons, The Plastic Surgery Foundation, breast centers, nurse navigators, corporate partners and breast cancer support groups.
About the Division of Plastic Surgery at SIU Medicine
The Institute for Plastic Surgery offers some of the finest facilities and most highly qualified staff in the nation. It is committed to achieving the highest standard of excellence in all areas of reconstructive and cosmetic surgery.  Reconstructive plastic surgery strives to restore appearance and function for patients with defects resulting from trauma, infection, tumors, burns, birth defects or disease.  Cosmetic or aesthetic plastic surgery attempts to improve the patient's appearance.
Created at SIU School of Medicine in 1973, the Springfield, Illinois, based institute has grown to include an outstanding team of physicians, a thriving residency and fellowship program, an excellent hand surgery and therapy center, and attractive facilities.  The institute is known nationally and internationally for its work in many areas including microsurgery, hand surgery and therapy, reconstructive surgery, aesthetic surgery, and specialized care in the treatment of burns and problem wounds.
The professional staff offers hand and upper extremity rehabilitation, back to work programs, cosmetic counseling, laser surgery and skin care programs.
About the American Society of Plastic Surgeons and Plastic Surgery Foundation
The American Society of Plastic Surgeons (ASPS) is the largest plastic surgery specialty organization in the world. Founded in 1931, the society is composed of board-certified plastic surgeons that perform cosmetic and reconstructive surgery.
The mission of ASPS is to advance quality care to plastic surgery patients by encouraging high standards of training, ethics, physician practice and research in plastic surgery. The Society advocates for patient safety, such as requiring its members to operate in accredited surgical facilities that have passed rigorous external review of equipment and staffing.
ASPS works in concert with The Plastic Surgery Foundation (The PSF), founded in 1948, which supports research, international volunteer programs and visiting professor programs. The foundation's mission is to improve the quality of life of patients through research and development. The PSF accomplishes its mission by providing invaluable support to the research of plastic surgery sciences through a variety of grant programs.
Schedule an interview or request more information by contacting:
Lauren Crocks
217.545.2819
 
Maria Ansley
217.899.9594