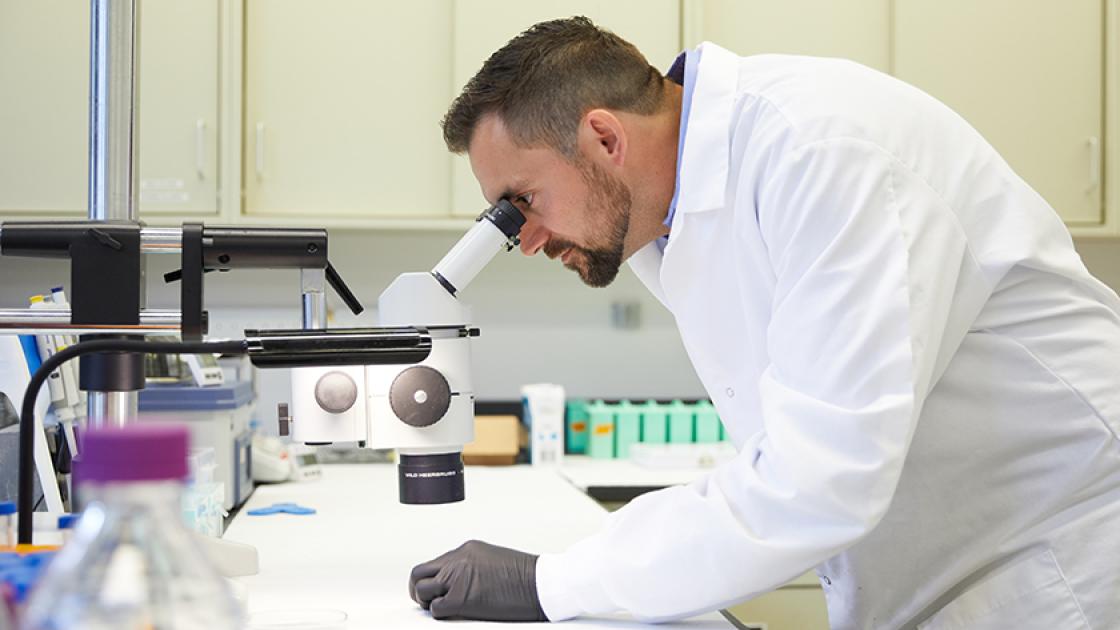 $1.86M grant helps SIU scientist broaden brain research into autism
Ben Richardson, Ph.D., has spent his career studying functions and circuits in the brain and what causes them to behave abnormally, especially within an area called the cerebellum. His work has encompassed alcohol use disorder, tinnitus and aging's effects on hearing, and dopamine signaling and reward.
The National Institutes of Health (NIH) recently created a grant to support young scientists like Richardson who are willing to take a leap and expand their work into new areas. In only the second round of applications awarded, Richardson received a $1.86 million Stephen I. Katz Early Stage Investigator Research Project grant.
Richardson now leads a project to understand changes in brain mechanisms that are linked to autism spectrum disorder (ASD), the common developmental disability caused by differences in the brain.
Richardson is an assistant professor in SIU School of Medicine's Department of Pharmacology. He is the primary investigator on the 5-year grant, working with colleagues Brandon Cox, Ph.D., and Erin Hascup, Ph.D., at SIU, and Santiago Jaramillo, Ph.D., at the University of Oregon. The group will explore the relationship between neuronal function and specific behavioral changes that occur in mice when they are missing a gene commonly mutated in humans diagnosed with ASD.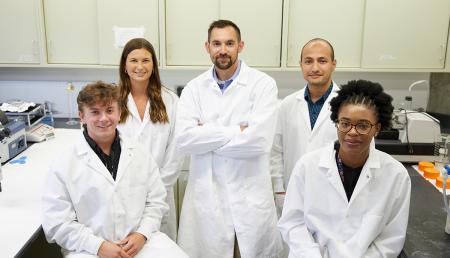 "This funding is a tremendous boost to a junior investigator like me; it lets us build a strong team and make rapid progress on this important research," Richardson said.
"I've been involved in several areas of neuroscience research throughout my career, and as a result, have experience at cellular and circuit levels across multiple brain areas that shape my perspective and approach to this issue," he said. "With the NIH grant, we can address important issues and questions in the field, but from a new point of view and in a different way using the unique methods we've developed."
Autism affects 1 in 54 children in the U.S., and it is usually expressed through social, emotional, cognitive, motor and sensory processing deficits. Despite the efforts made to understand how genetics may contribute to ASD, its cellular and molecular causes still aren't very clear, Richardson said.
The cerebellum is found to correlate with more autism spectrum disorder-linked genes than any other brain region during postnatal development and into adulthood. Because of its involvement in motor function, cerebellar dysfunction in ASD has been largely overlooked in favor of studying brain areas like the cortex and striatum. However, Richardson's lab and others have recently identified how the cerebellum is interacting with brain areas involved in processes outside of the motor system – a major motivation for evaluating a role for the cerebellum in ASD.
Richardson's studies can provide a foundation for identifying the effects of other autism-linked genes to alter signaling mechanisms in the cerebellum's dense population of granule cells and to potentially devise targeted treatment strategies for ASD.
The mission of SIU School of Medicine is to optimize the health of the people of central and southern Illinois through education, patient care, research and service to the community. SIU Medicine, the health care practice of the school of medicine, includes clinics and offices with more than 300 providers caring for patients throughout the region.
*Photo caption: The Richardson research lab: James Beavers, Savannah Brannan, Ben Richardson, Rajarm Kshetri, Roseline Ewa