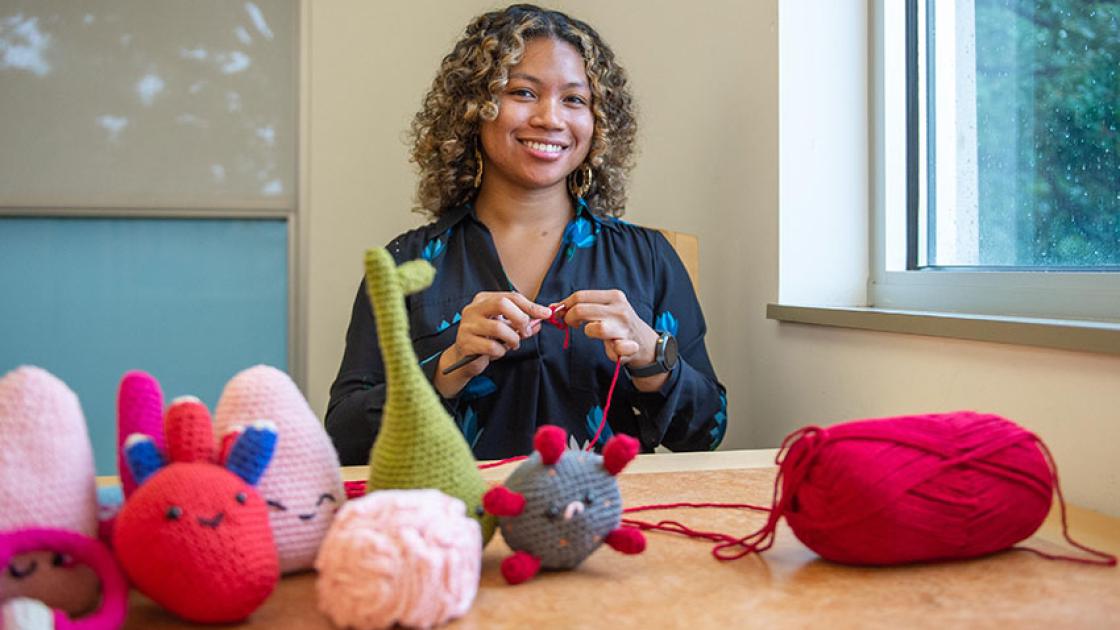 Aspects of a Learner | Sydney Marshall
SIU's MEDPREP program is celebrating its 50th anniversary. Established in 1972, it was the first of its kind, with curricula designed specifically to help educationally and economically disadvantaged undergrads prepare for health professions schools. Sydney Marshall is a shining example of the type of student it was created to aid.
WHERE DID YOU GROW UP?
I was born in the Philippines but spent most of my childhood in Southern California. After hearing all the stories my mom would share about her teenage years, I went back to the Philippines for middle and high school to experience it for myself. For me to succeed in my classes, I had to quickly learn not only the Filipino language but also the local dialect. Overall, it was a very humbling experience.
WHAT DID YOU WANT TO BE AS A CHILD?
I enjoyed taking computers apart and putting them back together, but that was more of a hobby than a future career choice. It wasn't until my experiences as a teenager being a caregiver for my then-sick father that I began to have a consistent answer to this question.
PRIOR TO STARTING YOUR MEDICAL EDUCATION, WHAT WERE YOU DOING?
I spent a lot of my time working in library services during and after college. As a result, I've gained a huge appreciation for how crucial library services are to the lives of lower-income Americans and communities of color. I've helped patrons build a resume, research job opportunities, and fill out forms for social services.
When I taught robotics and coding classes, I discovered how important it is to maintain students' interest and perseverance in the sciences by having an instructor they could relate to. Participating in such programs is important in increasing their likelihood of becoming future science innovators.
WHAT INSPIRED YOU TO ENTER MEDPREP?
MEDPREP provides individualized guidance for students who need additional time to prepare for the rigors of health profession schools. It also offers a second opportunity to address issues that may have impeded their progress during previous applications. After an unsuccessful cycle of applying to medical school, I wanted advice on how to strengthen my qualifications and skills to be better prepared for a rigorous medical education.
WHAT DO YOU LOVE MOST ABOUT THE PROGRAM?
I really love how tight-knit the program is. The faculty and staff foster a culture of camaraderie and collaboration and are fully invested in helping us attain our goals. On my second day in MEDPREP, I received the unfortunate news that my mother had suffered a stroke. My first thought was to pause everything that I was doing and that I immediately needed to catch a flight back home to California. I had barely begun, so I knew I could always pick things up again with the next incoming cohort. Even though my mom couldn't say the words at the time, I knew that she would want me to stay focused on my studies and trust that she was being taken care of by an amazing medical team.
Through this experience, I have received a tremendous amount of support and prayers from the faculty and staff. When you are surrounded by educators and mentors who will do everything they can to support and guide you in the face of obstacles, it is truly a blessing.
WHAT ARE YOUR PLANS AFTER MEDPREP?
I am hoping that all my hard work pays off with a matriculation into medical school. I've spent a lot of time after undergrad learning about different health professions and keeping an open mind to other career paths. With these experiences and a lot of self-reflection on my journey, I feel like I have solidified my decision to pursue medicine.
HOW HAS THE ADVANCEMENT OF TECHNOLOGY IMPACTED THE WAY YOU LEARN OR WILL PRACTICE MEDICINE?
I feel that health care has become more accessible as a result of the pandemic, especially preventative health care. Telehealth helps mitigate some of the barriers that individuals can face. I look forward to watching the developments which can ensure equitable access to high-quality care.
I'm also excited about advances in wearable technology. As it becomes more popular and reliable, I'm curious to see how its data can be uploaded and integrated into a patient's electronic health record, allowing health care providers to make more well-informed decisions and provide quality care.
WHAT MIGHT WE FIND YOU DOING OUTSIDE SCHOOL?
You might find me crocheting at home. The pandemic reignited my excitement for crochet because it was my way of relieving stress. Crochet is a great activity for mindfulness because it requires focus using your hands, following a pattern and counting each stitch.  
WHAT IS YOUR GREATEST PASSION?
As clichéd as it sounds, I think my greatest passion is learning. When I discover a new interest, I want to learn as much as I can about it in hopes of sharing that knowledge with others. I think that's why I enjoy medicine because you are committing to a life full of learning, not only about the science, but the people.