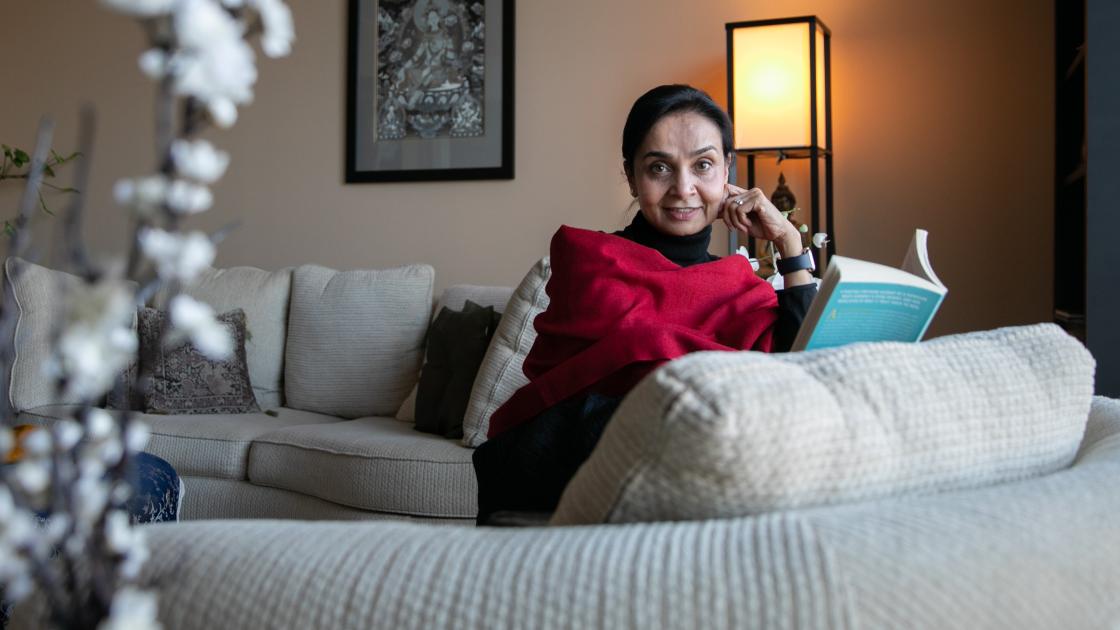 Sangita Basnet receives AWIMS Honor
Mother, Mentor & Medical Leader
Sangita Basnet, MD, is a physician, a fighter, and a champion for those in need, both here and abroad. As professor and chief of pediatric critical care at SIU School of Medicine and medical director of the Pediatric Intensive Care Unit at St. John's Children's Hospital in Springfield, she was recently honored with the inaugural AWIMS Award for Outstanding Contributions to the Advancement of Women in Medicine and Science.
Dr. Basnet exemplifies the core tenets of the Alliance for Women in Medicine and Science: promoting positive change toward gender equity, encouraging professional development and career advancement for women, supporting efforts to improve work-life integration within the medical community and a commitment to community service.
Her nominators described her as a guiding light, always compassionate and kind, but willing to push others beyond a personal comfort zone while reiterating "the sky's the limit for whatever you want to do."
We wanted Dr. Basnet to answer some questions, and she graciously agreed.
Image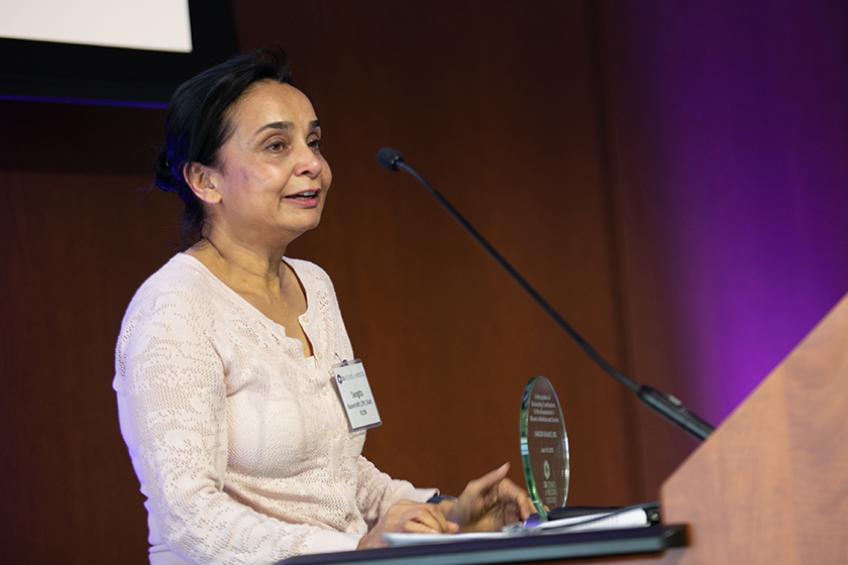 My advice to women is strive to achieve what you think you will love doing for the rest of your life. It may mean a few initial years of hard work and difficulties. But those few years will pass. Develop a support system around you. If you are happy, then those you love will be happy. Be true to yourself and what you care for – be it work, children, hobbies, global health, volunteering, anything. You should not have to choose family over work, or vice versa.
Support from loved ones is always important. My husband supports me unconditionally in all my endeavors. My children have always loved what I have done, encourage me all the time, and are very proud of me.
I have never put my family and my children second. I always believed work can wait – family cannot.
As a division chief I expect the best performance from my division members, but there is a lot of flexibility where calls and service days are concerned. We help each other all the time. I do not want anyone, male or female, to miss, for example, a "parent's day" in school or any other activity where their child needs them. Their families are very important.
"Teachers are lifetime learners."
TELL ME ABOUT YOUR PATH TO BECOMING A CRITICAL CARE PEDIATRICIAN.
I always wanted to be a doctor. After med school in Nepal, I followed my husband, Janak Koirala, to the U.S. for better opportunities at training. I was offered a residency in anesthesiology in Chicago and was asked to sign the day I went for the interview. As an international graduate, with very limited choices, it was difficult to walk away. But it gave me the courage to go to Cook County Children's Hospital in Chicago and ask the pediatric program director if he thought he could offer me a residency in pediatrics. He immediately offered me a residency position. In those days offering pre-match positions was acceptable.
Here is a lesson I teach my residents and my children: Do not be afraid to ask. What is the worst that can happen? That you will get a "no" for an answer? But you can also get a "yes." You will not know unless you ask.
TELL ME ABOUT YOUR FAMILY.
Whatever I have achieved in life is due, in large part, to my father. I grew up in Nepal, which used to be an extremely male-dominated, patriarchal society (still is, but at a smaller scale). However, I actually never felt at a disadvantage. My father never differentiated between my brothers and me. I was pressured to do well in the most elite school for girls in Nepal. I rode bicycles and motorbikes, and even drove a tractor at our farm. I climbed trees and played marbles with my brothers. Many girls were told to work in the house, learn to cook, wash clothes and prepare to get married early in their lives. My time was spent on reading books and performing traditional dances at various venues. This was all because my father allowed it. My father never entertained the several suitors and proposals for marriage that match-makers brought to our house. He would proudly say to everyone "My daughter is going to be a doctor."
My husband and I have two children. My son just completed his master's in public health and started his own consultancy firm doing data analysis and impact evaluations, and also works in finance and trading. My daughter is a junior in college. She is an athlete and interested in pursuing medicine and global development.
All four of us visit my home country Nepal at least once a year. My children love my home country as much as we do. They have been exposed early in life to disparities in health, disease, living conditions, education and socioeconomic status.
Looking back, it was very difficult when we first came to the U.S., with a 2-yearold child, no support system and complete cultural shock. But my husband always had a positive attitude towards life, always optimistic.
YOU'VE ALREADY ACCOMPLISHED SO MUCH SINCE JOINING SIU MEDICINE IN 2006 – TWO-TIME RECIPIENT OF THE TEACHER OF THE YEAR AWARD IN THE DEPT. OF PEDIATRICS, DIRECTOR OF THE PEDIATRIC FUNDAMENTAL CRITICAL CARE SUPPORT COURSE, PAST PRESIDENT OF THE AMERICAN NEPAL MEDICAL FOUNDATION WHO ALSO DEVELOPED THE FIRST PEDIATRIC CRITICAL CARE UNIT IN NEPAL, AND SO MUCH MORE.
WHAT'S NEXT ON YOUR BUCKET LIST?
I want to serve in my home country and be with my parents. Janak and I are returning to Nepal early next year to establish fellowship training programs in our respective subspecialties. I will return to the U.S. to work 16 weeks per year on a part-time basis. We have always dreamt of returning to Nepal to share what we learned here in the U.S. Our decision is a culmination of the 26 years of effort we put toward the preparation for our ultimate return.
We also want to be with my parents now. They are very advanced in age and need us. Our children are grown and no longer need us to the extent they did when growing up. First generation immigrants like us are, what I call "the sandwiched generation." Our children are here and our work is here. But our parents and family are there. This is always a conflict that gnaws at us. Janak and I are fortunate that we can go back to Nepal whenever our parents need us.
YOUR NOMINATORS MENTIONED YOUR PASSION FOR DANCE. WHAT KIND OF DANCE IS YOUR FORTE, AND HOW DOES DANCE FIT INTO YOUR DAILY LIFE?
My forte is Nepali Folk and semi-classical Indian. I perform at various venues- variety shows, charity shows. I choreograph my dances myself. I practice in my basement for 30 minutes to an hour about 3 times a week, particularly around the time of performances.
WHAT LED YOU TO CHOOSE ACADEMIC MEDICINE?
Growing up, there were three paths I wanted to pursue - dance, teaching and medicine. I am very fortunate that I am able to do all three.
My love of teaching emerges from my desire to impart what I love to learners, and visualize the delight on their expressions when they understand basic concepts of a theory or disease process. It is a very rewarding feeling. And as we teach, we learn. Teachers are lifetime learners. Medicine is rapidly evolving. We get to refresh our knowledge when we are tasked with teaching.